Storm Prediction Center
Day 1 and Day 2 Fire Weather Outlooks

   ZCZC SPCFWDDY1 ALL
   FNUS21 KWNS 020558
   
   DAY 1 FIRE WEATHER OUTLOOK  
   NWS STORM PREDICTION CENTER NORMAN OK
   1258 AM CDT MON MAY 02 2005
   
   VALID 021200Z - 031200Z
   
   ...NO CRITICAL AREAS...
   
   ...SYNOPSIS...
   A PERIOD OF TRANQUIL FIRE WEATHER CONDITIONS WILL PERSIST TODAY AS
   AN UNSEASONABLY LARGE AND COLD 500MB TROUGH REMAINS ANCHORED ACROSS
   THE GREAT LAKES REGION WITH A PRONOUNCED SURFACE RIDGE EXTENDING
   FROM ALBERTA SSEWD TO THE SRN PLAINS. MARITIME TROPICAL AIR HAS BEEN
   PUSHED FAR TO THE SOUTH...FROM THE CENTRAL GULF TO CENTRAL/SRN FL
   WHERE A QUASI-STATIONARY FRONT WILL REMAIN DURING MUCH OF THE
   FORECAST PERIOD. A SECONDARY FRONT CURRENTLY EXTENDING FROM
   N-CENTRAL TX WWD TO THE ERN SLOPES OF THE SRN ROCKIES WILL SEPARATE
   COOL AND MOIST BOUNDARY LAYER AIR FROM SEASONABLY WARM/DRY
   CONDITIONS WEST OF THE CONTINENTAL DIVIDE IN THE SW.
   
   ...CAROLINAS TO CENTRAL GULF COAST AND NRN FL...
   
   LOW-LEVEL TRAJECTORIES FROM THE NW SUPPORT CONTINUED FETCH OF DRY
   CONTINENTAL AIR INTO THE SERN U.S. THROUGH THE PEAK HEATING HOURS
   TODAY. COMBINED WITH HIGH TEMPERATURES IN THE MID 70S TO LOW 80S
   ACROSS THE CAROLINAS SWWD INTO THE CENTRAL GULF COAST AREA...MINIMUM
   RH VALUES OF 25-35 PERCENT SHOULD BE WIDESPREAD THIS AFTERNOON. THE
   EFFECTS OF LIGHT NWLY WINDS /10-15 MPH/ AND AMPLE PRECIPITATION LATE
   LAST WEEK -- RESULTING IN MOIST FUEL CONDITIONS -- SHOULD MITIGATE
   ANY CRITICAL FIRE WEATHER THREATS IN THIS PART OF THE CONUS.
   
   ...NRN PLAINS/UPPER MS RIVER VALLEY...
   
   SURFACE ANALYSIS EARLY THIS MORNING REVEALS DEWPOINTS IN THE TEENS
   AND SINGLE DIGITS ACROSS ND AND ADJACENT AREAS OF S-CENTRAL CANADA.
   THIS SUPPORTS NCEP SHORT-RANGE ENSEMBLE GUIDANCE WHICH DEVELOPS SUB
   20F DEWPOINTS IN A LARGE AREA FROM WRN WI TO ERN MT/NERN WY DURING
   THE AFTERNOON HOURS. ALSO...NWLY WINDS OF 15-25 MPH ARE LIKELY
   ACROSS THE ERN DAKOTAS INTO THE UPPER MS RIVER VALLEY WHERE
   SEA-LEVEL PRESSURE GRADIENT REMAINS MODERATELY STRONG. LIMITING
   FACTOR FOR CRITICAL FIRE WEATHER CONDITIONS WILL BE COOL
   TEMPERATURES /HIGHS GENERALLY IN THE 40S/...AS 700MB THERMAL TROUGH
   PIVOTS SWD ACROSS THE DAKOTAS/MN ON WRN PERIPHERY OF THE GREAT
   LAKES/JAMES BAY UPPER TROUGH. HIGH TEMPERATURES WILL BE 15-20F BELOW
   NORMAL FOR EARLY MAY IN MANY AREAS.
   
   ...SWRN NM AND CENTRAL/SRN AZ...
   
   PREVAILING DEEP-LAYER WLY FLOW WILL MAINTAIN VERY LOW RH CONDITIONS
   /10-15 PERCENT/ ACROSS THE BASINS/VALLEYS OF THE SW FROM
   MID-AFTERNOON THROUGH EARLY EVENING. LOW ELEVATION HIGH TEMPERATURES
   WILL RANGE FROM THE LOW TO MID 80S...WITH MODERATELY DEEP
   SURFACE-BASED MIXED LAYERS OF 6-7 KFT DURING PEAK HEATING. NAM
   INDICATES 700MB FLOW WEAKENS TO 10-15KT ACROSS THE AREA...LIMITING
   POTENTIAL FOR STRONG SURFACE WINDS THROUGH VERTICAL MIXING. WITH
   MARGINAL FUEL CONDITIONS AND SURFACE WINDS GENERALLY 15 MPH OR
   LESS...CRITICAL FIRE WEATHER CONDITIONS ARE NOT ANTICIPATED.
   
   ..BANACOS.. 05/02/2005
   
   ...PLEASE SEE WWW.SPC.NOAA.GOV/FIRE FOR GRAPHIC PRODUCT...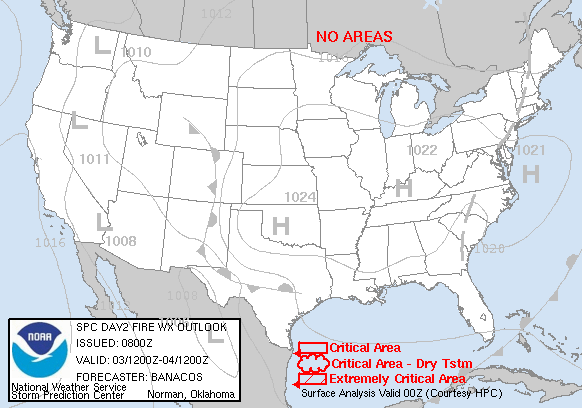 ZCZC SPCFWDDY2 ALL
   FNUS22 KWNS 020557
   
   DAY 2 FIRE WEATHER OUTLOOK  
   NWS STORM PREDICTION CENTER NORMAN OK
   1257 AM CDT MON MAY 02 2005
   
   VALID 031200Z - 041200Z
   
   ...NO CRITICAL AREAS...
   
   ...SYNOPSIS...
   DURING THE DAY 2 PERIOD...THE PERSISTENT UPPER TROUGH ACROSS THE
   NERN QUARTER OF THE CONUS WILL BEGIN TO WEAKEN AND LIFT NEWD ACROSS
   ERN CANADA. THE UPPER FLOW PATTERN IS EXPECTED TO BECOME MORE
   PROGRESSIVE IN THE PROCESS...WITH NCEP SHORT-RANGE ENSEMBLE GUIDANCE
   DEPICTING AN UPPER RIDGE PROGRESSING FROM THE WEST COAST INTO THE
   GREAT BASIN AND THE DECAYING NERN U.S. POSITIVE TILT TROUGH
   TRANSLATING ACROSS THE ERN GREAT LAKES AREA. SURFACE PATTERN WILL BE
   CONTROLLED BY HIGH PRESSURE EAST OF THE ROCKIES...AS N-S ORIENTED
   RIDGE ACROSS THE GREAT PLAINS AT 03/12Z BECOMES NE-SW ORIENTED FROM
   NEW ENGLAND TO NRN TX BY THE END OF THE FORECAST PERIOD. THIS RIDGE
   WILL CONTINUE TO PREVENT RETURN OF GULF MOISTURE...EXCEPT ACROSS
   CENTRAL/SRN AREAS OF TX.
   
   CURRENT NAM/GFS FORECASTS INDICATE THAT RH MINIMUMS BELOW 20 PERCENT
   WILL BE PRESENT ACROSS DESERT AREAS OF THE SWRN CONUS TUESDAY
   AFTERNOON AND EARLY EVENING. THE APPROACHING UPPER RIDGE AXIS AND
   WEAK SEA-LEVEL PRESSURE GRADIENTS ACROSS THE REGION SHOULD KEEP
   SURFACE WINDS GENERALLY LIGHT...PRECLUDING CRITICAL FIRE WEATHER
   PROBLEMS.
   
   VERY LOW AFTERNOON RH VALUES /15-25 PERCENT/ WILL ALSO PERSIST
   ACROSS THE UPPER MS RIVER VALLEY WWD ACROSS THE DAKOTAS TO THE HIGH
   PLAINS OF NERN WY/ERN MT. SOME MODERATION OF SURFACE TEMPERATURE IS
   LIKELY IN THIS REGION WITH HIGHS IN THE 50S TO LOW 60S...OR 10-15F
   WARMER THAN ANTICIPATED HIGHS ON MONDAY. DESPITE THE WARMING
   TREND...PRESSURE FIELDS FLATTEN AND RESULTING SURFACE WINDS SHOULD
   BE LIGHT AND VARIABLE /AT OR BELOW 15 MPH/.
   
   ..BANACOS.. 05/02/2005
   
   ...PLEASE SEE WWW.SPC.NOAA.GOV/FIRE FOR GRAPHIC PRODUCT...