Storm Prediction Center
Day 1 and Day 2 Fire Weather Outlooks

   ZCZC SPCFWDDY1 ALL
   FNUS21 KWNS 100846
   
   DAY 1 FIRE WEATHER OUTLOOK  
   NWS STORM PREDICTION CENTER NORMAN OK
   0246 AM CST THU NOV 10 2005
   
   VALID 101200Z - 111200Z
   
   ...CRITICAL FIRE WEATHER AREA FOR SOUTHEASTERN U.S....
   
   ...SYNOPSIS...
   STRONG TROUGH MOVES ACROSS THE EASTERN U.S. TODAY AS ASSOCIATED
   SURFACE COLD FRONT MOVES THROUGH THE SOUTHEASTERN STATES REACHING
   NORTH CENTRAL FLORIDA BY LATE THIS AFTERNOON. IN THE WAKE OF THE
   FRONTAL PASSAGE...A LARGE AREA OF SURFACE HIGH PRESSURE AND MUCH
   DRIER AIRMASS EXTENDS FROM THE PLAINS TO THE SOUTHEAST COAST. OUT
   WEST...ANOTHER SEASONABLY STRONG SHORTWAVE APPROACHES THE PACIFIC
   NORTHWEST COAST WHICH HELPS EASTERN PACIFIC CUTOFF ADVANCE TOWARD
   THE COLORADO RIVER VALLEY. SHOWERS LINGER OVER THE NORTHEAST...WITH
   RAIN AND MOUNTAIN SNOW IN THE PACIFIC NORTHWEST. THE APPROACHING
   UPPER LOW BRINGS SCATTERED SHOWERS AND THUNDERSTORMS TO SOUTHERN
   CALIFORNIA... ARIZONA...AND THE GREAT BASIN.
   
   ...CRITICAL FIRE WEATHER AREA 1 - SRN AL/SRN GA/FL PANHANDLE...
   
   PRIMARY CONDITIONS: DRY POSTFRONTAL AIRMASS AND BREEZY NORTH WINDS
   
   SURFACE COLD FRONT EXTENDING FROM CENTRAL LOUISIANA TO CENTRAL SOUTH
   CAROLINA EARLY THIS MORNING ADVANCES SOUTHWARD REACHING THE NORTHERN
   GULF OF MEXICO AND NORTH CENTRAL FLORIDA BY EARLY THIS EVENING. 
   WINDS WILL SHIFT FROM SOUTHWEST TO NORTHWEST FOLLOWING THE FRONTAL
   PASSAGE...USHERING IN A MUCH DRIER CONTINENTAL AIRMASS. TEMPERATURES
   STILL REACH THE MID TO UPPER 70S PRIOR TO FRONTAL PASSAGE AND BEGIN
   TO FALL THEREAFTER.  THE RAPIDLY ADVANCING DRY AIRMASS MEANS RH WILL
   FALL BELOW 30 PERCENT...AND PERHAPS TO 20 TO 25 PERCENT OVER
   NORTHERN SECTIONS OF THE CRITICAL AREA. WINDS ARE EXPECTED TO BE
   NORTHWEST AT 10 TO 20 MPH THIS AFTERNOON. AS SUNSET APPROACHES
   RAPIDLY FALLING TEMPERATURES AND DECREASING WIND BRING A QUICK
   RECOVERY FROM THE CRITICAL CONDITIONS.
   
   ...SRN PLAINS...
   EASTWARD ADVANCEMENT OF SURFACE HIGH PRESSURE WITH DEVELOPING LEE
   TROUGH OVER THE HIGH PLAINS TURNS WINDS TO SOUTHWESTERLY AT 15 TO 20
   MPH OVER WESTERN KANSAS AND WESTERN TEXAS/OKLAHOMA. TEMPERATURES
   RECOVER TODAY FOLLOWING YESTERDAYS COOL DOWN...AND REACH THE UPPER
   60S TO LOWER 70S WITH MINIMUM RH AROUND 20 PERCENT.
   
   ..BRIGHT.. 11/10/2005
   
   ...PLEASE SEE WWW.SPC.NOAA.GOV/FIRE FOR GRAPHIC PRODUCT...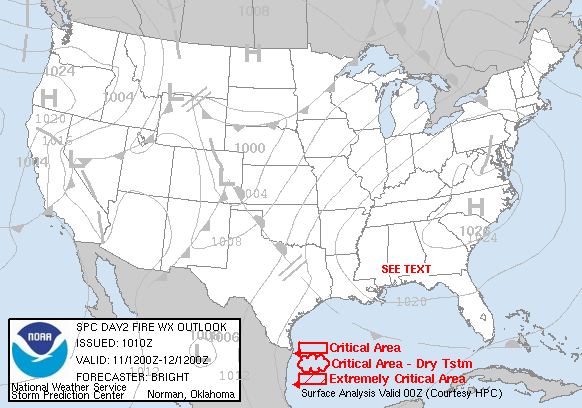 ZCZC SPCFWDDY2 ALL
   FNUS22 KWNS 101006
   
   DAY 2 FIRE WEATHER OUTLOOK  
   NWS STORM PREDICTION CENTER NORMAN OK
   0406 AM CST THU NOV 10 2005
   
   VALID 111200Z - 121200Z
   
   ...NO CRITICAL AREAS...
   
   ...SYNOPSIS...
   FLOW BECOMES MORE PROGRESSIVE FRIDAY AS CUTOFF LOW FORMERLY OVER THE
   SOUTHWEST BECOMES ENTRAINED IN WESTERLY FLOW AND MOVES INTO THE
   CENTRAL PLAINS LATE IN THE PERIOD. PROGRESSIVE UPPER RIDGE ADVANCES
   TO THE EASTERN STATES...WHILE LONG WAVE TROUGH AND COOL WESTERLY
   FLOW IMPINGE UPON THE PACIFIC NORTHWEST. LEE CYCLONE CONSOLIDATES
   OVER THE HIGH PLAINS AS MILD PREFRONTAL AIRMASS OVERSPEADS THE
   PLAINS AND MIDWEST. STRONG SOUTHWEST FLOW AT THE SURFACE AND ALOFT
   EXTENDS FROM NEW MEXICO TO KANSAS...WHILE SURFACE HIGH PRESSURE
   CENTERED OVER MID ATLANTIC REGION MAINTAINS VERY DRY AIRMASS IN THE
   SOUTHEAST.
   
   ...SOUTHEASTERN STATES...
   TRAJECTORIES EMANATING FROM LARGE SURFACE HIGH CENTERED OVER THE
   CAROLINAS MAINTAINS DRY CONTINENTAL AIRMASS IN THE SOUTHEAST. MODELS
   SUGGEST THE DRIEST AIR WILL BE LOCATED IN THE VICINITY OF
   MISSISSIPPI WHERE MINIMUM RH FALLS TO ABOUT 20 PERCENT...AND AROUND
   25 TO 30 PERCENT ELSEWHERE. WEAK SURFACE PRESSURE GRADIENT AND
   APPROACHING RIDGE AXIS ALOFT KEEP SURFACE WINDS WELL BELOW CRITICAL
   LEVELS AND GENERALLY FROM THE EAST/NORTHEAST AROUND 5 MPH.
   
   ...NEW MEXICO/SOUTHERN PLAINS...
   VIGOROUS UPPER TROUGH OVER ARIZONA WITH SURFACE COLD FRONT ADVANCING
   TO THE CONTINENTAL DIVIDE FRIDAY AFTERNOON BRING SOUTH/SOUTHWEST
   WINDS OF 15 TO 30 MPH FROM EASTERN NEW MEXICO TO THE SOUTHERN
   PLAINS. AT THIS TIME IT APPEARS MINIMUM RH /GENERALLY 25 TO 35
   PERCENT/ WILL STAY ABOVE CRITICAL THRESHOLDS.  CLOUDS AND A CHANCE
   OF SHOWERS AND THUNDERSTORMS ALSO ACCOMPANY THE SYSTEM OVER THE
   SOUTHERN ROCKIES.
   
   ..BRIGHT.. 11/10/2005
   
   ...PLEASE SEE WWW.SPC.NOAA.GOV/FIRE FOR GRAPHIC PRODUCT...