Apr 14, 2007 1630 UTC Day 1 Convective Outlook
Updated: Sat Apr 14 16:46:15 UTC 2007
Probabilistic to Categorical Outlook Conversion Table (Effective Feb 14, 2006).
Public Severe Weather Outlook
The SPC is forecasting ...severe thunderstorms expected over parts of the southeast us today through tonight... the nws storm prediction center in norman ok is forecasting the development of a few strong tornadoes over parts of the southeast us today through tonight. the areas most likely to experience this activity include central and southern alabama western florida panhandle central georgia southeast mississippi central south carolina surrounding this area...there is a slight risk of severe thunderstorms from southeast louisiana into southeast virginia. a powerful upper system will move from the southern plains into the tennessee valley today and tonight. meanwhile...a surface low will deepen rapidly and track northeastward along a warm front from northern mississippi into the mid atlantic region. rapid return of low level moisture is occurring south of the warm front across much of the southeastern united states...leading to moderate instability and an active severe weather event through tonight. scattered severe thunderstorms are ongoing over parts of southeast mississippi and western alabama. other intense storms are expected to form eastward this afternoon across southern alabama into western georgia...then expanding eastward across georgia into south carolina overnight. veering and increasing winds with height suggest the potential for supercell thunderstorms capable of tornadoes.... Please read the latest public statement about this event.
Categorical Graphic
Probabilistic Tornado Graphic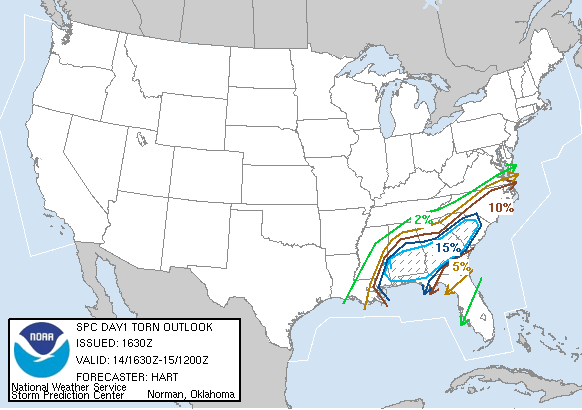 Probabilistic Damaging Wind Graphic
Probabilistic Large Hail Graphic

   SPC AC 141630
   
   DAY 1 CONVECTIVE OUTLOOK  
   NWS STORM PREDICTION CENTER NORMAN OK
   1130 AM CDT SAT APR 14 2007
   
   VALID 141630Z - 151200Z
   
   ...THERE IS A MDT RISK OF SVR TSTMS FROM SOUTHEAST MS...ACROSS
   SOUTHERN AND CENTRAL AL...THE WESTERN FL PANHANDLE...CENTRAL
   GA...AND PARTS OF SC....
   
   ...THERE IS A SLGT RISK OF SVR TSTMS FROM THE CENTRAL GULF COAST
   REGION INTO THE MID ATLANTIC STATES...
   
   BROAD UPPER TROUGH OVER THE CENTRAL U.S. WILL TRACK EASTWARD DURING
   THIS FORECAST PERIOD...WHILE RAPIDLY DEEPENING SURFACE LOW MOVES
   FROM NORTHERN MS INTO EASTERN VA.  SOUTHERLY LOW LEVEL WINDS IN WARM
   SECTOR OF LOW WILL TRANSPORT RICH MOISTURE RAPIDLY NORTHWARD ACROSS
   AL/GA TODAY...AND INTO SC TONIGHT.  THIS WILL SET THE STAGE FOR A
   POTENTIALLY ACTIVE SEVERE WEATHER EVENT THIS AFTERNOON THROUGH
   TONIGHT.
   
   ...MS/AL TODAY...
   CLUSTER OF SUPERCELL STORMS ARE CURRENTLY AFFECTING SOUTHEAST MS. 
   THESE STORMS ARE EXPECTED TO TRACK EASTWARD ACROSS SOUTH CENTRAL AL
   THIS AFTERNOON ALONG RETREATING WARM FRONT WHERE LOW LEVEL VERTICAL
   SHEAR PROFILES WILL BE FAVORABLE FOR TORNADOES.  AREAS SOUTH OF THE
   WARM FRONT ARE EXPECTED TO DESTABILIZE RAPIDLY TODAY WITH DEWPOINTS
   IN THE MID/UPPER 60S AND CAPE VALUES OVER 1500 J/KG.  SCATTERED
   THUNDERSTORMS ARE EXPECTED TO DEVELOP ACROSS THIS REGION DURING THE
   AFTERNOON...WITH PARAMETERS FAVORABLE FOR SUPERCELLS AND A FEW
   TORNADOES.  COMBINATION OF FAVORABLE CAPE AND SHEAR INDICATE A RISK
   OF ISOLATED STRONG TORNADOES.
   
   ...GA/SC TONIGHT...
   VISIBLE SATELLITE IMAGERY SHOWS RELATIVELY CLEAR SKIES ACROSS
   CENTRAL/SOUTHERN GA.  THIS WILL HELP TO DESTABILIZE THE REGION WITH
   AFTERNOON TEMPERATURES IN THE 80S...AND SURFACE DEWPOINTS RISING
   THROUGH THE 60S.  CLUSTERS OF THUNDERSTORMS WILL LIKELY MOVE OUT OF
   AL THIS AFTERNOON AND ACROSS GA THIS EVENING...AND INTO SC
   OVERNIGHT.  RAPID DEEPENING OF SURFACE LOW WILL RESULT IN EXTREMELY
   STRONG LOW LEVEL VERTICAL SHEAR PROFILES ACROSS THIS REGION AFTER
   DARK.  POTENTIAL WILL EXIST FOR TORNADIC SUPERCELLS ACROSS THE MDT
   RISK AREA...ALONG WITH ISOLATED STRONG TORNADOES.  UPSCALE
   ORGANIZATION IS ALSO POSSIBLE ACROSS THIS REGION DURING THE NIGHT
   WITH A DAMAGING WIND/TORNADO THREAT ALONG LEADING EDGE OF SQUALL
   LINE.
   
   ...NC/VA AFTER MIDNIGHT...
   SURFACE LOW IS FORECAST TO DEEPEN BELOW 998MB BY 12Z OVER SOUTHERN
   VA.  INTENSE WIND FIELDS IN THE WARM SECTOR OF THE LOW WILL MAINTAIN
   A RISK OF DAMAGING WINDS AND TORNADOES WITH ORGANIZED CONVECTION
   OVER THIS REGION.
   
   ..HART/JEWELL.. 04/14/2007
   
   CLICK TO GET WUUS01 PTSDY1 PRODUCT

   NOTE: THE NEXT DAY 1 OUTLOOK IS SCHEDULED BY 2000Z