Initial List of Counties in SPC Tornado Watch 1 (WOU)
Back to Watch 1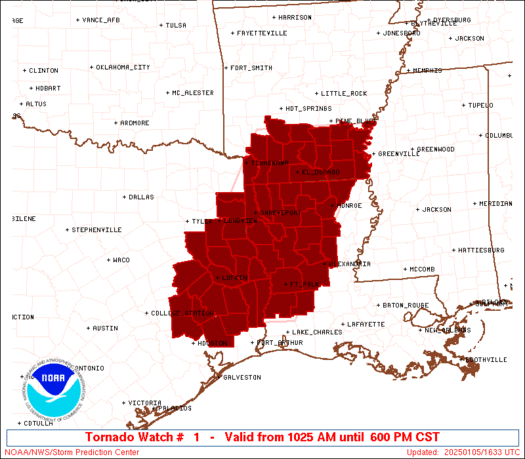 WOUS64 KWNS 111304
   WOU1

   BULLETIN - IMMEDIATE BROADCAST REQUESTED
   TORNADO WATCH OUTLINE UPDATE FOR WT 1
   NWS STORM PREDICTION CENTER NORMAN OK
   710 AM CST SAT JAN 11 2014

   TORNADO WATCH 1 IS IN EFFECT UNTIL 200 PM CST FOR THE
    FOLLOWING LOCATIONS

   ALC005-011-017-081-087-101-109-113-112000-
   /O.NEW.KWNS.TO.A.0001.140111T1310Z-140111T2000Z/

   AL 
   .    ALABAMA COUNTIES INCLUDED ARE

   BARBOUR              BULLOCK             CHAMBERS            
   LEE                  MACON               MONTGOMERY          
   PIKE                 RUSSELL             


   GAC009-013-021-035-053-059-063-077-079-089-113-121-133-135-141-
   145-149-151-153-157-159-169-171-193-195-197-199-207-211-215-217-
   219-221-225-231-237-247-249-255-259-261-263-265-269-285-289-293-
   297-301-307-317-319-112000-
   /O.NEW.KWNS.TO.A.0001.140111T1310Z-140111T2000Z/

   GA 
   .    GEORGIA COUNTIES INCLUDED ARE

   BALDWIN              BARROW              BIBB                
   BUTTS                CHATTAHOOCHEE       CLARKE              
   CLAYTON              COWETA              CRAWFORD            
   DEKALB               FAYETTE             FULTON              
   GREENE               GWINNETT            HANCOCK             
   HARRIS               HEARD               HENRY               
   HOUSTON              JACKSON             JASPER              
   JONES                LAMAR               MACON               
   MADISON              MARION              MERIWETHER          
   MONROE               MORGAN              MUSCOGEE            
   NEWTON               OCONEE              OGLETHORPE          
   PEACH                PIKE                PUTNAM              
   ROCKDALE             SCHLEY              SPALDING            
   STEWART              SUMTER              TALBOT              
   TALIAFERRO           TAYLOR              TROUP               
   TWIGGS               UPSON               WALTON              
   WARREN               WEBSTER             WILKES              
   WILKINSON            


   ATTN...WFO...BMX...FFC...




Aviation Watch (SAW) for WW1
Note:

The Aviation Watch (SAW) product is an approximation to the watch area. The actual watch is depicted by the shaded areas.

   SAW1 
   WW 1 TORNADO AL GA 111310Z - 112000Z
   AXIS..65 STATUTE MILES EAST AND WEST OF LINE..
   65N MCN/MACON GA/ - 30S CSG/COLUMBUS GA/
   ..AVIATION COORDS.. 55NM E/W /40E ATL - 41NW PZD/
   HAIL SURFACE AND ALOFT..0.5 INCH. WIND GUSTS..60 KNOTS.
   MAX TOPS TO 400. MEAN STORM MOTION VECTOR 24045.

   LAT...LON 33638251 32088381 32088604 33638477

   THIS IS AN APPROXIMATION TO THE WATCH AREA.  FOR A
   COMPLETE DEPICTION OF THE WATCH SEE WOUS64 KWNS
   FOR WOU1.