Initial List of Counties in SPC Severe Thunderstorm Watch 1 (WOU)
Back to Watch 1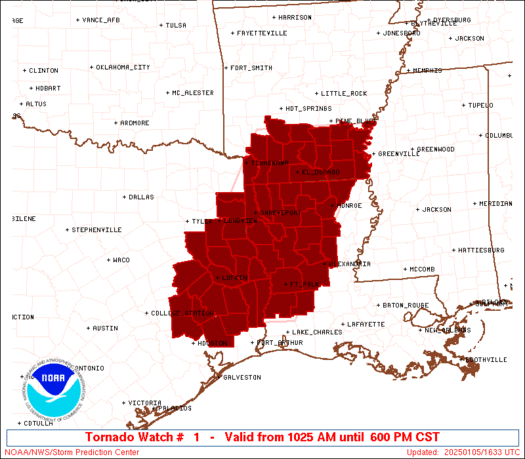 WOUS64 KWNS 020737
   WOU1

   BULLETIN - IMMEDIATE BROADCAST REQUESTED
   SEVERE THUNDERSTORM WATCH OUTLINE UPDATE FOR WS 1
   NWS STORM PREDICTION CENTER NORMAN OK
   235 AM CDT MON JAN 2 2017

   SEVERE THUNDERSTORM WATCH 1 IS IN EFFECT UNTIL 1000 AM CDT
   FOR THE FOLLOWING LOCATIONS

   TXC001-021-027-031-035-041-049-051-053-055-085-093-099-113-119-
   121-133-139-143-145-149-161-171-185-193-209-213-217-221-223-225-
   231-237-251-257-267-281-287-289-293-299-307-309-313-319-327-331-
   333-349-363-367-379-395-397-411-425-439-453-467-471-477-491-497-
   021500-
   /O.NEW.KWNS.SV.A.0001.170102T0735Z-170102T1500Z/

   TX 
   .    TEXAS COUNTIES INCLUDED ARE

   ANDERSON             BASTROP             BELL                
   BLANCO               BOSQUE              BRAZOS              
   BROWN                BURLESON            BURNET              
   CALDWELL             COLLIN              COMANCHE            
   CORYELL              DALLAS              DELTA               
   DENTON               EASTLAND            ELLIS               
   ERATH                FALLS               FAYETTE             
   FREESTONE            GILLESPIE           GRIMES              
   HAMILTON             HAYS                HENDERSON           
   HILL                 HOOD                HOPKINS             
   HOUSTON              HUNT                JACK                
   JOHNSON              KAUFMAN             KIMBLE              
   LAMPASAS             LEE                 LEON                
   LIMESTONE            LLANO               MADISON             
   MASON                MCCULLOCH           MCLENNAN            
   MENARD               MILAM               MILLS               
   NAVARRO              PALO PINTO          PARKER              
   RAINS                ROBERTSON           ROCKWALL            
   SAN SABA             SOMERVELL           TARRANT             
   TRAVIS               VAN ZANDT           WALKER              
   WASHINGTON           WILLIAMSON          WISE                


   ATTN...WFO...FWD...EWX...HGX...SJT...




Aviation Watch (SAW) for WW1
Note:

The Aviation Watch (SAW) product is an approximation to the watch area. The actual watch is depicted by the shaded areas.

   SAW1 
   WW 1 SEVERE TSTM TX 020735Z - 021500Z
   AXIS..95 STATUTE MILES EAST AND WEST OF LINE..
   40NNE DAL/DALLAS TX/ - 30WSW AUS/AUSTIN TX/
   ..AVIATION COORDS.. 80NM E/W /38NE TTT - 33NNE SAT/
   HAIL SURFACE AND ALOFT..2 INCHES. WIND GUSTS..60 KNOTS.
   MAX TOPS TO 500. MEAN STORM MOTION VECTOR 24035.

   LAT...LON 33369494 30129656 30129975 33369823

   THIS IS AN APPROXIMATION TO THE WATCH AREA.  FOR A
   COMPLETE DEPICTION OF THE WATCH SEE WOUS64 KWNS
   FOR WOU1.