Initial List of Counties in SPC Tornado Watch 2 (WOU)
Back to Watch 2

   WOUS64 KWNS 032115
   WOU2

   BULLETIN - IMMEDIATE BROADCAST REQUESTED
   TORNADO WATCH OUTLINE UPDATE FOR WT 2
   NWS STORM PREDICTION CENTER NORMAN OK
   320 PM CST SAT JAN 3 2015

   TORNADO WATCH 2 IS IN EFFECT UNTIL 800 PM CST FOR THE
    FOLLOWING LOCATIONS

   ALC007-057-063-065-073-075-091-093-105-107-119-125-127-133-
   040200-
   /O.NEW.KWNS.TO.A.0002.150103T2120Z-150104T0200Z/

   AL 
   .    ALABAMA COUNTIES INCLUDED ARE

   BIBB                 FAYETTE             GREENE              
   HALE                 JEFFERSON           LAMAR               
   MARENGO              MARION              PERRY               
   PICKENS              SUMTER              TUSCALOOSA          
   WALKER               WINSTON             


   ATTN...WFO...BMX...




Aviation Watch (SAW) for WW2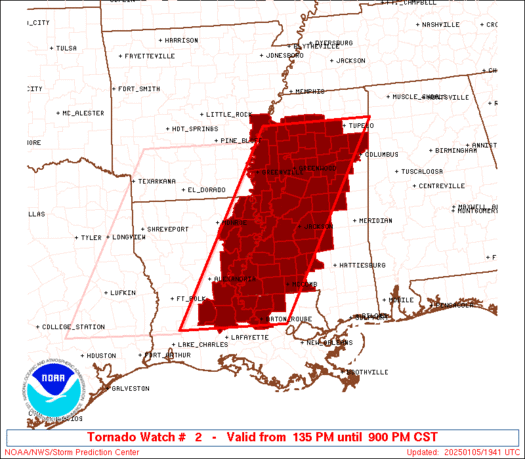 Note:

The Aviation Watch (SAW) product is an approximation to the watch area. The actual watch is depicted by the shaded areas.

   SAW2 
   WW 2 TORNADO AL 032120Z - 040200Z
   AXIS..40 STATUTE MILES EAST AND WEST OF LINE..
   65NE CBM/COLUMBUS MS/ - 65SSW TCL/TUSCALOOSA AL/
   ..AVIATION COORDS.. 35NM E/W /26SSW MSL - 38E MEI/
   HAIL SURFACE AND ALOFT..1 INCH. WIND GUSTS..60 KNOTS.
   MAX TOPS TO 500. MEAN STORM MOTION VECTOR 24035.

   LAT...LON 34298694 32348736 32348873 34298834

   THIS IS AN APPROXIMATION TO THE WATCH AREA.  FOR A
   COMPLETE DEPICTION OF THE WATCH SEE WOUS64 KWNS
   FOR WOU2.