Initial List of Counties in SPC Tornado Watch 3 (WOU)
Back to Watch 3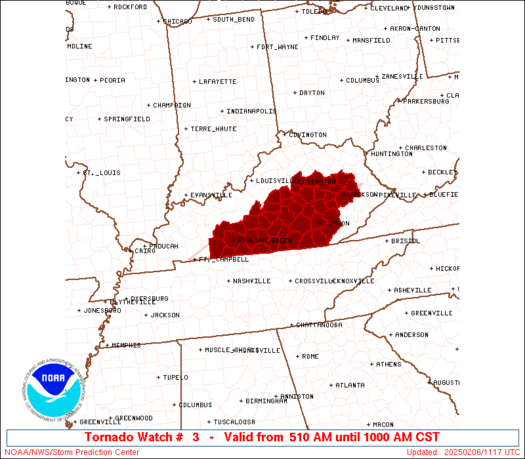 WOUS64 KWNS 122317
   WOU3
   
   BULLETIN - IMMEDIATE BROADCAST REQUESTED
   TORNADO WATCH OUTLINE UPDATE FOR WT 3
   NWS STORM PREDICTION CENTER NORMAN OK
   520 PM CST SAT JAN 12 2013
   
   TORNADO WATCH 3 IS IN EFFECT UNTIL 1200 AM CST FOR THE
    FOLLOWING LOCATIONS
   
   ARC001-011-013-019-021-023-025-027-029-031-037-039-045-051-053-
   055-057-059-061-063-065-067-069-073-075-079-081-085-091-093-095-
   097-099-103-105-109-111-113-115-117-119-121-123-125-127-133-135-
   137-139-141-145-147-149-130600-
   /O.NEW.KWNS.TO.A.0003.130112T2320Z-130113T0600Z/
   
   AR 
   .    ARKANSAS COUNTIES INCLUDED ARE
   
   ARKANSAS             BRADLEY             CALHOUN             
   CLARK                CLAY                CLEBURNE            
   CLEVELAND            COLUMBIA            CONWAY              
   CRAIGHEAD            CROSS               DALLAS              
   FAULKNER             GARLAND             GRANT               
   GREENE               HEMPSTEAD           HOT SPRING          
   HOWARD               INDEPENDENCE        IZARD               
   JACKSON              JEFFERSON           LAFAYETTE           
   LAWRENCE             LINCOLN             LITTLE RIVER        
   LONOKE               MILLER              MISSISSIPPI         
   MONROE               MONTGOMERY          NEVADA              
   OUACHITA             PERRY               PIKE                
   POINSETT             POLK                POPE                
   PRAIRIE              PULASKI             RANDOLPH            
   SALINE               SCOTT               SEVIER              
   SHARP                ST. FRANCIS         STONE               
   UNION                VAN BUREN           WHITE               
   WOODRUFF             YELL                
   
   
   MOC069-155-130600-
   /O.NEW.KWNS.TO.A.0003.130112T2320Z-130113T0600Z/
   
   MO 
   .    MISSOURI COUNTIES INCLUDED ARE
   
   DUNKLIN              PEMISCOT            
   
   
   ATTN...WFO...LZK...MEG...SHV...
   
   
   

Aviation Watch (SAW) for WW3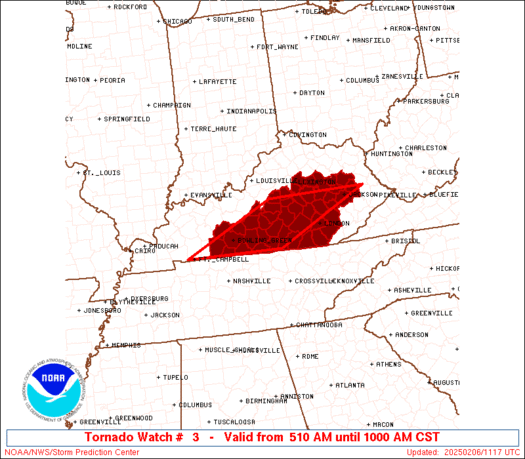 Note:

The Aviation Watch (SAW) product is an approximation to the watch area. The actual watch is depicted by the shaded areas.

   SAW3 
   WW 3 TORNADO AR MO 122320Z - 130600Z
   AXIS..70 STATUTE MILES EAST AND WEST OF LINE..
   70SSW HOT/HOT SPRINGS AR/ - 20NNE ARG/WALNUT RIDGE AR/
   ..AVIATION COORDS.. 60NM E/W /25E TXK - 19NNE ARG/
   HAIL SURFACE AND ALOFT..1 INCH. WIND GUSTS..65 KNOTS.
   MAX TOPS TO 450. MEAN STORM MOTION VECTOR 23040.
   
   LAT...LON 33529477 36389205 36388952 33529234
   
   THIS IS AN APPROXIMATION TO THE WATCH AREA.  FOR A
   COMPLETE DEPICTION OF THE WATCH SEE WOUS64 KWNS
   FOR WOU3.