Initial List of Counties in SPC Severe Thunderstorm Watch 7 (WOU)
Back to Watch 7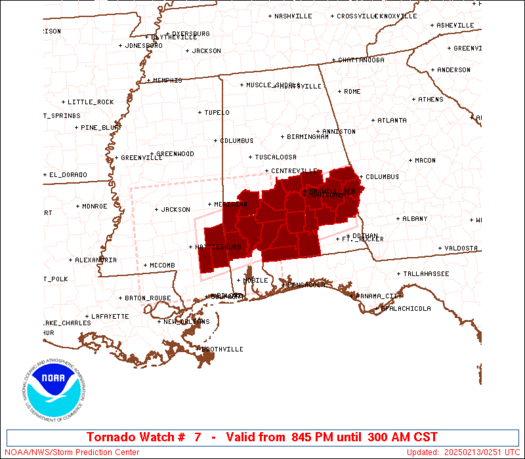 WOUS64 KWNS 152052
   WOU7

   BULLETIN - IMMEDIATE BROADCAST REQUESTED
   SEVERE THUNDERSTORM WATCH OUTLINE UPDATE FOR WS 7
   NWS STORM PREDICTION CENTER NORMAN OK
   250 PM CST SUN JAN 15 2017

   SEVERE THUNDERSTORM WATCH 7 IS IN EFFECT UNTIL 1000 PM CST
   FOR THE FOLLOWING LOCATIONS

   TXC019-049-059-081-083-095-105-137-171-235-253-265-267-271-299-
   307-319-323-327-353-385-399-411-413-417-431-435-441-451-463-465-
   507-160400-
   /O.NEW.KWNS.SV.A.0007.170115T2050Z-170116T0400Z/

   TX 
   .    TEXAS COUNTIES INCLUDED ARE

   BANDERA              BROWN               CALLAHAN            
   COKE                 COLEMAN             CONCHO              
   CROCKETT             EDWARDS             GILLESPIE           
   IRION                JONES               KERR                
   KIMBLE               KINNEY              LLANO               
   MASON                MAVERICK            MCCULLOCH           
   MENARD               NOLAN               REAL                
   RUNNELS              SAN SABA            SCHLEICHER          
   SHACKELFORD          STERLING            SUTTON              
   TAYLOR               TOM GREEN           UVALDE              
   VAL VERDE            ZAVALA              


   ATTN...WFO...EWX...SJT...




Aviation Watch (SAW) for WW7
Note:

The Aviation Watch (SAW) product is an approximation to the watch area. The actual watch is depicted by the shaded areas.

   SAW7 
   WW 7 SEVERE TSTM TX 152050Z - 160400Z
   AXIS..75 STATUTE MILES EAST AND WEST OF LINE..
   15N ABI/ABILENE TX/ - 40SSE DRT/DEL RIO TX/
   ..AVIATION COORDS.. 65NM E/W /13NE ABI - 32S DLF/
   HAIL SURFACE AND ALOFT..2 INCHES. WIND GUSTS..60 KNOTS.
   MAX TOPS TO 500. MEAN STORM MOTION VECTOR 24035.

   LAT...LON 32639838 28829943 28820191 32630097

   THIS IS AN APPROXIMATION TO THE WATCH AREA.  FOR A
   COMPLETE DEPICTION OF THE WATCH SEE WOUS64 KWNS
   FOR WOU7.