Initial List of Counties in SPC Severe Thunderstorm Watch 12 (WOU)
Back to Watch 12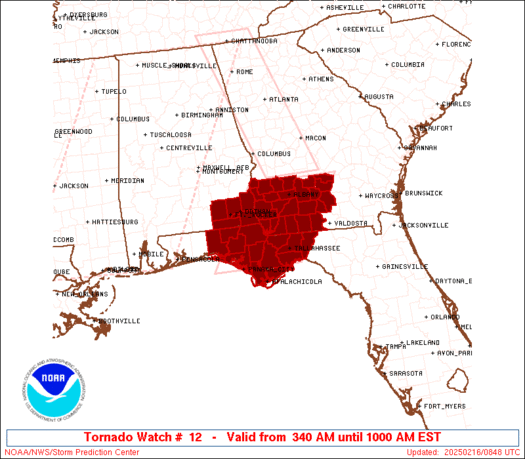 WOUS64 KWNS 312106
   WOU2

   BULLETIN - IMMEDIATE BROADCAST REQUESTED
   SEVERE THUNDERSTORM WATCH OUTLINE UPDATE FOR WS 12
   NWS STORM PREDICTION CENTER NORMAN OK
   410 PM CDT TUE MAR 31 2015

   SEVERE THUNDERSTORM WATCH 12 IS IN EFFECT UNTIL 900 PM CDT
   FOR THE FOLLOWING LOCATIONS

   ALC033-043-049-059-071-077-079-083-089-095-103-010200-
   /O.NEW.KWNS.SV.A.0012.150331T2110Z-150401T0200Z/

   AL 
   .    ALABAMA COUNTIES INCLUDED ARE

   COLBERT              CULLMAN             DEKALB              
   FRANKLIN             JACKSON             LAUDERDALE          
   LAWRENCE             LIMESTONE           MADISON             
   MARSHALL             MORGAN              


   ATTN...WFO...HUN...




Aviation Watch (SAW) for WW12
Note:

The Aviation Watch (SAW) product is an approximation to the watch area. The actual watch is depicted by the shaded areas.

   SAW2 
   WW 12 SEVERE TSTM AL 312110Z - 010200Z
   AXIS..25 STATUTE MILES NORTH AND SOUTH OF LINE..
   30WSW MSL/MUSCLE SHOALS AL/ - 70E HSV/HUNTSVILLE AL/
   ..AVIATION COORDS.. 20NM N/S /32WSW MSL - 27SW GQO/
   HAIL SURFACE AND ALOFT..2 INCHES. WIND GUSTS..60 KNOTS.
   MAX TOPS TO 500. MEAN STORM MOTION VECTOR 28030.

   LAT...LON 34938811 35008555 34278555 34228811

   THIS IS AN APPROXIMATION TO THE WATCH AREA.  FOR A
   COMPLETE DEPICTION OF THE WATCH SEE WOUS64 KWNS
   FOR WOU2.