Initial List of Counties in SPC Tornado Watch 12 (WOU)
Back to Watch 12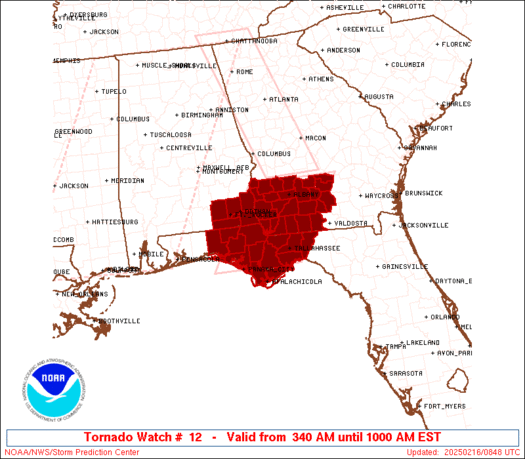 WOUS64 KWNS 211400
   WOU2

   BULLETIN - IMMEDIATE BROADCAST REQUESTED
   TORNADO WATCH OUTLINE UPDATE FOR WT 12
   NWS STORM PREDICTION CENTER NORMAN OK
   900 AM EST SAT JAN 21 2017

   TORNADO WATCH 12 IS IN EFFECT UNTIL 300 PM EST FOR THE
    FOLLOWING LOCATIONS

   FLC005-013-039-045-063-077-133-212000-
   /O.NEW.KWNS.TO.A.0012.170121T1400Z-170121T2000Z/

   FL 
   .    FLORIDA COUNTIES INCLUDED ARE

   BAY                  CALHOUN             GADSDEN             
   GULF                 JACKSON             LIBERTY             
   WASHINGTON           


   GAC007-009-017-019-021-023-035-037-053-061-071-075-079-081-087-
   091-093-095-099-131-145-153-155-159-169-171-175-177-193-197-199-
   201-205-207-215-225-231-235-237-239-243-249-253-255-259-261-263-
   269-271-273-277-285-287-289-293-307-315-319-321-212000-
   /O.NEW.KWNS.TO.A.0012.170121T1400Z-170121T2000Z/

   GA 
   .    GEORGIA COUNTIES INCLUDED ARE

   BAKER                BALDWIN             BEN HILL            
   BERRIEN              BIBB                BLECKLEY            
   BUTTS                CALHOUN             CHATTAHOOCHEE       
   CLAY                 COLQUITT            COOK                
   CRAWFORD             CRISP               DECATUR             
   DODGE                DOOLY               DOUGHERTY           
   EARLY                GRADY               HARRIS              
   HOUSTON              IRWIN               JASPER              
   JONES                LAMAR               LAURENS             
   LEE                  MACON               MARION              
   MERIWETHER           MILLER              MITCHELL            
   MONROE               MUSCOGEE            PEACH               
   PIKE                 PULASKI             PUTNAM              
   QUITMAN              RANDOLPH            SCHLEY              
   SEMINOLE             SPALDING            STEWART             
   SUMTER               TALBOT              TAYLOR              
   TELFAIR              TERRELL             TIFT                
   TROUP                TURNER              TWIGGS              
   UPSON                WEBSTER             WILCOX              
   WILKINSON            WORTH               


   ATTN...WFO...TAE...FFC...




Aviation Watch (SAW) for WW12
Note:

The Aviation Watch (SAW) product is an approximation to the watch area. The actual watch is depicted by the shaded areas.

   SAW2 
   WW 12 TORNADO FL GA 211400Z - 212000Z
   AXIS..95 STATUTE MILES NORTH AND SOUTH OF LINE..
   55SSW CSG/COLUMBUS GA/ - 50SE MCN/MACON GA/
   ..AVIATION COORDS.. 85NM N/S /52W PZD - 43SE MCN/
   HAIL SURFACE AND ALOFT..1.5 INCHES. WIND GUSTS..60 KNOTS.
   MAX TOPS TO 450. MEAN STORM MOTION VECTOR 24040.

   LAT...LON 33158529 33568305 30808305 30408529

   THIS IS AN APPROXIMATION TO THE WATCH AREA.  FOR A
   COMPLETE DEPICTION OF THE WATCH SEE WOUS64 KWNS
   FOR WOU2.