Initial List of Counties in SPC Severe Thunderstorm Watch 28 (WOU)
Back to Watch 28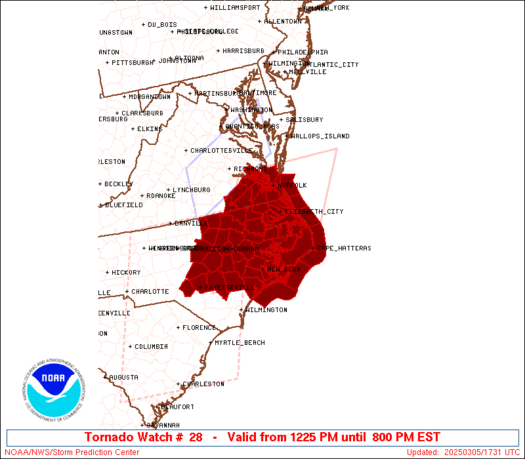 WOUS64 KWNS 100535
   WOU8
   
   BULLETIN - IMMEDIATE BROADCAST REQUESTED
   SEVERE THUNDERSTORM WATCH OUTLINE UPDATE FOR WS 28
   NWS STORM PREDICTION CENTER NORMAN OK
   1140 PM CST SAT FEB 9 2013
   
   SEVERE THUNDERSTORM WATCH 28 IS IN EFFECT UNTIL 700 AM CST
   FOR THE FOLLOWING LOCATIONS
   
   TXC027-035-049-059-083-085-093-095-097-099-113-119-121-133-139-
   143-145-147-161-181-193-213-217-221-223-231-237-251-257-267-277-
   281-293-307-309-319-327-333-337-349-363-367-379-397-399-411-413-
   417-425-429-435-439-441-447-451-467-497-503-101300-
   /O.NEW.KWNS.SV.A.0028.130210T0540Z-130210T1300Z/
   
   TX 
   .    TEXAS COUNTIES INCLUDED ARE
   
   BELL                 BOSQUE              BROWN               
   CALLAHAN             COLEMAN             COLLIN              
   COMANCHE             CONCHO              COOKE               
   CORYELL              DALLAS              DELTA               
   DENTON               EASTLAND            ELLIS               
   ERATH                FALLS               FANNIN              
   FREESTONE            GRAYSON             HAMILTON            
   HENDERSON            HILL                HOOD                
   HOPKINS              HUNT                JACK                
   JOHNSON              KAUFMAN             KIMBLE              
   LAMAR                LAMPASAS            LIMESTONE           
   MASON                MCCULLOCH           MCLENNAN            
   MENARD               MILLS               MONTAGUE            
   NAVARRO              PALO PINTO          PARKER              
   RAINS                ROCKWALL            RUNNELS             
   SAN SABA             SCHLEICHER          SHACKELFORD         
   SOMERVELL            STEPHENS            SUTTON              
   TARRANT              TAYLOR              THROCKMORTON        
   TOM GREEN            VAN ZANDT           WISE                
   YOUNG                
   
   
   ATTN...WFO...FWD...SJT...
   
   
   

Aviation Watch (SAW) for WW28
Note:

The Aviation Watch (SAW) product is an approximation to the watch area. The actual watch is depicted by the shaded areas.

   SAW8 
   WW 28 SEVERE TSTM TX 100540Z - 101300Z
   AXIS..105 STATUTE MILES EAST AND WEST OF LINE..
   20WNW GYI/SHERMAN TX/ - 60SSE BWD/BROWNWOOD TX/
   ..AVIATION COORDS.. 90NM E/W /24SSE ADM - 65NW CWK/
   HAIL SURFACE AND ALOFT..2 INCHES. WIND GUSTS..60 KNOTS.
   MAX TOPS TO 450. MEAN STORM MOTION VECTOR 24040.
   
   LAT...LON 33819516 30989679 30980033 33819881
   
   THIS IS AN APPROXIMATION TO THE WATCH AREA.  FOR A
   COMPLETE DEPICTION OF THE WATCH SEE WOUS64 KWNS
   FOR WOU8.