Storm Prediction Center
Day 1 and Day 2 Fire Weather Outlooks
| | | | |
| --- | --- | --- | --- |
| Risk | Area (sq. mi.) | Area Pop. | Some Larger Population Centers in Risk Area |
| Critical | 86,947 | 1,661,007 | Lubbock, TX...Midland, TX...Odessa, TX...Santa Fe, NM...Rio Rancho, NM... |
Click for Day 1 FireWX Areal Outline Product

   ZCZC SPCFWDDY1 ALL
   FNUS21 KWNS 230619

   Day 1 Fire Weather Outlook  
   NWS Storm Prediction Center Norman OK
   0119 AM CDT Fri Apr 23 2021

   Valid 231200Z - 241200Z

   ...CRITICAL FIRE WEATHER AREA FOR EASTERN NEW MEXICO AND
   SOUTHWESTERN TEXAS...

   ...Synopsis...
   Early morning water-vapor imagery reveals an upper-level trough
   translating eastward across northern Mexico towards the southern
   High Plains. A lee trough currently in place along the High Plains
   will consolidate through the day as the wave moves into the southern
   Plains region. Strong westerly flow off the southern Rockies will
   help mix a dryline eastward into west TX and introduce a broad swath
   of dry and windy conditions across a region with dry fuels.
   Additionally, lift and mid-level moisture associated with the main
   upper-level trough will support the potential for a few dry
   thunderstorms over portions of New Mexico. 

   ...Southern High Plains and Four Corners...
   Recent guidance continues to show a high probability for widespread
   winds between 20-25 mph and relative humidity values in the single
   digits to low teens in a post-dryline air mass across east NM and
   west/southwest TX this afternoon. Mid-level winds will likely be
   strongest over the Trans-Pecos region of southwest TX on the
   southern/southwestern periphery of the main upper-level wave. Deep
   boundary-layer mixing above 700 mb and a uni-directional wind
   profile should facilitate efficient downward transport of 30-40 mph
   winds by late afternoon. 

   Further to the northwest into central NM and northeast AZ, transient
   and more localized critical conditions are possible. However,
   scattered overnight precipitation (mainly across northeast AZ), as
   well as lower confidence in mid-level wind support, have lowered
   confidence in the potential for widespread/persistent critical
   conditions. 

   ...Dry Thunderstorms...
   Evening soundings across the Southwest show sufficient mid-level
   moisture in place to support a few thunderstorms across central AZ
   within the main upper-level trough. This moisture, along with cooler
   temperatures aloft, are forecast to shift eastward into NM over the
   next 24 hours. Despite very dry boundary-layer conditions, forecast
   soundings suggest enough instability, along with weak synoptic lift
   and localized orographic ascent, will be in place to support
   isolated dry thunderstorms this afternoon over a region with dry
   fuels.

   ..Moore.. 04/23/2021

   ...Please see www.spc.noaa.gov/fire for graphic product...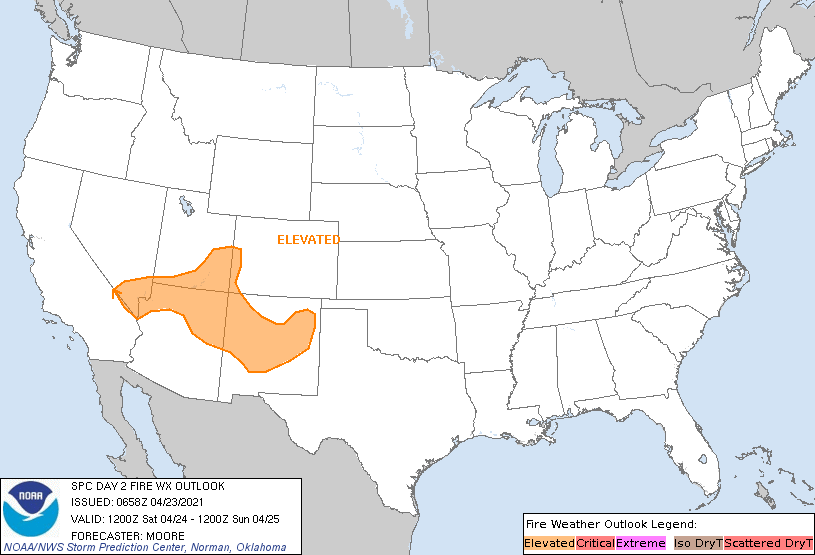 Risk

Area (sq. mi.)

Area Pop.

Some Larger Population Centers in Risk Area

No Risk Areas Forecast
Click for Day 2 FireWX Areal Outline Product (KWNSPFWFD2)

   ZCZC SPCFWDDY2 ALL
   FNUS22 KWNS 230658

   Day 2 Fire Weather Outlook  
   NWS Storm Prediction Center Norman OK
   0158 AM CDT Fri Apr 23 2021

   Valid 241200Z - 251200Z

   ...Synopsis...
   An upper-level wave is forecast to strengthen off the CA/OR coast
   early this weekend. An associated upper-level jet will begin to nose
   into the Great Basin by Saturday afternoon, which should support a
   broad region of modest surface pressure falls across the
   inter-mountain West. As a result, increasing pressure-gradient winds
   across a region with dry fuels will lead to heightened fire weather
   concerns. 

   ...Great Basin and Southwest...
   Surface winds are forecast to increase to 15-25 mph across a broad
   swath from the southern Great Basin into portions of eastern NM.
   Limited moisture return in the wake of Friday's system will help
   relative humidity values remain in the 10-15% range across much of
   the region. Enhanced mid-level flow associated with the approaching
   wave will generally remain on the southern periphery of the Great
   Basin from southern NV into northern AZ/southern UT. Forecast
   soundings suggest boundary-layer mixing may be sufficient to allow
   for wind gusts up to 35 mph across this region, though cloud cover
   could limit mixing potential and the coverage of stronger winds.
   Ensemble guidance supports this idea to some degree with pockets of
   higher probabilities for sustained 20+ mph winds within this
   corridor. This suggests that while areas of critical conditions are
   possible, widespread elevated conditions appear more likely at this
   time. Further to the east across NM, modest lee troughing and poor
   mid/upper-level wind support should yield only elevated conditions.

   ..Moore.. 04/23/2021

   ...Please see www.spc.noaa.gov/fire for graphic product...