Note:

Comment Period: Oct 3, 2005 - July 28, 2006.
Please send your comments to spc.feedback@noaa.gov.
Product Definition Document (PDD) in HTML or MS-Word.


Experimental Day 4-8 Severe Thunderstorm Outlook Issued on Apr 1, 2006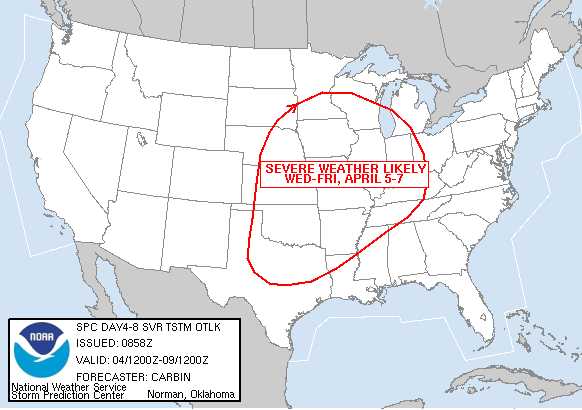 Note: Increased variability in model forecasts with time and the inability of the medium range models to resolve mesoscale features results in greater uncertainty forecasting severe storms in the Day 4-8 period. SPC forecasters examine various deterministic and ensemble model looking for synoptic patterns that favor at least a 25% or higher probability for severe thunderstorms, before a severe weather area is depicted.


   DAY 4-8 CONVECTIVE OUTLOOK  
   NWS STORM PREDICTION CENTER NORMAN OK
   0258 AM CST SAT APR 01 2006
   
   VALID 041200Z - 091200Z
   
   FLOW REGIME WILL REMAIN PROGRESSIVE INTO THE MEDIUM RANGE WITH AT
   LEAST ONE SIGNIFICANT SHORT WAVE TROUGH MOVING FROM THE WEST COAST
   ON TUESDAY/DAY 4...TO THE UPPER MS VALLEY/MIDWEST THROUGH FRIDAY/DAY
   7. THIS PATTERN EVOLUTION IS DEPICTED REMARKABLY WELL AMONG A LARGE
   SET OF NUMERICAL GUIDANCE INCLUDING THE LATEST DETERMINISTIC RUNS OF
   THE GFS...ECMWF...CMC...AND UKMET...AS WELL AS THE GFS ENSEMBLE
   SYSTEM. GIVEN THE LOW SPREAD AND HIGH CONSISTENCY IN MODEL FORECASTS
   WITH THE HANDLING OF THE LARGE SCALE TROUGH CROSSING THE WRN AND
   CNTRL CONUS THROUGH DAY 7...OVERALL PATTERN IS SHOWING A HIGH DEGREE
   OF PREDICTABILITY AT THIS TIME.
   
   STRONG DYNAMICS ASSOCIATED WITH THE WRN TROUGH SHOULD BEGIN TO
   OVERSPREAD POTENTIAL INSTABILITY ACROSS THE HIGH PLAINS BY
   WEDNESDAY. LATEST GFS ENSEMBLE MEAN INDICATES A BELT OF VERY STRONG
   80KT SWLY MID LEVEL FLOW DEVELOPING EAST WITH THE UPPER TROUGH AND
   OVERSPREADING THE SRN AND CNTRL PLAINS THROUGH THURSDAY AS DEEP
   LAYER CYCLONE FORMS OVER THE CNTRL/NRN PLAINS. SYNOPTIC PATTERN
   THROUGH NEXT THURSDAY/FRIDAY APPEARS SIMILAR TO WHAT IS EXPECTED TO
   OCCUR ACROSS THE CNTRL U.S. THROUGH THIS WEEKEND. THUS...POTENTIAL
   FOR WIDESPREAD SEVERE WEATHER SHOULD AGAIN INCREASE ACCORDINGLY FROM
   THE PLAINS ACROSS THE MIDWEST DURING THE WEDNESDAY THROUGH FRIDAY
   TIME FRAME.
   
   ..CARBIN.. 04/01/2006

---