Day 4-8 Severe Weather Outlook Issued on May 12, 2017
Updated: Fri May 12 08:29:03 UTC 2017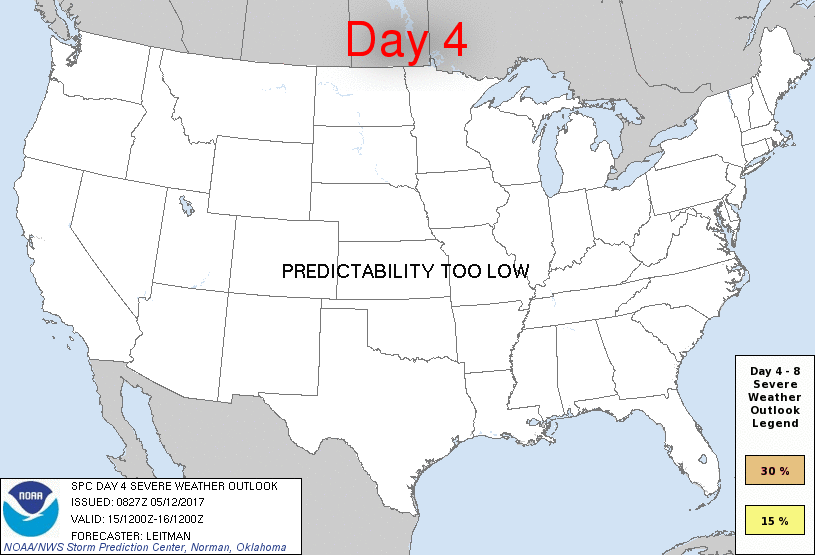 Day 4 Risk

Area (sq. mi.)

Area Pop.

Some Larger Population Centers in Risk Area

No Risk Areas Forecast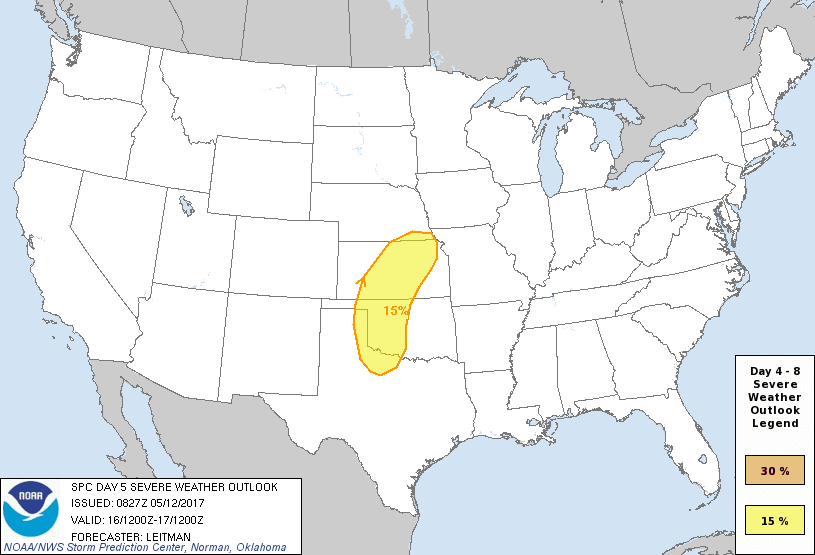 | | | | |
| --- | --- | --- | --- |
| Day 5 Risk | Area (sq. mi.) | Area Pop. | Some Larger Population Centers in Risk Area |
| 15 % | 91,039 | 2,830,993 | Wichita, KS...Topeka, KS...Wichita Falls, TX...Lawton, OK...Enid, OK... |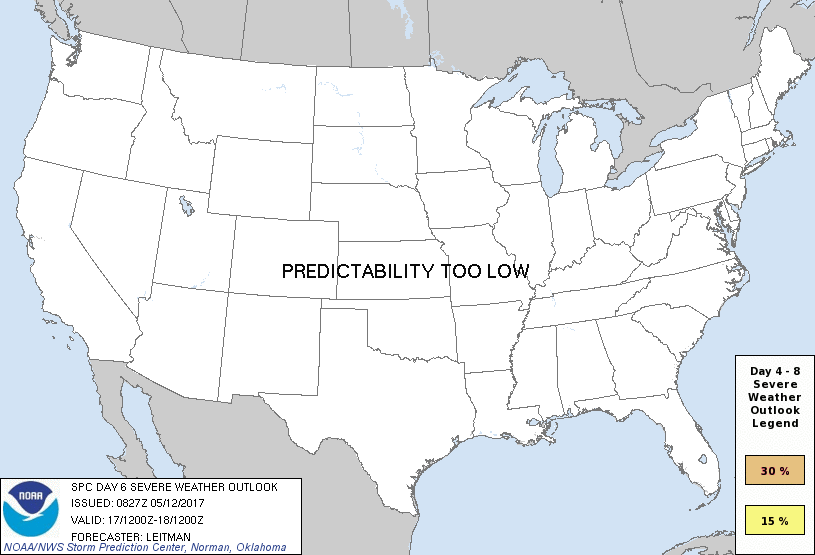 Day 6 Risk

Area (sq. mi.)

Area Pop.

Some Larger Population Centers in Risk Area

No Risk Areas Forecast
Day 7 Risk

Area (sq. mi.)

Area Pop.

Some Larger Population Centers in Risk Area

No Risk Areas Forecast
Day 8 Risk

Area (sq. mi.)

Area Pop.

Some Larger Population Centers in Risk Area

No Risk Areas Forecast
D4
Mon, May 15, 2017 - Tue, May 16, 2017
D7
Thu, May 18, 2017 - Fri, May 19, 2017
D5
Tue, May 16, 2017 - Wed, May 17, 2017
D8
Fri, May 19, 2017 - Sat, May 20, 2017
D6
Wed, May 17, 2017 - Thu, May 18, 2017
(All days are valid from 12 UTC - 12 UTC the following day)
Note:

A severe weather area depicted in the Day 4-8 period indicates 15%, 30% or higher probability for severe thunderstorms within 25 miles of any point.
PREDICTABILITY TOO LOW is used to indicate severe storms may be possible based on some model scenarios. However, the location or occurrence of severe storms are in doubt due to: 1) large differences in the deterministic model solutions, 2) large spread in the ensemble guidance, and/or 3) minimal run-to-run continuity.
POTENTIAL TOO LOW means the threat for a regional area of organized severe storms appears unlikely (i.e., less than 15%) for the forecast day.


   ZCZC SPCSWOD48 ALL
   ACUS48 KWNS 120827
   SPC AC 120827

   Day 4-8 Convective Outlook  
   NWS Storm Prediction Center Norman OK
   0327 AM CDT Fri May 12 2017

   Valid 151200Z - 201200Z

   ...DISCUSSION...
   ...Day 4/Mon...

   A weak lead shortwave impulse will eject across the southern Rockies
   into the central High Plains on Monday. Moisture will be returning
   northward on southerly low level flow beneath the upper ridge
   centered over the central U.S. A lee low will develop over the
   central/northern High Plains with a dryline extending southward into
   the southern High Plains. Some isolated convection is possible along
   the dryline due to increased forcing for ascent as the subtle
   shortwave impulse ejects across the region. However, boundary-layer
   moisture will still be modest across the southern/central High
   Plains and any storm that can develop will be high-based. A deeply
   mixed boundary layer will be present beneath steep midlevel lapse
   rates and any storm that can develop could produce hail or gusty
   winds. However, threat appears too conditional/marginal at this time
   to introduce severe probs. 

   Further north toward the northern Plains and Upper Midwest, better
   low-level moisture will exist and the environment could become quite
   unstable. However, capping concerns coupled with lack of stronger
   forcing/height falls until after 00z likely will limit convective
   potential until overnight. Some severe threat could develop after
   dark, but uncertainty is still fairly high given continued
   disparities in time and space among medium-range guidance. 

   ...Day 5/Tue...

   A strong shortwave impulse will eject across the southern and
   central Plains on Tuesday afternoon. While there are some
   differences in guidance in the evolution of this impulse into
   Tuesday night across the Upper Midwest, agreement remains good that
   a severe threat will develop during the afternoon along a surface
   dryline in the vicinity of western/central KS into western OK and
   perhaps the eastern TX Panhandle and adjacent western north TX. This
   threat may extend further north into parts of the mid-MO valley, but
   capping will be a concern this far north as stronger forcing and
   height falls do not arrive until after 00z. Thermodynamic and
   kinematic parameter space will support supercells with all hazards
   possible across the 15% risk area.

   ...Day 6/Wed...

   Quite a bit of model variability exists on Day 6 with large
   differences in the evolution of the Plains/Upper Midwest shortwave
   trough. Some threat could exist across parts of the upper Great
   Lakes and mid-MS Valley, or, further south across the central and
   southern Plains and even Ozarks, but, predictability is low given
   several hundred miles of difference in the location of the shortwave
   trough at 12z Wed. This will have large implications on surface
   recovery from convection on Tuesday. Additionally, forcing will be
   more subtle with broad swath of southwesterly flow and potential
   shortwave ridging over much of the Plains. While a severe threat
   likely will evolve somewhere in the central U.S, uncertainty is too
   high to introduce any probs at this time. 

   ...Day 7/Thu...

   By Thursday, the larger-scale western upper trough begins to
   progress eastward. However, uncertainty remains quite high given
   continued large differences in latitude of the ejecting upper trough
   and attendant surface cyclone. While a severe threat is possible
   along a surging dryline somewhere from NE to TX, and potentially
   further north and east along whatever warm front develops, details
   are still too uncertain to introduce probabilities at this time. 

   ...Day 8/Fri...

   Model solutions diverge even further by Friday and predictability is
   too low.

   ..Leitman.. 05/12/2017

   CLICK TO GET WUUS48 PTSD48 PRODUCT