Storm Prediction Center
Day 1 and Day 2 Fire Weather Outlooks
Click for Day 1 FireWX Areal Outline Product

   ZCZC SPCFWDDY1 ALL
   FNUS21 KWNS 160809
   
   DAY 1 FIRE WEATHER OUTLOOK RESENT 1
   NWS STORM PREDICTION CENTER NORMAN OK
   0309 AM CDT SUN JUL 16 2006
   
   VALID 161200Z - 171200Z
   
   ...CRITICAL FIRE WEATHER AREA FOR ERN MT...WRN DAKOTAS...NWRN
   NEB...NERN WY...
   
   ...SYNOPSIS...
   LOW AMPLITUDE UPPER SHORTWAVE TROUGH WILL CONTINUE ESEWD ACROSS SRN
   CANADA AND WILL HELP BREAK DOWN THE UPPER RIDGE ACROSS THE NRN
   ROCKIES/PLAINS. AT THE SURFACE...HIGH PRESSURE WILL BUILD INTO THE
   NRN HIGH PLAINS BEHIND A SURFACE TROUGH EXTENDING FROM NRN MN INTO
   CENTRAL NEB BY LATE SUNDAY. BEHIND THIS FRONT...NWLY WINDS WILL
   INCREASE AND WILL CAUSE CRITICAL FIRE CONDITIONS.
   
   ELSEWHERE...ELONGATED W-E UPPER RIDGE AXIS WILL EXTEND FROM THE
   CENTRAL PLAINS INTO THE GREAT BASIN...WITH HOT TEMPERATURES AND LOW
   RH. HAINES INDEX WILL BE HIGH FROM SRN CA INTO MUCH OF THE GREAT
   BASIN. MONSOONAL MOISTURE WILL SHIFT A BIT FARTHER W INTO THE LOWER
   CO RIVER VALLEY AND SRN CA AS A WEAK UPPER LOW MOVES ACROSS NRN MX.
   THIS WILL CAUSE SCATTERED STORMS OVER CENTRAL AND ERN AZ...WITH
   ISOLATED ACTIVITY INTO SRN CA. THESE STORMS WILL HAVE THE POTENTIAL
   TO PRODUCE GUSTY WINDS IN THE VICINITY OF ONGOING FIRES.
   
   ...CRITICAL FIRE WEATHER AREA - ERN MT...WRN DAKOTAS...NWRN
   NEB...NERN WY...
   
   PRIMARY CONDITIONS: MDT NWLY WINDS...LOW RH...HOT TEMPERATURES
   
   NWLY WINDS WILL INCREASE BY MID MORNING BEHIND THE SURFACE PRESSURE
   TROUGH/WIND SHIFT...REACHING SPEEDS NEAR 20 MPH WITH HIGHER GUSTS
   FROM ERN MT INTO THE WRN DAKOTAS AND NERN WY. THE WIND SHIFT WILL
   DROP TEMPERATURES ONLY A FEW DEGREES...RANGING FROM THE MID 90S OVER
   ERN MT TO ABOVE 105 OVER WRN SD/NEB. RH LEVELS WILL THUS BE QUITE
   LOW FROM 10-15 PERCENT...WITH VALUES INCREASING ABOVE 20-30 OVER NRN
   ND WHERE IT IS COOLER. WIND DIRECTION WILL REMAIN OUT OF THE SOUTH
   OVER CENTRAL NEB AHEAD OF SURFACE LOW/TROUGH.
   
   ALSO OF NOTE IS THE LIGHTNING ACTIVITY THAT PASSED OVER CENTRAL AND
   ERN MT SAT NIGHT INTO SUN MORNING. GIVEN GUSTY WINDS AND LOW
   RH...ANY FIRE STARTS THAT MAY HAVE OCCURRED MAY DEVELOP FURTHER.
   
   ...MUCH OF SRN CA INTO THE CENTRAL AND ERN GREAT BASIN...
   A HIGH HAINES INDEX WILL BE IN PLACE TODAY DUE TO VERY WARM
   TEMPERATURES...LOW RH AND STEEP LOW TO MID LEVEL LAPSE RATES. WEAK
   WIND PROFILES UNDER UPPER RIDGE CENTER WILL THUS COMBINE TO PROMOTE
   POTENTIAL FOR PLUME DOMINATED FIRES DURING THE LATE AFTERNOON HOURS.
   
   
   ...FAR SRN CA INCLUDING COASTAL RANGE...
   MOISTURE WILL INCREASE OUT OF THE E TODAY AS A DISTURBANCE DRIFTS
   WWD ACROSS NRN MX. THIS WILL ALLOW FOR AT LEAST ISOLATED
   THUNDERSTORMS TO FORM LATE AFTERNOON ACROSS THE DESERTS OF SWRN AZ
   AND SRN CA...AND POSSIBLY OVER THE SRN COASTAL RANGE. MOISTURE
   LEVELS WILL BE TOO HIGH FOR PURELY DRY STORMS...BUT GUSTY WINDS WILL
   OCCUR ALONG WITH LIGHTNING. GIVEN THAT STORMS WOULD MOVE TOWARD THE
   WEST ONCE DEVELOPED...ERRATIC WINDS MAY APPROACH ONGOING FIRE
   COMPLEX LATE IN THE DAY OR INTO THE EARLY EVENING.
   
   ..JEWELL.. 07/16/2006
   
   ...PLEASE SEE WWW.SPC.NOAA.GOV/FIRE FOR GRAPHIC PRODUCT...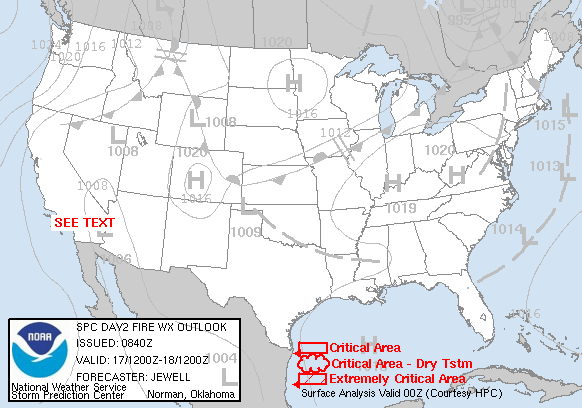 Click for Day 2 FireWX Areal Outline Product

   ZCZC SPCFWDDY2 ALL
   FNUS22 KWNS 160836
   
   DAY 2 FIRE WEATHER OUTLOOK  
   NWS STORM PREDICTION CENTER NORMAN OK
   0336 AM CDT SUN JUL 16 2006
   
   VALID 171200Z - 181200Z
   
   ...NO CRITICAL AREAS...
   
   ...SYNOPSIS...
   WEAK COLD FRONT WILL CONTINUE EWD FROM THE NRN PLAINS INTO THE UPPER
   MS VALLEY AND GREAT LAKES...ALLOWING HIGH PRESSURE TO BUILD INTO THE
   NRN PLAINS. MUCH COOLER TEMPERATURES AND WEAKER WINDS WILL RESULT
   BEHIND THE FRONT WITH A TEMPORARY DECREASE IN FIRE THREAT.
   
   MEANWHILE...VERY HOT CONDITIONS WILL PERSIST UNDER UPPER RIDGE AXIS
   FROM THE CENTRAL/SRN PLAINS WWD INTO THE GREAT BASIN AND CA.
   SCATTERED STORMS WILL OCCUR ONCE AGAIN OVER WRN CO INTO CENTRAL/SERN
   AZ WITH RAIN AND GUSTY WINDS INTO CENTRAL/SRN AZ. INCREASED MOISTURE
   WILL ALSO CAUSE ISOLATED STORMS INTO SRN CA WHICH MAY COMPLICATE
   FIRE SITUATION DUE TO GUSTY WINDS.
   
   ...SRN CA...
   THREAT OF GUSTY WINDS AND LIGHTNING WILL BE HIGHER ON MONDAY ACROSS
   SRN CA AS MOISTURE CONTINUES TO SHIFT WWD. ISOLATED AFTERNOON STORMS
   WILL OCCUR OVER SRN CA BY LATE AFTERNOON WITH HOT TEMPERATURES. THE
   AMOUNT OF MOISTURE AVAILABLE WILL ALLOW FOR WETTING RAINS.
   HOWEVER...STORMS WILL MOVE SLOWLY WWD AND MAY HAVE ORGANIZED OUTFLOW
   WHICH COULD MOVE THROUGH THE SAWTOOTH/MILLARD FIRE
   COMPLEX...INCREASING FIRE DANGER WITH SHIFTING WINDS. AN ISOLATED
   STORM MAY OCCUR OVER THE SRN SIERRA AS WELL.
   
   ...FAR SRN OK/NRN AND W-CNTRL TX...
   IT WILL REMAIN VERY HOT WITH TEMPERATURES ABOVE 100 F AND RH DIPPING
   TO 20-25 PERCENT. WINDS WILL NOT BE STRONG AT 10-15 MPH...BUT
   DROUGHT CONDITIONS PERSIST WITH KBDI VALUES NEARING 700.
   
   ..JEWELL.. 07/16/2006
   
   ...PLEASE SEE WWW.SPC.NOAA.GOV/FIRE FOR GRAPHIC PRODUCT...