Storm Prediction Center
Day 1 and Day 2 Fire Weather Outlooks
Click for Day 1 FireWX Areal Outline Product

   ZCZC SPCFWDDY1 ALL
   FNUS21 KWNS 230635
   
   DAY 1 FIRE WEATHER OUTLOOK  
   NWS STORM PREDICTION CENTER NORMAN OK
   0135 AM CDT SUN MAR 23 2008
   
   VALID 231200Z - 241200Z
   
   ...NO CRITICAL AREAS...
   
   ...SYNOPSIS...
   AN UPPER LONG WAVE TROUGH AND COOLER TEMPERATURES WILL DOMINATE IN
   THE EAST. DRY N TO NWLY FLOW WILL BE REINFORCED ACROSS THE SOUTHEAST
   AS A SURFACE COLD FRONT SLOWLY MOVES SWD TODAY. THIS WILL ALLOW A
   STALLED BOUNDARY ACROSS SRN FL TO WEAKEN AND SHIFT SWD AS HIGH
   PRESSURE BUILDS IN BEHIND.
   
   IN TX...A COLD FRONTAL BOUNDARY WILL SHIFT SWD THROUGH THE
   MORNING...AND ALTHOUGH STRONG AND GUSTY WINDS WILL BE LIKELY OVER
   MUCH OF TX FOLLOWING THE FRONT...RELATIVE HUMIDITIES WILL STAY ABOVE
   CRITICAL THRESHOLDS. 
    
   ACROSS MUCH OF THE PLAINS AND THE ROCKIES HIGH PRESSURE WILL BE
   DOMINANT. ALTHOUGH DRY CONDITIONS PERSIST ACROSS MUCH OF THE
   SOUTHWEST...WINDS ARE EXPECTED TO REMAIN LIGHT. 
   
   IN THE PACIFIC NORTHWEST...A LOW PRESSURE CENTER WILL BRING
   WIDESPREAD PRECIPITATION ALONG WITH STRONG AND GUSTY WINDS.
   
   ...SERN STATES...
   EARLY MORNING SFC ANALYSIS SHOWS A DRY COLD FRONT ACROSS ERN
   SC...SRN GA...AND EXTENDING ALONG SRN PORTIONS OF THE GULF COAST
   STATES. OBSERVATIONAL DATA BEHIND THE COLD FRONT SHOWS SIGNIFICANT
   MOISTURE GRADIENT...WITH 20 DEGREE OR MORE DIFFERENCE IN DEW POINTS
   ON EITHER SIDE. THIS FRONT WILL SHIFT SWD TODAY...AND DRIER AIR WILL
   CONTINUE TO BUILD IN BEHIND. ADDITIONALLY...A FRONTAL BOUNDARY
   STALLED ACROSS CENTRAL AND SRN FL WILL FINALLY WEAKEN AND MOVE SWD
   AS THE COLD FRONT APPROACHES.
   
   RAINFALL AND INITIAL CLOUD COVER ACROSS MUCH OF CENTRAL AND SRN FL
   PENINSULA WILL LIMIT FIRE WEATHER POTENTIAL FOR TODAY.
   HOWEVER...OVER MUCH OF THE SOUTHEAST...TEMPERATURES WILL STILL BE
   ABLE TO MAKE IT INTO THE 60S AND 70S...AND WITH DRY AIR FILTERING
   IN...EXPECT RELATIVE HUMIDITIES TO DROP INTO THE MID 20S AND LOWER
   30S CLOSER TO THE COAST. GUSTY NWLY WINDS WILL BE POSSIBLE FOLLOWING
   THE FRONT...ALTHOUGH ATTM EXPECT WINDS TO REMAIN BELOW CRITICAL
   THRESHOLDS.
   
   ..HURLBUT.. 03/23/2008
   
   ...PLEASE SEE WWW.SPC.NOAA.GOV/FIRE FOR GRAPHIC PRODUCT...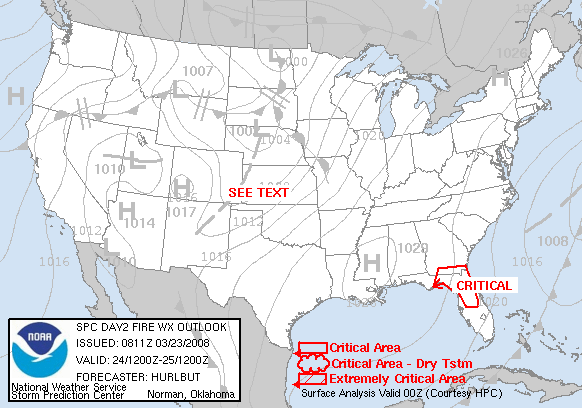 Click for Day 2 FireWX Areal Outline Product

   ZCZC SPCFWDDY2 ALL
   FNUS22 KWNS 230811
   
   DAY 2 FIRE WEATHER OUTLOOK  
   NWS STORM PREDICTION CENTER NORMAN OK
   0311 AM CDT SUN MAR 23 2008
   
   VALID 241200Z - 251200Z
   
   ...CRITICAL FIRE WEATHER AREA FOR EXTREME SRN GA/N AND CENTRAL FL...
   
   ...SYNOPSIS...
   A LONG WAVE TROUGH AND GENERALLY COOLER TEMPERATURES WILL CONTINUE
   TO DOMINATE THE EAST...WITH SURFACE HIGH PRESSURE BUILDING IN INVOF
   THE LOWER MISSISSIPI VALLEY. HIGH PRESSURE WILL REMAIN DOMINANT OVER
   MUCH OF THE WEST...ALTHOUGH A LOW PRESSURE CENTER ACROSS THE NRN
   PLAINS WILL BEGIN TO DEVELOP SWD THROUGH THE LEE SIDE OF THE
   ROCKIES.
   
   ...CRITICAL FIRE WEATHER AREA - EXTREME SRN GA/N AND CENTRAL FL...
   
   PRIMARY CONDITIONS: LOW RH/WIND/DEVELOPING DROUGHT
   
   ORIENTATION OF A LONG WAVE TROUGH ALONG THE EAST COAST AND A SURFACE
   HIGH PRESSURE NEAR THE LOWER MISSISSIPPI VALLEY WILL ALLOW FOR A
   CONTINUED DRY NWLY FLOW ACROSS THE SOUTHEAST. DESPITE COLD AIR
   ADVECTION...TEMPERATURES WILL WARM INTO THE 60S ACROSS LOWER
   PORTIONS OF GA/AL AND NRN FL...WHILE LOWER 70S WILL BE POSSIBLE
   ACROSS CENTRAL FL. AFTERNOON RELATIVE HUMIDITIES ARE FORECAST TO
   DROP INTO THE UPPER TEENS AND LOWER 20S IN THE DRIEST AREAS...WHILE
   MID 20S AND LOWER 30S WILL BE POSSIBLE AS FAR AS CENTRAL FL...MAINLY
   CONFINED AWAY FROM THE IMMEDIATE COAST.
   
   INCREASING FLOW THROUGH ALL LEVELS AROUND THE BASE OF THE TROUGH AND
   AFTERNOON MIXING WILL ALLOW SUSTAINED WIND SPEEDS OF NEAR 20 MPH
   ACROSS MUCH OF THE OUTLINED AREA...WHILE GUSTS OF 25 TO 30 MPH WILL
   BE LIKELY. DRY CONDITIONS AND DEVELOPING DROUGHT WILL CONTRIBUTE TO
   FIRE DANGER. DESPITE RAINFALL OVER CENTRAL FL FROM STALLED FRONTAL
   BOUNDARY SATURDAY/EARLY SUNDAY...EXPECTED DRY CONDITIONS SUNDAY
   AFTERNOON SHOULD ENHANCE FIRE DANGER.
   
   SURROUNDING THE CRITICAL AREA IMMEDIATELY TO THE N AND W...COOLER
   TEMPERATURES MAY LIMIT EXTENT OF FIRE IGNITION POTENTIAL AND
   CRITICALLY LOW RHS. HOWEVER...CRITICAL OUTLINE AREA MAY BE ADJUSTED
   IN TOMORROWS FORECAST SHOULD CURRENT TRENDS CHANGE.
   
   ...PORTIONS OF THE CENTRAL AND SRN HIGH PLAINS...
   MODEL CONSENSUS TRENDING TOWARDS INTENSIFYING A TROUGH ON THE LEE OF
   THE ROCKIES...EXTENDING FROM A LOW PRESSURE AREA CENTERED ACROSS THE
   NRN PLAINS. THIS WILL INCREASE DRY SWLY FLOW IN WRN NEB...WRN
   KS/OK...NERN NM...AND THE PANHANDLE OF TX. TEMPERATURES WILL WARM
   INTO THE UPPER 60S/LOWER 70S IN THIS REGIME...WITH DEEP MIXING
   ALLOWING MINIMUM RELATIVE HUMIDITIES TO DROP INTO THE TEENS. THERE
   IS SOME UNCERTAINTY REGARDING THE STRENGTH OF THE TROUGH AND AREAL
   EXTENT OF THE DRY AIR...ALTHOUGH THE STRONGEST LOW LEVEL WINDS
   COLOCATED WITH THE DRIEST AIR APPEAR LIKELY FROM THE PANHANDLE OF TX
   UP THROUGH WRN OK/KS. CURRENT FORECASTS KEEP WINDS JUST BELOW
   CRITICAL THRESHOLDS...ALTHOUGH GIVEN FORECAST MIXING HEIGHTS AND THE
   POTENTIAL FOR A STRONGER PRESSURE GRADIENT...A CRITICAL AREA MAY
   NEED TO BE OUTLINED IN TOMORROWS DAY 1 FORECAST WHEN MORE
   OBSERVATIONAL DATA CAN BE INCORPORATED.
   
   ..HURLBUT.. 03/23/2008
   
   ...PLEASE SEE WWW.SPC.NOAA.GOV/FIRE FOR GRAPHIC PRODUCT...