Storm Prediction Center
Day 1 Fire Weather Outlooks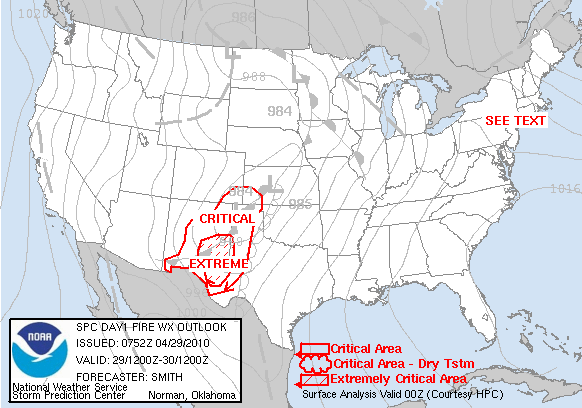 Click for Day 1 FireWX Areal Outline Product

   ZCZC SPCFWDDY1 ALL
   FNUS21 KWNS 290752
   
   DAY 1 FIRE WEATHER OUTLOOK  
   NWS STORM PREDICTION CENTER NORMAN OK
   0252 AM CDT THU APR 29 2010
   
   VALID 291200Z - 301200Z
   
   ...EXTREMELY CRITICAL FIRE WEATHER AREA FOR ERN PLAINS OF NM / PARTS
   OF SW TX PECOS RIVER VALLEY...
   ...CRITICAL FIRE WEATHER AREA FOR SERN HALF OF NM / PARTS OF FAR W
   TX AND TX-OK PANHANDLES / SERN CO / SWRN KS...
   
   ...SYNOPSIS...
   00Z/29 UPPER AIR AND EARLY MORNING SATELLITE SHOW A MID LEVEL LOW
   OVER THE NRN HIGH PLAINS AND THIS FEATURE IS FORECAST TO MOVE LITTLE
   THROUGH FRIDAY MORNING AS A LARGE SCALE UPPER TROUGH ENCAPSULATES
   THE WRN HALF OF THE LOWER 48.  TWO PRIMARY DISTURBANCES WILL MOVE
   NEWD INTO THE NRN PLAINS AND DESERT SW...RESPECTIVELY...BY THIS
   EVENING.  SEVERAL LOW LEVEL CYCLONES ELONGATED ALONG A FRONTAL
   BOUNDARY FROM THE NRN PLAINS TO A CNTRL HIGH PLAINS LEE LOW WILL ACT
   TO MAINTAIN A TIGHT PRESSURE GRADIENT OVER THE CNTRL CONUS EXTENDING
   TO THE DESERT SW.  A DRYLINE WILL BE SITUATED OVER THE SRN HIGH
   PLAINS DEMARCATING A CRITICAL FIRE WEATHER AREA ACROSS PARTS OF THE
   CNTRL/SRN HIGH PLAINS FROM AN EXPANDING AND MOISTENING BOUNDARY
   LAYER PERMEATING NWD ACROSS THE LOW PLAINS TOWARDS THE UPPER
   MIDWEST.
   
   ...SERN HALF OF NM / PARTS OF FAR W TX AND TX-OK PANHANDLES / SERN
   CO / SWRN KS...
   STRONG WINDS WILL INCREASE ALOFT /H7 35-60 KTS/ AS THE UPPER TROUGH
   CONTINUES TO AMPLIFY AND APPROACHES THE REGION FROM THE NW.  STRONG
   MIXING AND ABUNDANT SURFACE HEATING YIELDING VERY WARM TEMPERATURES
   WILL LEAD TO A LONG DURATION OF VERY STRONG SUSTAINED WINDS AND
   GUSTS BEGINNING THIS MORNING AND LASTING INTO THIS EVENING. 
   SUSTAINED WINDS OF 20-40 MPH WILL BE COMMON OVER THE CRITICAL AREA
   WITH GUSTS AT TIMES AROUND 60 MPH ACROSS THE EXTREMELY CRITICAL
   AREA.  UPPER SINGLE DIGITS WILL BE LIKELY IN SERN NM AND SWRN TX
   WHERE TEMPS REACH NEAR 90 DEG F...WITH 10-15 PERCENT COMMON
   ELSEWHERE.
   
   ...NY / PA / NJ / SWRN NEW ENGLAND...
   A DRY CONTINENTAL NWLY FLOW REGIME WILL RESULT IN RH LIKELY DROPPING
   INTO THE 25-35 PERCENT RANGE BY AFTERNOON. NWLY WINDS AROUND 20-25
   MPH ARE ALSO EXPECTED...WHICH WILL ENHANCE THE FIRE THREAT. ALTHOUGH
   THE ZONE FROM ERN PA TO LONG ISLAND HAS SEEN SIGNIFICANT
   PRECIPITATION WITHIN THE LAST TWO WEEKS...PORTIONS OF SERN NY INTO
   WRN VT/MA/CT HAS BEEN RELATIVELY DRY...WITH THE GREATEST RELATIVE
   FIRE THREAT THERE.
   
   ..SMITH.. 04/29/2010
   
   ...PLEASE SEE WWW.SPC.NOAA.GOV/FIRE FOR GRAPHIC PRODUCT...