Storm Prediction Center
Day 1 Fire Weather Outlooks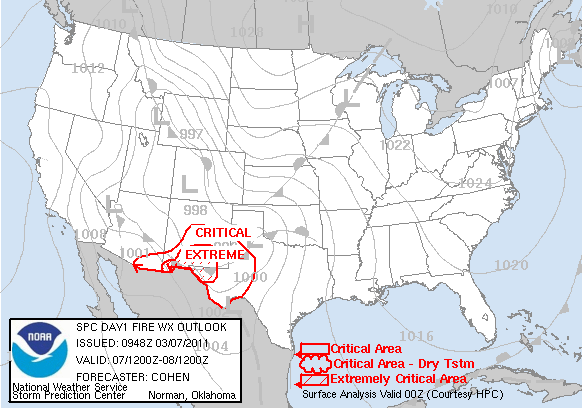 Click for Day 1 FireWX Areal Outline Product

   ZCZC SPCFWDDY1 ALL
   FNUS21 KWNS 070948
   
   DAY 1 FIRE WEATHER OUTLOOK  
   NWS STORM PREDICTION CENTER NORMAN OK
   0348 AM CST MON MAR 07 2011
   
   VALID 071200Z - 081200Z
   
   ...EXTREMELY CRITICAL FIRE WEATHER AREA FOR SWRN AND S-CNTRL NM INTO
   PORTIONS OF THE TRANS-PECOS OF TX...
   ...CRITICAL FIRE WEATHER AREA FOR SERN AZ / PORTIONS OF
   CNTRL...SRN...ERN NM / PORTIONS OF WRN TX...
   ...SYNOPSIS...
   A DEEP-LAYER TROUGH IS FORECAST TO TAKE SHAPE OVER THE WRN
   CONUS...AS A VIGOROUS MID/UPPER-LEVEL SHORTWAVE TROUGH DIVES S-SEWD
   FROM THE ERN PACIFIC INTO THE WRN CONUS. A ZONE OF INTENSE MID-LEVEL
   WLY FLOW /500-MB SPEEDS AROUND 100 MPH/ WILL BECOME ESTABLISHED
   WITHIN THE BASE OF THE EVOLVING DEEP-LAYER TROUGH. AS THIS
   OCCURS...SFC LOW PRESSURE IS FORECAST TO STRENGTHEN OVER THE GREAT
   BASIN...AND EXTEND SEWD INTO THE SRN HIGH PLAINS. THIS WILL TIGHTEN
   THE PRESSURE GRADIENT ACROSS PORTIONS OF THE SWRN CONUS AND SRN
   PLAINS. WHEN COMBINED WITH THE STRENGTHENING MID-LEVEL FLOW...THIS
   WILL YIELD STRONG TO VERY STRONG SFC WINDS. WITH A DRY AIR MASS IN
   PLACE ACROSS SERN AZ...CNTRL/SRN/ERN NM...AND WRN TX...CRITICAL TO
   EXTREMELY CRITICAL CONDITIONS ARE ANTICIPATED ACROSS THIS REGION.
   
   ...SERN AZ / CNTRL...SRN...ERN NM / PORTIONS OF WRN TX...
   AN EXTREMELY CRITICAL AREA COVERS PORTIONS OF SWRN/S-CNTRL NM INTO
   THE TRANS-PECOS REGION OF FAR WRN TX. IN THIS REGION...W-SWLY TO WLY
   WINDS OF 30 TO 35 MPH WITH GUSTS REACHING 50 MPH /POTENTIALLY AROUND
   60 MPH ACROSS THE HIGHER ELEVATIONS/ ARE EXPECTED. THIS WILL OCCUR
   AS TEMPERATURES BECOME UNSEASONABLY WARM IN THE 70S AND
   80S...ALLOWING THE MIXED LAYER TO EXTEND AOA 7000 FT AGL AND THE
   STRONG MID-LEVEL FLOW TO BECOME MANIFESTED AT THE SURFACE.
   ADDITIONALLY...VERY LOW RH VALUES /UPPER SINGLE DIGITS TO AROUND 10
   PERCENT/ ARE EXPECTED FOR AT LEAST A FEW HOURS...AIDED BY THE
   DOWNSLOPE COMPONENT OF THE FLOW. GIVEN THE AFOREMENTIONED
   CONDITIONS...AND THE SEVERE DROUGHT IN PLACE ACROSS MUCH OF THE
   AREA...EXTREMELY CRITICAL FIRE WEATHER CONDITIONS ARE EXPECTED /IN
   COORDINATION WITH LOCAL OFFICES/. WHILE SOMEWHAT COOLER TEMPERATURES
   OVER SOME OF THE HIGHER ELEVATIONS MAY YIELD MORE MARGINAL RH
   VALUES...THE COMBINATION OF BELOW-NORMAL PRECIPITATION DURING THE
   PAST FEW MONTHS AND THE VERY STRONG WINDS WARRANTS THE EXTREMELY
   CRITICAL DESIGNATION IN THESE AREAS.
   
   SURROUNDING THE EXTREMELY CRITICAL AREA...CRITICAL FIRE WEATHER
   CONDITIONS ARE EXPECTED...WITH W-SWLY TO WLY WINDS OF 20 TO 30 MPH
   AND GUSTS REACHING 40 MPH...ALONG WITH RH VALUES OF 8 TO 15 PERCENT
   DURING THE AFTERNOON. THERE IS SOME UNCERTAINTY WITH REGARD TO HOW
   FAR NORTH CRITICAL RH VALUES WILL EXTEND...AS A FRONT DROPS SWD
   ACROSS NRN NM AND IS FOLLOWED BY COOLER TEMPERATURES AND HIGHER RH
   VALUES. THE NRN EXTENT OF THE CRITICAL AREA HAS BEEN NUDGED SWD FROM
   THE PRECEDING OUTLOOKS IN NM TO ACCOUNT FOR THE ANTICIPATED GREATER
   MOISTURE. ADDITIONALLY...THERE IS SOME UNCERTAINTY IN HOW FAR EAST
   CRITICALLY STRONG WINDS WILL EXTEND IN WRN TX...AS MODELS ARE
   DEPICTING A SLIGHTLY WEAKER PRESSURE GRADIENT. THE ERN EDGE OF THE
   CRITICAL AREA HAS ACCORDINGLY BEEN NUDGED WWD FROM THE PRECEDING
   OUTLOOKS BASED ON MODEL CONSENSUS.
   
   ALSO OF NOTE...MODELS ARE INDICATING THE POTENTIAL FOR
   MID/UPPER-LEVEL MOISTURE AND ASCENT TO MOVE ACROSS THE REGION
   TONIGHT...ESPECIALLY ACROSS NRN AREAS. GIVEN DEEP AND WELL MIXED
   SUB-CLOUD LAYERS...THERE WILL BE THE POTENTIAL FOR VIRGA TO DEVELOP
   WITH AN ATTENDANT RISK FOR GUSTY AND ERRATIC SURFACE WINDS INTO THE
   NIGHT.
   
   ...SRN DESERTS OF CA INTO PORTIONS OF SRN NV AND WRN AZ...
   WLY TO NWLY WINDS OF 20 TO 35 MPH WITH HIGHER GUSTS ARE ANTICIPATED
   GIVEN THE STRONG MID-LEVEL FLOW. HOWEVER...RH VALUES ARE EXPECTED TO
   REMAIN ABOVE 20 PERCENT. ADDITIONALLY...PRECIPITATION OVER THE PAST
   THREE MONTHS HAS BEEN ABOVE NORMAL IN MANY AREAS. THESE FACTORS ARE
   EXPECTED TO PRECLUDE A MORE SUBSTANTIAL FIRE WEATHER THREAT.
   
   ...INTERIOR/WRN SECTIONS OF THE FL PENINSULA AND MUCH OF THE FL
   PANHANDLE...
   RH VALUES ARE EXPECTED TO FALL INTO THE MIDDLE 20S TO MIDDLE
   30S...AS TEMPERATURES WARM INTO THE UPPER 60S TO UPPER 70S.
   HOWEVER...WIND SPEEDS ARE EXPECTED TO REMAIN BELOW 10
   MPH...INHIBITING A WIND-DRIVEN FIRE WEATHER THREAT.
   
   ..COHEN.. 03/07/2011
   
   ...PLEASE SEE WWW.SPC.NOAA.GOV/FIRE FOR GRAPHIC PRODUCT...