Storm Prediction Center
Day 1 Fire Weather Outlooks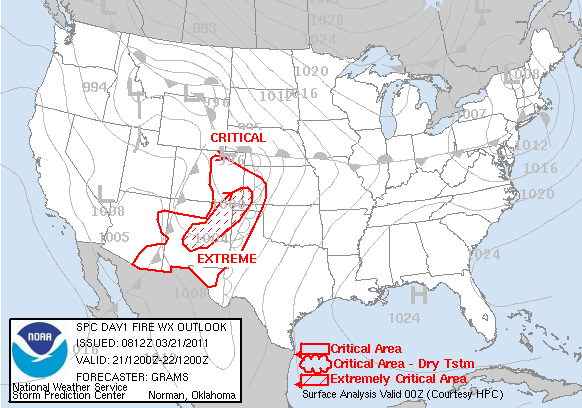 Click for Day 1 FireWX Areal Outline Product

   ZCZC SPCFWDDY1 ALL
   FNUS21 KWNS 210812
   
   DAY 1 FIRE WEATHER OUTLOOK  
   NWS STORM PREDICTION CENTER NORMAN OK
   0312 AM CDT MON MAR 21 2011
   
   VALID 211200Z - 221200Z
   
   ...EXTREMELY CRITICAL FIRE WEATHER AREA FOR CNTRL/NERN NM...NWRN TX
   PANHANDLE...WRN OK PANHANDLE...FAR SERN CO/SWRN KS...
   ...CRITICAL FIRE WEATHER AREA FOR MOST OF NM...FAR WRN TX...TX/OK
   PANHANDLES...ERN CO...WRN KS...PARTS OF ERN AZ...
   ...SYNOPSIS...
   AN AMPLIFIED UPPER-LEVEL TROUGH WILL PROGRESS EWD ACROSS THE WRN
   CONUS. DOWNSTREAM OF THE TROUGH AXIS...A BROAD SWATH OF INTENSE
   LOW/MID-LEVEL SWLYS WILL OVERSPREAD THE SOUTHWEST AND CNTRL/SRN HIGH
   PLAINS BY THIS AFTERNOON. AT THE SURFACE...LEE CYCLOGENESIS WILL
   OCCUR OVER FAR NERN CO WITH THE DRYLINE MIXING EWD ACROSS WRN
   KS...THE OK PANHANDLE THROUGH WRN TX. FARTHER WEST...A PACIFIC COLD
   FRONT WILL SWEEP EWD ACROSS ERN AZ INTO WRN NM BY LATE AFTERNOON.
   
   ...SOUTHWEST...CNTRL/SRN HIGH PLAINS...
   A SIGNIFICANT FIRE WEATHER EVENT REMAINS PROBABLE ACROSS MOST OF THE
   SOUTHWEST AND CNTRL/SRN HIGH PLAINS LATER THIS MORNING THROUGH
   AFTERNOON. VERY STRONG LOW/MID-LEVEL SWLYS /AOA 70 MPH AT 500 MB AND
   AOA 40 MPH AT 700 MB/ WILL ENVELOP MUCH OF THE REGION WITHIN A
   WARM/DRY AIR MASS BETWEEN THE HIGH PLAINS DRYLINE AND A COLD FRONT
   PROGRESSING ACROSS THE SOUTHWEST. THE MOST INTENSE WINDS WILL LIKELY
   LIE FROM NERN AZ INTO CNTRL NM...ARCING NEWD IN THE LEE OF THE SRN
   ROCKIES WITH SUSTAINED SURFACE SPEEDS REACHING 30 TO 40 MPH WITH
   GUSTS OF 45 TO 60 MPH. ELSEWHERE...SUSTAINED WINDS WILL GENERALLY
   RANGE FROM 20 TO 30 MPH.
   
   ALTHOUGH MODEL FORECASTS ARE CONSISTENT IN DEPICTING INCREASING PW
   VALUES WITH APPROACH OF THE UPPER-LEVEL TROUGH...THE EXTREMELY DRY
   AIR MASS PREVALENT ON SUN WILL STILL EASILY SUPPORT WIDESPREAD RH
   VALUES AOB 15 PERCENT. DOWNSLOPE EFFECTS ONTO THE HIGH PLAINS WILL
   LEAD TO WELL ABOVE-NORMAL TEMPERATURES /GENERALLY IN THE 80S AND
   90S/ WITH RH VALUES HERE LIKELY FALLING TO 3 TO 8 PERCENT. FARTHER
   WEST ACROSS W-CNTRL NM/NERN AZ...ALTHOUGH WINDS WILL BE QUITE
   STRONG...RH VALUES WILL BE MORE MARGINAL WITH SUBSTANTIAL RECOVERY
   EXPECTED LATE IN THE DAY IN THE WAKE OF A COLD FRONT PASSAGE. THE
   EXTREMELY CRITICAL AREA FROM CNTRL NM INTO SERN CO/SWRN KS
   REPRESENTS THE ZONE WITH THE GREATEST DURATION/MAGNITUDE OF VERY
   STRONG WINDS WITH VERY LOW RH AND MODERATE TO SEVERE DROUGHT.
   
   ON THE SRN PERIPHERY OF THE CRITICAL WIND-DRIVEN FIRE THREAT AND
   WEST OF THE PLAINS DRYLINE...AN ISOLATED DRY TSTM OR TWO APPEARS
   POSSIBLE IN THE EARLY EVENING INVOF THE GUADALUPE/SIERRA DIABLO MTNS
   AS MID-LEVEL MOISTENING CONTINUES.
   
   ..GRAMS.. 03/21/2011
   
   ...PLEASE SEE WWW.SPC.NOAA.GOV/FIRE FOR GRAPHIC PRODUCT...