Storm Prediction Center
Day 1 Fire Weather Outlooks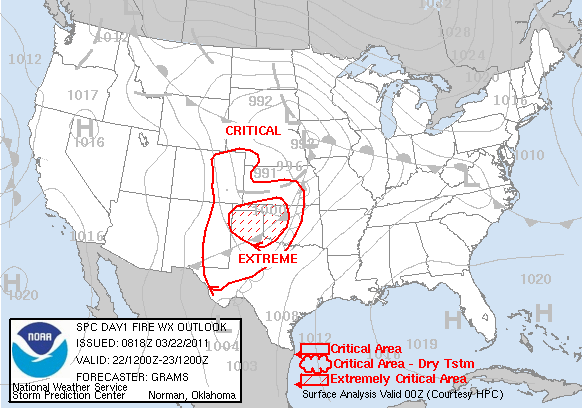 Click for Day 1 FireWX Areal Outline Product

   ZCZC SPCFWDDY1 ALL
   FNUS21 KWNS 220818
   
   DAY 1 FIRE WEATHER OUTLOOK  
   NWS STORM PREDICTION CENTER NORMAN OK
   0318 AM CDT TUE MAR 22 2011
   
   VALID 221200Z - 231200Z
   
   ...EXTREMELY CRITICAL FIRE WEATHER AREA FOR TX/OK PANHANDLES...WRN
   OK...FAR S-CNTRL KS...
   ...CRITICAL FIRE WEATHER AREA FOR PORTIONS OF THE CNTRL/SRN
   PLAINS...
   ...SYNOPSIS...
   A VIGOROUS UPPER-LEVEL SHORT WAVE TROUGH WILL RAPIDLY EJECT NEWD
   FROM NM TO THE MID-MO VALLEY BY THIS EVENING. ASSOCIATED SWATH OF
   INTENSE LOW/MID-LEVEL W/SWLYS...500 MB WINDS AOA 80 MPH AND 700 MB
   WINDS AOA 45 MPH...WILL BECOME CENTERED FROM THE SRN HIGH PLAINS TO
   THE MID-MO VALLEY BY NOON. AT THE SURFACE...A CYCLONE WILL DEEPEN
   THROUGH TODAY AS IT TRACKS FROM NERN CO INTO ERN NEB. AN ATTENDANT
   DRYLINE WILL SWEEP EWD ACROSS THE CNTRL/SRN PLAINS...LIKELY
   APPROACHING THE KS/MO BORDER S/SWWD INTO N-CNTRL TX BY 00Z. TO THE W
   OF THE SURFACE LOW...A COLD FRONT WILL DROP SEWD ACROSS THE CNTRL
   HIGH PLAINS.
   
   ...CNTRL/SRN PLAINS...
   A SIGNIFICANT FIRE WEATHER EVENT IS EXPECTED TO UNFOLD THROUGH EARLY
   EVENING. ONGOING ELEVATED FIRE WEATHER CONDITIONS ACROSS PORTIONS OF
   ERN CO/NM WILL LEAD TO WIDESPREAD CRITICAL CONDITIONS BY LATE
   MORNING OVER MUCH OF THE CNTRL/SRN HIGH PLAINS. AS THE NM SHORT WAVE
   TROUGH PROGRESSES RAPIDLY NEWD...WINDS ACROSS THE HIGH PLAINS REGION
   WILL VEER TO THE W/NW. DESPITE COOLER TEMPERATURES COMPARED TO
   MON...THE DOWNSLOPE FLOW REGIME WILL MAINTAIN LOW RH AOB 15 PERCENT
   THROUGH THE AFTERNOON ALONG WITH SUSTAINED SURFACE WINDS FROM 20 TO
   30 MPH.
   
   THE AXIS OF INTENSE LOW/MID-LEVEL FLOW WILL SHIFT E/NEWD IN CONCERT
   WITH THE EJECTING SHORT WAVE TROUGH. VERY STRONG SURFACE WLYS
   /SUSTAINED AROUND 30 TO 35 MPH WITH GUSTS OF 45 TO 55 MPH/ WILL
   DEVELOP BY NOON ACROSS THE TX/OK PANHANDLES AND EWD INTO PORTIONS OF
   S-CNTRL KS/CNTRL OK BY MID-AFTERNOON. THIS WILL BE JUXTAPOSED WITH
   RH VALUES OF 8 TO 15 PERCENT AS TEMPERATURES WARM TO ABOVE-NORMAL
   VALUES IN THE 70S/80S...RESULTING IN EXTREMELY CRITICAL CONDITIONS
   GIVEN ABNORMAL DRYNESS TO SEVERE DROUGHT.
   
   ..GRAMS.. 03/22/2011
   
   ...PLEASE SEE WWW.SPC.NOAA.GOV/FIRE FOR GRAPHIC PRODUCT...