Storm Prediction Center
Day 1 Fire Weather Outlooks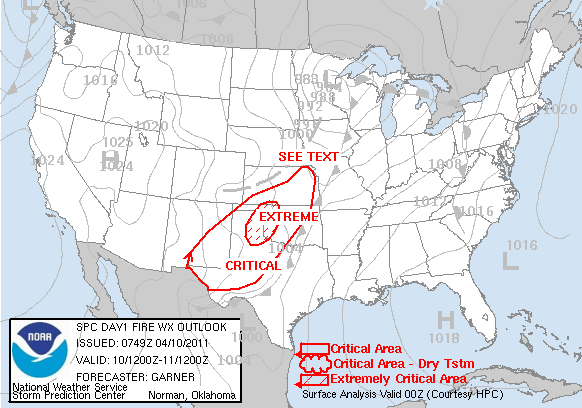 Click for Day 1 FireWX Areal Outline Product

   ZCZC SPCFWDDY1 ALL
   FNUS21 KWNS 100749
   
   DAY 1 FIRE WEATHER OUTLOOK  
   NWS STORM PREDICTION CENTER NORMAN OK
   0249 AM CDT SUN APR 10 2011
   
   VALID 101200Z - 111200Z
   
   ...EXTREMELY CRITICAL FIRE WEATHER AREA FOR THE ERN TX
   PANHANDLE...WRN OK...FAR SWRN KS...
   ...CRITICAL FIRE WEATHER AREA FOR ERN/SRN NM...WRN/NWRN
   TX...WRN/CNTRL OK...NERN/CNTRL KS...
   ...SYNOPSIS...
   POSITIVELY TILTED UPPER-LEVEL TROUGH AND ASSOCIATED 90 KT MIDLEVEL
   JET WILL PROGRESS E ACROSS THE GREAT PLAINS TODAY. AS THIS TAKES
   PLACE...SURFACE LOW PRESSURE WILL LIFT NEWD FROM THE LWR MO VALLEY
   ACROSS THE UPPER MS VALLEY AND INTO ONTARIO BY 11/12Z. MEANWHILE...A
   DRYLINE/PACIFIC FRONT WILL EXTEND SWWD FROM THE SURFACE LOW...AND IS
   FORECAST TO MOVE EWD ACROSS THE CNTRL/SRN PLAINS DURING THE
   AFTERNOON...WHILE A SECOND COLD FRONT MOVES SWD ACROSS THE HIGH
   PLAINS.
   
   ...SRN/CNTRL PLAINS...
   LATEST MODEL GUIDANCE INDICATES THAT RH VALUES WILL QUICKLY PLUMMET
   INTO THE TEENS BY LATE MORNING/EARLY AFTERNOON BEHIND AN EWD
   PROGRESSING PACIFIC FRONT...WITH VALUES POSSIBLY FALLING INTO THE
   UPPER SINGLE DIGITS OVER THE ERN TX PANHANDLE AND WRN OK. THE ERN
   PANHANDLE/WRN OK WILL ALSO RESIDE BENEATH A 50-70 KT SWLY 700 MB
   JET...WHICH WILL AID IN SUSTAINED SURFACE WIND SPEEDS NEAR 30 MPH
   WITH GUSTS POSSIBLY IN EXCESS OF 40 MPH. DESPITE NEAR NORMAL HIGH
   TEMPERATURES...EXTREMELY CRITICAL FIRE WEATHER CONDITIONS APPEAR
   LIKELY GIVEN THE STRONG WINDS...LOW RH...AND DRY FUELS/ONGOING
   DROUGHT. ELSEWHERE...SUSTAINED WIND SPEEDS WILL BE INCREASINGLY
   MARGINAL FOR CRITICAL FIRE WEATHER CONDITIONS TOWARD THE TRANSPECOS
   REGION OF SWRN TX AND THE HILL COUNTRY. FARTHER N OVER CNTRL KS...RH
   VALUES BETWEEN 10-20 PERCENT ARE EXPECTED TO BE JUXTAPOSED WITH
   SUSTAINED SWLY SURFACE WINDS UP TO 30 MPH.
   
   ...NERN KS...SERN NEB...SWRN IA...NWRN MO...
   A WEDGE OF LOW 20S RH VALUES IS FORECAST TO DEVELOP NWD ALONG AND
   IMMEDIATELY W OF THE PACIFIC FRONT OVER PORTIONS OF NERN KS...SERN
   NEB...SWRN IA AND NWRN MO DURING THE LATE MORNING AND AFTERNOON
   HOURS. THIS AREA WILL RESIDE BENEATH AN 80 KT 700 MB SPEED
   MAX...WHICH WILL CONTRIBUTE TOWARD STRONG/GUSTY SURFACE WINDS
   /SUSTAINED UP TO 35 MPH WITH GUSTS NEAR 45 MPH/. THE CRITICAL
   DELINEATION HAS BEEN EXTENDED INTO NERN KS GIVEN THE COMBINATION OF
   LOW 10 HR FUEL MOISTURE VALUES...VERY STRONG WINDS...AND MIN RH
   VALUES NEAR 20 PERCENT. OVER SERN NEB...SWRN IA...AND NWRN
   MO...HEAVIER PRECIPITATION TOTALS DURING THE LAST COUPLE OF DAYS
   WILL PRECLUDE AN UPGRADE ATTM.
   
   ..GARNER.. 04/10/2011
   
   ...PLEASE SEE WWW.SPC.NOAA.GOV/FIRE FOR GRAPHIC PRODUCT...