Storm Prediction Center
Day 1 Fire Weather Outlooks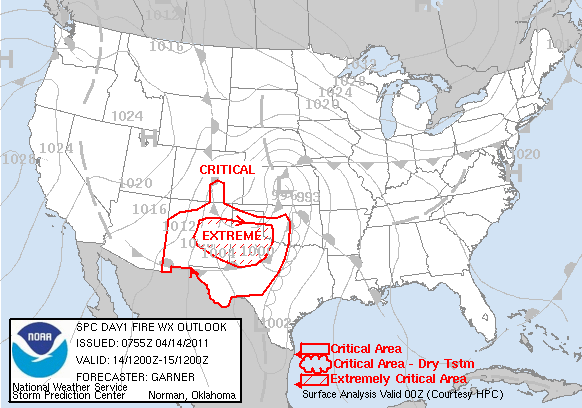 Click for Day 1 FireWX Areal Outline Product

   ZCZC SPCFWDDY1 ALL
   FNUS21 KWNS 140755
   
   DAY 1 FIRE WEATHER OUTLOOK  
   NWS STORM PREDICTION CENTER NORMAN OK
   0255 AM CDT THU APR 14 2011
   
   VALID 141200Z - 151200Z
   
   ...EXTREMELY CRITICAL FIRE WEATHER AREA FOR PORTIONS OF WRN/NWRN
   TX...THE SRN TX PANHANDLE...FAR SWRN OK...E-CNTRL NM...
   ...CRITICAL FIRE WEATHER AREA FOR MUCH OF NM...WRN/NWRN
   TX...WRN/CNTRL OK...AND PORTIONS OF SERN CO...
   ...SYNOPSIS...
   INTENSE SHORTWAVE TROUGH WILL ENTER THE SRN/CNTRL PLAINS LATER
   TODAY...AND WILL BE ACCOMPANIED BY A 90 KT MIDLEVEL JET
   STREAK...WHICH IS FORECAST TO MOVE EWD ACROSS CNTRL/E-CNTRL NM
   DURING THE MORNING...AND THEN SPREAD ACROSS W TX DURING THE
   AFTERNOON. SIGNIFICANT SURFACE CYCLOGENESIS WILL OCCUR IN RESPONSE
   TO THE UPPER WAVE...WITH LOW PRESSURE DEEPENING OVER WRN OK TOWARD
   MIDDAY...AND THEN OCCLUDING BY 15/00Z AS IT LIFTS NWD ACROSS KS. AS
   THE SURFACE LOW MOVES FROM OK INTO KS...A DRYLINE IS FORECAST TO
   RAPIDLY MIX EWD TOWARD CNTRL OK AND N-CNTRL TX...WHILE A WWD
   TRAILING COLD FRONT SURGES SWD OUT OF THE CNTRL HIGH PLAINS.
   
   ...NM AND MUCH OF THE SRN PLAINS...
   WV IMAGERY DEPICTS A POTENT UPPER-LEVEL DISTURBANCE MOVING ACROSS
   THE FOUR CORNERS AREA AT 06Z. THIS DISTURBANCE WILL CONTINUE TO MOVE
   E TOWARD THE CNTRL/SRN HIGH PLAINS BY MIDDAY...AND THEN EXIT ACROSS
   KS/OK DURING THE AFTERNOON. AN INTENSE W-NWLY MIDLEVEL SPEED MAX /90
   KT AT 500 MB/ WILL BE POSITIONED ALONG THE BASE OF THE TROUGH...AND
   IS FORECAST TO MOVE FROM E-CNTRL NM INTO W TX DURING THE PERIOD OF
   MAXIMUM DIURNAL HEATING. STRONG MIDLEVEL FLOW SPREADING ACROSS A
   DEEPLY MIXED BOUNDARY LAYER/STEEP LOW-LEVEL LAPSE RATES WILL AID IN
   THE DEVELOPMENT OF SUSTAINED SURFACE WIND SPEEDS FROM 30-40 MPH AND
   GUSTS POSSIBLY IN EXCESS OF 50 MPH.
   
   MEANWHILE...VERY POOR OVERNIGHT RH RECOVERY IS CURRENTLY OBSERVED
   ACROSS MUCH OF NM AND W TX. WITH TEMPERATURES WARMING INTO THE 60S
   TO LOW 70S ACROSS NM...AND 70S OVER W TX/SRN TX PANHANDLE TO THE 80S
   OVER SW/FAR W TX...SINGLE DIGIT RH VALUES WILL LIKELY DEVELOP ACROSS
   MUCH OF THE REGION BY NOON. THESE CONDITIONS COMBINED WITH
   SIGNIFICANT DROUGHT/VERY DRY FUELS WILL FAVOR AN EXTREMELY CRITICAL
   FIRE WEATHER THREAT OVER E-CNTRL NM...W TX/SRN TX PANHANDLE...AS
   WELL AS PORTIONS OF NWRN TX AND FAR SWRN OK.
   
   FOR AREAS SURROUNDING THE EXTREMELY CRITICAL DELINEATION...CRITICAL
   FIRE WEATHER CONDITIONS WILL LIKELY DEVELOP ALONG AND IN THE WAKE OF
   THE EWD MIXING DRYLINE FROM CNTRL OK SWD INTO NWRN TX...WHERE
   SIGNIFICANT DROUGHT IS ONGOING. THESE LOCATIONS SHOULD EXPERIENCE RH
   VALUES AOB 15 PERCENT AND SUSTAINED WIND SPEEDS IN EXCESS OF 20 MPH.
   VERY LOW RH VALUES /NEAR 5 PERCENT/ ARE ALSO EXPECTED OVER SWRN/FAR
   W TX...AND WILL OCCUR IN THE PRESENCE OF WIDESPREAD WIND SPEEDS NEAR
   25 MPH. ALONG THE LEE OF THE SRN CO ROCKIES...THERE IS CONSIDERABLE
   UNCERTAINTY REGARDING THE DEVELOPMENT OF CRITICALLY LOW RH VALUES.
   HOWEVER...VARIOUS NAM MEMBERS SUGGEST RH VALUES WILL RAPIDLY FALL
   INTO THE TEENS AND 20S BY MID TO LATE AFTERNOON AS THE SHORTWAVE
   TROUGH EXITS E AND NWLY DOWNSLOPE WINDS DEVELOP ACROSS THE AREA. FOR
   THIS REASON...THE CRITICAL DELINEATION WILL NOT BE REMOVED ATTM.
   
   ...SRN GA...NRN FL AND PANHANDLE...
   A DRY ANTECEDENT AIRMASS...CHARACTERIZED BY PWAT VALUES AOB 0.5
   INCH...COMBINED WITH TEMPERATURES WARMING INTO THE 80S...WILL FAVOR
   RH VALUES FALLING INTO THE 20S TO LOW 30S BY LATE MORNING/EARLY
   AFTERNOON. DESPITE ONGOING DROUGHT CONDITIONS...THE OCCURRENCE OF
   RELATIVELY LIGHT SUSTAINED SURFACE WIND SPEEDS /FROM 5-10 MPH/
   SHOULD PRECLUDE A CRITICAL FIRE WEATHER THREAT.
   
   ..GARNER.. 04/14/2011
   
   ...PLEASE SEE WWW.SPC.NOAA.GOV/FIRE FOR GRAPHIC PRODUCT...