Storm Prediction Center
Day 1 Fire Weather Outlooks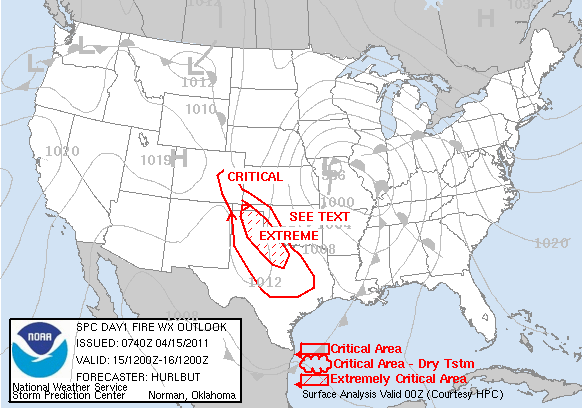 Click for Day 1 FireWX Areal Outline Product

   ZCZC SPCFWDDY1 ALL
   FNUS21 KWNS 150740
   
   DAY 1 FIRE WEATHER OUTLOOK  
   NWS STORM PREDICTION CENTER NORMAN OK
   0240 AM CDT FRI APR 15 2011
   
   VALID 151200Z - 161200Z
   
   ...EXTREMELY CRITICAL FIRE WEATHER AREA FOR TX/OK PANHANDLES...SWRN
   OK...N CNTRL TX...
   ...CRITICAL FIRE WEATHER AREA FOR ERN CO...TX/OK PANHANDLES...WRN
   OK...MUCH OF TX...
   ...SYNOPSIS...
   A VIGOROUS CLOSED UPPER LOW OVER CNTRL KS WILL SLOWLY EJECT ENEWD TO
   THE UPPER MS VALLEY THROUGH EARLY SATURDAY MORNING...WHILE THE
   ASSOCIATED SURFACE COLD FRONT QUICKLY PROGRESSES EWD TO THE OH
   VALLEY...EXTENDING SWD THROUGH THE APPALACHIANS INTO THE WRN FL
   PANHANDLE LATE IN THE PERIOD. EXTREMELY CRITICAL CONDITIONS WILL BE
   LIKELY OVER PORTIONS OF THE SRN PLAINS DURING THE MORNING/AFTERNOON
   BEFORE THE SURFACE PRESSURE GRADIENT BEGINS TO RELAX BY EVENING AS
   THE AFOREMENTIONED UPPER LOW PROGRESSES FARTHER ENEWD.
   
   ...TX/OK PANHANDLES...SWRN OK...N CNTRL TX...
   00Z SOUNDINGS AT MIDLAND AND AMARILLO TX REFLECT A PRE-EXISTING DRY
   AIR MASS CHARACTERIZED BY EXTREMELY DRY LOW LEVELS AND PWAT LESS
   THAN 0.25 INCH. 07Z SURFACE OBSERVATIONS SHOW RELATIVE HUMIDITIES
   ARE SLOW TO RECOVER ACROSS MUCH OF TX WHERE COLDER AIR HAS NOT YET
   DEVELOPED SWD...WHILE CONVECTION/HEAVY RAIN THURSDAY NIGHT GENERALLY
   DEVELOPED EAST OF THE I-35 CORRIDOR. THIS IS RESULTING IN A
   CONTINUATION OF CURED/DRY FUELS FOR MUCH OF THE SRN PLAINS...WHERE
   EXTREME DROUGHT IS PERSISTING. 
   
   RELATIVE HUMIDITIES WILL QUICKLY PLUMMET AFTER SUNRISE.
   NWLY/POST-FRONTAL WINDS WILL GENERALLY LEAD TO COOLER HIGH
   TEMPERATURES THAN PREVIOUS DAYS...THOUGH HIGHS IN THE UPPER 50S TO
   MID 60S ACROSS THE TX/OK PANHANDLES TO MID 70S FARTHER S OVER N
   CNTRL TX SHOULD BE SUFFICIENT FOR MINIMUM RELATIVE HUMIDITIES IN THE
   SINGLE DIGITS TO LOWER TEENS. HOWEVER...COLDER THAN FORECAST
   TEMPERATURES WOULD LEAD TO PERHAPS MORE MARGINAL RELATIVE HUMIDITIES
   OVER NRN PORTIONS OF THE EXTREME.
   
   HOWEVER...AN UPGRADE TO EXTREMELY CRITICAL STILL APPEARS WARRANTED
   DESPITE THE POTENTIAL OF MARGINAL RELATIVE HUMIDITIES...GIVEN
   ANTECEDENT DRYNESS...ONGOING FIRES...AND MAGNITUDE OF FORECAST
   WINDS. THE STRONGEST WINDS WILL OCCUR DURING THE MORNING/EARLY
   AFTERNOON...WITH SUSTAINED SPEEDS NEAR 25 TO 40 MPH AND GUSTS AOA 50
   TO 60 MPH. AS THE UPPER SYSTEM/ASSOCIATED COLD FRONT EJECT EWD...THE
   STRONGEST SURFACE PRESSURE GRADIENT/LOW LEVEL WINDS WILL PROGRESS
   EWD AS WELL...ALLOWING SUSTAINED WINDS/GUSTS TO DECREASE OVER THE
   EXTREMELY CRITICAL AREA BY EVENING.
   
   ...ERN CO...TX/OK PANHANDLES...WRN KS/OK...MUCH OF TX...
   SURROUNDING THE EXTREMELY CRITICAL...STRONG NLY/NWLY WINDS SIMILAR
   TO THE EXTREME AREA /SUSTAINED 25 TO 40 MPH WITH GUSTS AOA 50 MPH/
   WILL BE COMMON ACROSS PORTIONS OF ERN CO...SWRN KS...THE ERN OK
   PANHANDLE...AND WRN OK. GIVEN EXTREME DROUGHT CONDITIONS AND STRONG
   WINDS...AN ENHANCED THREAT WILL EXIST...THOUGH RELATIVE HUMIDITIES
   WILL BE MARGINAL /NEAR 15 TO 25 PERCENT/. OVER PORTIONS OF THE WRN
   OK/TX PANHANDLES AND MUCH OF WRN/CNTRL TX...SUSTAINED WINDS NEAR 20
   TO 25 MPH WILL ALIGN WITH UPPER SINGLE DIGIT TO LOWER TEEN RELATIVE
   HUMIDITIES. RELATIVE HUMIDITIES MAY BE MORE MARGINAL ACROSS PORTIONS
   OF CNTRL TX...THOUGH TEMPERATURES WILL REACH THE UPPER 70S/LOWER
   80S.
   
   ..HURLBUT.. 04/15/2011
   
   ...PLEASE SEE WWW.SPC.NOAA.GOV/FIRE FOR GRAPHIC PRODUCT...