Storm Prediction Center Day 1 Fire Weather Outlook

Created: Tue May 24 08:16:03 UTC 2011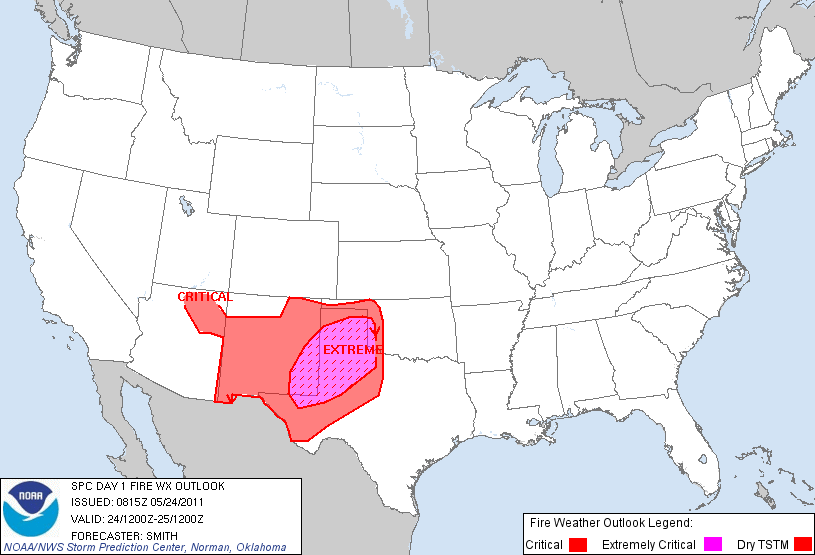 Click for Day 1 FireWX Areal Outline Product

   ZCZC SPCFWDDY1 ALL
   FNUS21 KWNS 240815
   
   DAY 1 FIRE WEATHER OUTLOOK  
   NWS STORM PREDICTION CENTER NORMAN OK
   0315 AM CDT TUE MAY 24 2011
   
   VALID 241200Z - 251200Z
   
   ...EXTREMELY CRITICAL FIRE WEATHER AREA FOR PARTS OF FAR WRN OK / TX
   PANHANDLE-LOW ROLLING PLAINS-CAPROCK-PERMIAN BASIN / ERN PLAINS OF
   NM...
   ...CRITICAL FIRE WEATHER AREA FOR WRN OK / MUCH OF NW-W-SW AND WRN
   N-CNTRL TX AND NM / NERN AZ...
   ...SYNOPSIS...
   EARLY MORNING SATELLITE IMAGERY SHOWS A VIGOROUS UPPER TROUGH OVER
   THE SWRN U.S. DESERTS AND THIS FEATURE WILL FURTHER STRENGTHEN AND
   CLOSE OFF INTO A MID LEVEL LOW OVER THE CNTRL PLAINS BY DAYBREAK
   WEDNESDAY.  VERY STRONG FLOW FIELDS ALOFT WILL MAXIMIZE OVER THE
   REGION DURING PEAK HEATING.  A SURFACE LOW OVER FAR SERN CO WILL
   UNDERGO SUBSTANTIAL DEEPENING AS IT DEVELOPS NEWD INTO CNTRL KS
   OVERNIGHT.  THIS SURFACE REFLECTION WILL RESULT IN AN INTENSIFYING
   LOW LEVEL PRESSURE GRADIENT ACROSS THE SRN HIGH PLAINS AND BE
   CONDUCIVE FOR STRONG TO VERY STRONG WINDS.  A DRYLINE WILL EXTEND
   FROM THE SURFACE LOW SWD TO THE RIO GRANDE AND MIX EWD DURING THE
   DAYTIME HOURS INTO W-CNTRL OK AND THE WRN PART OF N-CNTRL TX BY LATE
   AFTERNOON.  ON THE BACKSIDE OF THE LOW...A FRONTAL ZONE WILL DROP
   SWD OVER PARTS OF SERN CO INTO THE OK PANHANDLE VICINITY WITH AN
   ACCOMPANYING WINDSHIFT.  AN EXPANSIVE AREA OF CRITICAL FIRE WEATHER
   CONDITIONS WILL OCCUR FROM BEHIND THE DRYLINE WWD INTO NERN AZ AND
   WRN NM.  AN EXTREMELY CRITICAL THREAT WILL EXIST ACROSS ERN
   NM...MUCH OF WRN TX...AND INTO FAR WRN OK.
   
   ...PARTS OF FAR WRN OK / TX PANHANDLE-LOW ROLLING
   PLAINS-CAPROCK-PERMIAN BASIN / ERN PLAINS OF NM...
   A LOW TO MID LEVEL HEIGHT GRADIENT WILL INCREASE MARKEDLY ACROSS
   THIS REGION WITH 1 KM AGL FLOW STRENGTHENING TO 40-50 KTS DURING THE
   LATE AFTERNOON HOURS.  THE COMBINATION OF COLD ADVECTION ALOFT AND
   STRONG SURFACE HEATING WILL RESULT IN A NEARLY DRY ADIABATIC LAPSE
   RATE FROM THE SURFACE TO H6-H5.  THIS WILL BE VERY SUPPORTIVE OF
   DEEP BOUNDARY LAYER CIRCULATIONS TRANSPORTING HIGHER MOMENTUM ALOFT
   TO THE SURFACE.  MODEL GUIDANCE IS CONSISTENT IN INDICATING THAT
   SUSTAINED WINDS WILL RANGE FROM NEAR 30 MPH UP TO 40 MPH IN
   LOCALIZED AREAS /GUSTS 45-55 MPH/.  AN ANTECEDENTLY DRY AIRMASS WILL
   ENABLE TEMPS TO WARM QUICKLY FROM NEAR 80 W TO WELL INTO THE 90S E
   AND RESULT IN RH FALLING INTO THE 4-8 PERCENT RANGE ACROSS THIS
   REGION.  
   
   ...WRN OK / MUCH OF NW-W-SW AND WRN N-CNTRL TX AND NM / NERN AZ...
   RECENT MODEL DATA SHOWS A TREND FOR A MORE EWD SOLUTION TO DRYLINE
   PLACEMENT ACROSS WRN N-CNTRL TX INTO SWRN OK AND HAVE ADJUSTED THE
   ERN BOUND OF THE CRITICAL AREA TO ACCOUNT FOR THIS.  STRONG
   SUSTAINED SWLY-WLY SURFACE WINDS OF 20-30 MPH...OWING TO A STRONG
   PRESSURE GRADIENT AND STRONG TROPOSPHERIC FLOW PROFILES...WILL OCCUR
   AS THE BOUNDARY LAYER UNDERGOES STRONG HEATING.  MIN RH WILL
   CORRESPOND TO THE TEMP FIELD WITH THE LOWEST VALUES /4-8 PERCENT/
   OVER THE ERN AND SRN PORTIONS OF THE CRITICAL AREA...WITH UPPER
   SINGLE DIGITS TO NEAR 20 PERCENT ELSEWHERE.
   
   ..SMITH.. 05/24/2011
   
   ...PLEASE SEE WWW.SPC.NOAA.GOV/FIRE FOR GRAPHIC PRODUCT...