Storm Prediction Center Day 1 Fire Weather Outlook

Created: Mon May 30 06:10:03 UTC 2011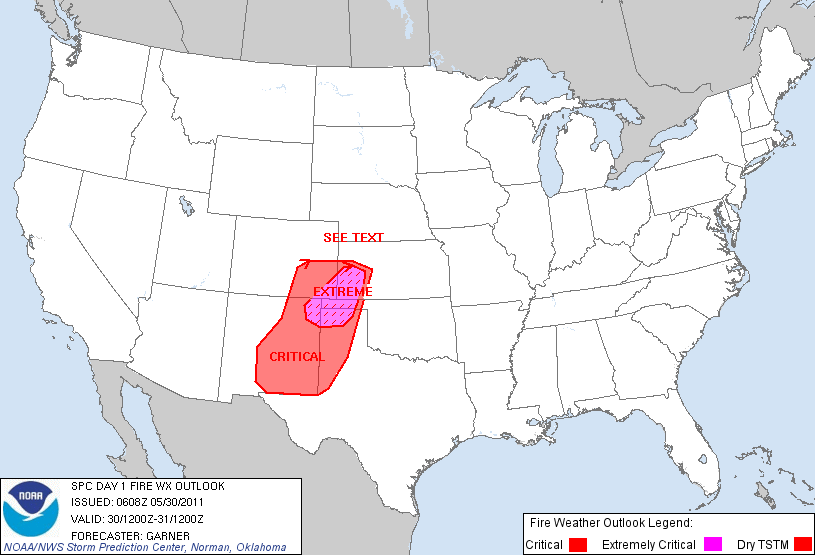 Click for Day 1 FireWX Areal Outline Product

   ZCZC SPCFWDDY1 ALL
   FNUS21 KWNS 300608
   
   DAY 1 FIRE WEATHER OUTLOOK  
   NWS STORM PREDICTION CENTER NORMAN OK
   0108 AM CDT MON MAY 30 2011
   
   VALID 301200Z - 311200Z
   
   ...EXTREMELY CRITICAL FIRE WEATHER AREA FOR SWRN KS...FAR SERN
   CO...FAR NERN NM...NRN TX PANHANDLE...OK PANHANDLE...
   ...CRITICAL FIRE WEATHER AREA FOR CNTRL/SRN PLAINS...ERN/CNTRL NM...
   ...SYNOPSIS...
   A NEGATIVELY TITLED UPPER-LEVEL TROUGH WILL EJECT NEWD INTO THE NRN
   PLAINS BY LATE AFTERNOON. AS THIS OCCURS...ASSOCIATED 60-80 KT 500
   MB JET AXIS WILL BECOME POSITIONED FROM NERN NM N-NEWD ACROSS NEB
   AND THE DAKOTAS. MEANWHILE AT THE SURFACE...DEEP LOW PRESSURE CENTER
   WILL LIFT NEWD OUT OF ERN CO AND ACROSS THE CNTRL/NRN PLAINS DURING
   THE AFTERNOON. A PACIFIC COLD FRONT WILL EXTEND SWWD FROM THE
   LOW...AND IS FORECAST TO ADVANCE EWD TOWARD A DRYLINE POSITIONED
   OVER SWRN KS-WRN TX BY EARLY EVENING.
   
   ...CNTRL/SRN HIGH PLAINS...ERN/CNTRL NM...
   A ZONE OF ENHANCED MIDLEVEL SWLYS /AROUND 40 KT AT 700 MB/ IS
   FORECAST TO BECOME POSITIONED OVER SERN CO/NERN NM...THE TX/OK
   PANHANDLES AND SWRN KS DURING PEAK HEATING. THE FLOW ALOFT COMBINED
   WITH A STRONG SURFACE PRESSURE GRADIENT ASSOCIATED WITH THE
   CNTRL/NRN PLAINS CYCLONE WILL FAVOR SUSTAINED SURFACE WIND SPEEDS
   FROM 30-40 MPH WITH GUSTS UP TO 50 MPH. STRONG DAYTIME HEATING
   /TEMPERATURES IN THE 80S AND 90S/ ALONG AND W OF THE DRYLINE...ALONG
   WITH A DRY ANTECEDENT AIRMASS WILL PROMOTE DEEP BOUNDARY LAYER
   MIXING WITH MIN RH VALUES AOB 10 PERCENT. THE COMBINATION OF STRONG
   WINDS/LOW RH AND ONGOING DROUGHT/DRY FUELS WILL FAVOR AN EXTREMELY
   CRITICAL FIRE WEATHER THREAT.
   
   OVER THE REMAINDER OF W TX AND ERN/CNTRL NM...THE NWD DISPLACEMENT
   OF STRONGER MIDLEVEL FLOW AND THE SURFACE CYCLONE WILL RESULT IN
   SLIGHTLY WEAKER LOW-LEVEL WIND SPEEDS /GENERALLY 20-30 MPH/. GIVEN
   MIN RH VALUES NEAR 10 PERCENT AND VERY DRY FUELS...CRITICAL FIRE
   WEATHER CONDITIONS ARE EXPECTED TO DEVELOP.
   
   ...NWRN KS...NERN CO...SWRN NEB...
   A DRYSLOT IS FORECAST TO PUNCH NEWD DURING THE AFTERNOON ACROSS
   PORTIONS OF NERN CO...NWRN KS AND SWRN NEB. AS THIS OCCURS...RH
   VALUES SHOULD FALL INTO THE LOW TO MID TEENS. IN ADDITION...SURFACE
   WIND SPEEDS WILL STRENGTHEN TO 20-35 MPH. THESE CONDITIONS WOULD
   NORMALLY SUPPORT A CRITICAL FIRE WEATHER THREAT. HOWEVER...ABOVE
   NORMAL RAINFALL DURING THE LAST TWO WEEKS MAY MITIGATE THAT
   THREAT...WHICH PRECLUDES AN UPGRADE ATTM.
   
   ..GARNER.. 05/30/2011
   
   ...PLEASE SEE WWW.SPC.NOAA.GOV/FIRE FOR GRAPHIC PRODUCT...