Storm Prediction Center Day 1 Fire Weather Outlook

Created: Sun Jun 19 07:13:03 UTC 2011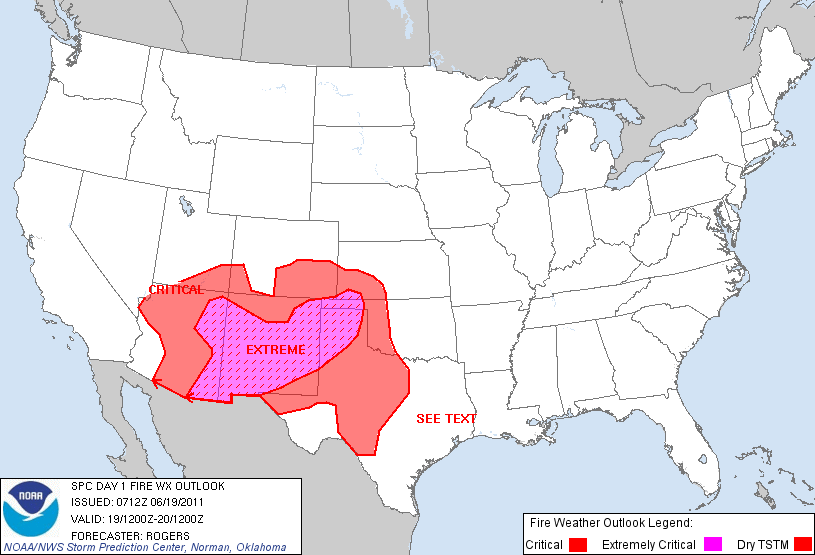 Click for Day 1 FireWX Areal Outline Product

   ZCZC SPCFWDDY1 ALL
   FNUS21 KWNS 190712
   
   DAY 1 FIRE WEATHER OUTLOOK  
   NWS STORM PREDICTION CENTER NORMAN OK
   0212 AM CDT SUN JUN 19 2011
   
   VALID 191200Z - 201200Z
   
   ...EXTREMELY CRITICAL FIRE WEATHER AREA FOR ERN AZ...MUCH OF
   NM...TX/OK PANHANDLES...FAR SWRN KS...
   ...CRITICAL FIRE WEATHER AREA FOR AZ...NM...SERN UT...SRN CO...SWRN
   KS...WRN OK...W AND W-CNTRL TX...
   ...SYNOPSIS...
   A SEASONABLY STRONG UPPER TROUGH WILL AMPLIFY OVER THE WRN CONUS AS
   AN ATTENDANT MID/UPPER JET NOSES INTO THE SRN ROCKIES. A SFC CYCLONE
   WILL RAPIDLY DEEPEN OVER THE SRN HIGH PLAINS IN RESPONSE TO THE
   APPROACHING UPPER TROUGH...AND WILL AID IN STRENGTHENING LOW-LEVEL
   FLOW STRETCHING FROM THE SWRN STATES INTO THE GREAT PLAINS.
   MEANWHILE...A DRYLINE ATTENDANT TO THE SFC LOW WILL BECOME
   POSITIONED OVER W TX BY LATE AFTERNOON...WITH ISOLATED HIGH-BASED
   THUNDERSTORMS DEVELOPING. A PACIFIC COLD FRONT WILL PUSH SEWD
   THROUGH THE SRN GREAT BASIN AND TOWARDS THE SRN/CNTRL ROCKIES.
   
   ...SOUTHWEST INTO THE SRN PLAINS...
   A POTENTIALLY SIGNIFICANT FIRE WEATHER EVENT MAY UNFOLD OVER ERN
   AZ...NM...AND PORTIONS OF W TX. BACKGROUND CONDITIONS ARE VERY
   FAVORABLE FOR RAPID SPREAD OF NEW AND EXISTING FIRES GIVEN ONGOING
   EXCEPTIONAL DROUGHT. NEAR RECORD TO RECORD HEAT /MAX TEMPERATURES
   RANGING FROM 100-110 DEG F/ IS FORECAST OVER THE HIGH PLAINS OF ERN
   NM AND W TX...AND WILL SUPPORT RH VALUES FALLING TO 3-5 PERCENT IN
   MANY LOCATIONS. TEMPERATURES WILL NOT BE QUITE AS HOT FARTHER W OVER
   AZ/NM /90S-LOW 100S OVER THE LOWEST ELEVATIONS/...BUT WITH A
   PERSISTENT DRY AIR MASS REMAINING FIXED OVER THE REGION SINGLE DIGIT
   RH VALUES STILL APPEAR PROBABLE TO DEVELOP. MEANWHILE...LOW-LEVEL
   FLOW WILL STRENGTHEN SIGNIFICANTLY AHEAD OF A DEEPENING WRN CONUS
   UPPER TROUGH. SUSTAINED WIND SPEEDS SHOULD RAPIDLY INCREASE FIRST
   OVER ERN AZ/NM TO 30-40 MPH BY LATE MORNING /WITH GUSTS APPROACHING
   50-55 MPH IN SOME LOCATIONS/...AND EVENTUALLY OVER ERN NM AND W TX
   DURING THE AFTERNOON. 
   
   RH VALUES ARE ANTICIPATED TO BE HIGHER /LOWER-MID TEENS/ OVER
   CNTRL/WRN AZ INTO SERN UT AND CO WITH COOLER SFC TEMPERATURES IN
   CLOSER PROXIMITY TO THE APPROACHING UPPER TROUGH. SUSTAINED WIND
   SPEEDS WILL LIKELY RANGE FROM 20-30 MPH AND STILL FAVOR A CRITICAL
   /LOCALLY HIGH-END/ FIRE WEATHER THREAT. 
   
   OVER W-CNTRL TX AND WRN OK...A DRYLINE IS FORECAST TO BECOME
   POSITIONED OVER FAR WRN OK SWD THROUGH THE EDWARDS PLATEAU. DESPITE
   SFC DEW POINTS IN THE 50S ALONG/E OF THE DRYLINE...INTENSE SFC
   HEATING /TEMPERATURES EXCEEDING 100 DEG F/ WILL STILL YIELD RH
   VALUES FALLING INTO THE MID TEENS TO LOWER 20S. SLY WINDS WILL
   STRENGTHEN TO 20-25 MPH IN RESPONSE TO A TIGHTENING SFC PRESSURE
   GRADIENT...AND WITH BACKGROUND CONDITIONS SUPPORTIVE OF RAPID FIRE
   SPREAD GIVEN ONGOING EXTREME TO EXCEPTIONAL DROUGHT...A CRITICAL
   FIRE WEATHER THREAT WILL EXIST. ADDITIONALLY...ISOLATED HIGH-BASED
   THUNDERSTORM DEVELOPMENT IS ANTICIPATED TO OCCUR NEAR THE DRYLINE
   DURING THE AFTERNOON. GIVEN A VERY DEEP/DRY SUBCLOUD
   LAYER...PRECIPITATION WILL LIKELY BE SPARSE...WHICH WILL INCREASE
   THE POTENTIAL FOR LIGHTNING-STARTED FIRES AND STRONG/ERRATIC
   DOWNBURST WINDS.
   
   ...S...CNTRL...AND E TX...CNTRL OK...
   SLY WINDS WILL INCREASE TO 20-25 MPH OVER MUCH OF THE ERN HALF OF
   TX/OK AS A SFC COLD FRONT BECOMES POSITIONED ACROSS THE CNTRL
   PLAINS. VERY STRONG SFC HEATING /UPPER 90S-100S/ SHOULD FAVOR RH
   VALUES FALLING INTO THE LOWER-UPPER 20S ACROSS MUCH OF THE AREA.
   ONGOING DROUGHT CONDITIONS COMBINED WITH STRONG WINDS AND MARGINALLY
   LOW RH VALUES WILL SUPPORT AN ELEVATED FIRE WEATHER THREAT.
   
   ..ROGERS.. 06/19/2011
   
   ...PLEASE SEE WWW.SPC.NOAA.GOV/FIRE FOR GRAPHIC PRODUCT...