Storm Prediction Center Day 1 Fire Weather Outlook

Created: Thu Mar 1 09:27:03 UTC 2012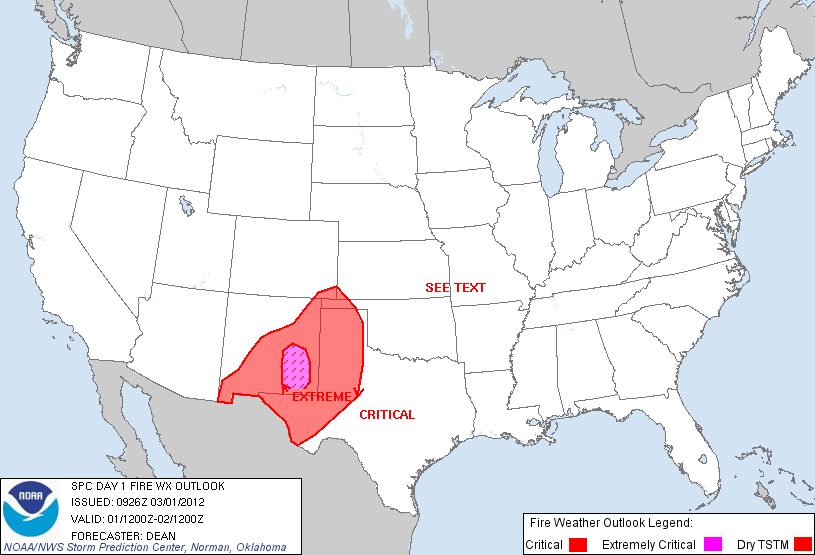 Click for Day 1 FireWX Areal Outline Product

   ZCZC SPCFWDDY1 ALL
   FNUS21 KWNS 010926
   
   DAY 1 FIRE WEATHER OUTLOOK  
   NWS STORM PREDICTION CENTER NORMAN OK
   0326 AM CST THU MAR 01 2012
   
   VALID 011200Z - 021200Z
   
   ...EXTREMELY CRITICAL FIRE WEATHER AREA FOR PARTS OF SERN NM...
   ...CRITICAL FIRE WEATHER AREA FOR MUCH OF NM...W TX...SRN HIGH
   PLAINS...
   ...SYNOPSIS...
   AN UPPER TROUGH OVER THE WRN U.S. AT THE BEGINNING OF THE PERIOD
   WILL PROGRESS EWD...WITH AN ASSOCIATED SFC LOW ADVANCING FROM THE
   SRN HIGH PLAINS TO THE OZARK PLATEAU. A VERY DRY AIRMASS WILL REMAIN
   IN PLACE ACROSS THE WRN HALF OF THE CONUS. INCREASING MIDLEVEL FLOW
   NEAR THE BASE OF THE TROUGH WILL RESULT IN A THREAT OF ELEVATED TO
   CRITICAL FIRE WEATHER CONDITIONS ACROSS MUCH OF NM INTO THE SRN
   PLAINS.
   
   ...NM...W TX...SRN HIGH PLAINS...
   A DRY AIRMASS WILL REMAIN IN PLACE ACROSS THE AREA...WITH PW VALUES
   FORECAST TO REMAIN IN THE 0.1 - 0.2 INCH RANGE. WITH TEMPS EXPECTED
   TO WARM INTO THE 60S AND 70S...CRITICALLY LOW RH VALUES OF 8-12
   PERCENT WILL RESULT ACROSS A LARGE PART OF NM INTO W TX AND THE SRN
   HIGH PLAINS. MEANWHILE...WSWLY MIDLEVEL FLOW WILL INCREASE TO 35-45
   MPH DURING THE DAY ON THU IN THE VICINITY OF THE UPPER TROUGH AS IT
   MOVES EWD...RESULTING IN SUSTAINED SFC WINDS ABOVE 20 MPH DURING THE
   AFTERNOON AND WIDESPREAD CRITICAL FIRE WEATHER CONDITIONS. 
   
   LATEST HI-RES GUIDANCE SUGGESTS SUSTAINED WINDS OF AROUND 30 MPH
   WILL BE POSSIBLE ACROSS PARTS OF SERN NM...WHICH IS SUPPORTED BY THE
   DEVELOPMENT OF MIDLEVEL FLOW APPROACHING 50 MPH IN THE 02/00Z
   GFS/ECMWF SOLUTIONS. GIVEN ONGOING DROUGHT AND THE LIKELIHOOD OF RH
   VALUES FALLING BELOW 10 PERCENT IN THIS AREA...AN EXTREMELY CRITICAL
   AREA HAS BEEN INTRODUCED FOR PARTS OF SERN NM. 
   
   SOME UNCERTAINTY EXISTS REGARDING THE STRENGTH OF SFC WINDS ACROSS
   THE NERN PART OF THE CRITICAL AREA OVER THE TX PANHANDLE...WHERE
   PROXIMITY TO AN ELONGATED SFC LOW WILL RESULT IN A SOMEWHAT WEAKER
   PRESSURE GRADIENT. PARTS OF WRN OK WERE DROPPED FROM THE CRITICAL
   AREA...WHERE SOME BACKING AND WEAKENING OF FLOW IN RESPONSE TO THIS
   LOW IS LIKELY TO OCCUR DURING THE AFTERNOON.
   
   ...CNTRL/ERN OK...SRN/ERN KS...WRN MO...WRN AR...
   AHEAD OF THE AFOREMENTIONED SFC LOW...A TIGHTENING SFC PRESSURE
   GRADIENT WILL RESULT IN STRONG S-SWLY BOUNDARY LAYER FLOW FROM CNTRL
   OK/S-CNTRL KS EWD TOWARDS WRN MO/AR...WITH SUSTAINED WIND SPEEDS OF
   20-25 MPH POSSIBLE DURING THE AFTERNOON. MEANWHILE...WARM AFTERNOON
   TEMPERATURES /UPPER 60S N TO 70S S/ WILL YIELD RH VALUES IN THE
   LOWER-MID 20S. WITH MIN RH VALUES EXPECTED TO REMAIN ABOVE CRITICAL
   THRESHOLDS...AND RECENT WIDESPREAD PRECIPITATION...A CRITICAL
   UPGRADE WILL NOT BE MADE ATTM. HOWEVER...WIDESPREAD ELEVATED FIRE
   WEATHER CONDITIONS ARE LIKELY.
   
   ..DEAN.. 03/01/2012
   
   ...PLEASE SEE WWW.SPC.NOAA.GOV/FIRE FOR GRAPHIC PRODUCT...