Storm Prediction Center Day 2 Fire Weather Outlook

Created: Sun Apr 15 07:41:03 UTC 2012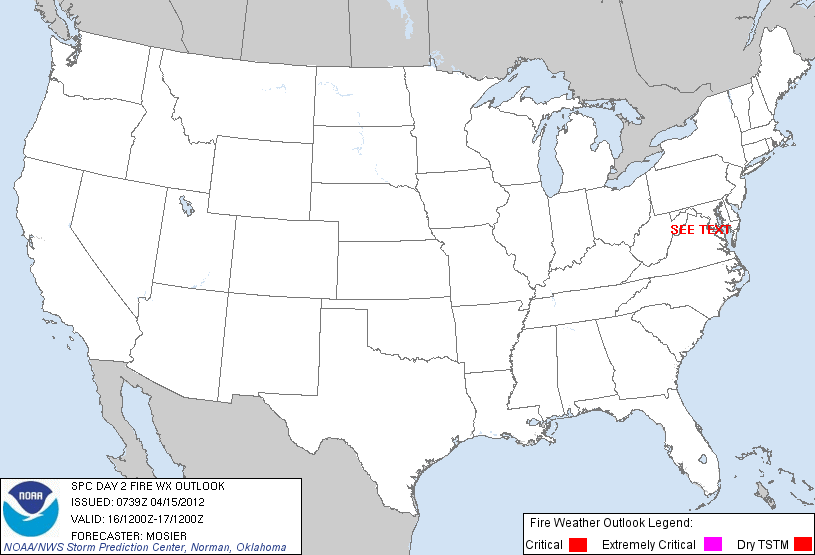 Click for Day 2 FireWX Areal Outline Product (KWNSPFWFD1)

   ZCZC SPCFWDDY2 ALL
   FNUS22 KWNS 150739
   
   DAY 2 FIRE WEATHER OUTLOOK  
   NWS STORM PREDICTION CENTER NORMAN OK
   0239 AM CDT SUN APR 15 2012
   
   VALID 161200Z - 171200Z
   
   ...SYNOPSIS...
   AN UPPER-LEVEL TROUGH EXTENDING FROM THE UPPER MIDWEST SWD THROUGH
   THE LOWER MISSOURI VALLEY WILL PROGRESS NEWD AND WEAKEN THROUGHOUT
   THE PERIOD. A SFC LOW WILL TRAVERSE A SIMILAR PATH WITH AN ATTENDANT
   COLD FRONT EXTENDING SWWD ACROSS THE MIDWEST AND SERN STATES.
   ANOTHER MUCH WEAKER SHORTWAVE TROUGH IS EXPECTED TO MOVE THROUGH
   PLAINS DURING THE PERIOD. UPPER-LEVEL RIDGING WILL FOLLOW CLOSELY
   BEHIND THIS SHORTWAVE TROUGH...PROGRESSING FROM THE WRN CONUS INTO
   THE CNTRL PLAINS. 
   
   ..MID-ATLANTIC...
   INCREASED SFC PRESSURE GRADIENT BETWEEN THE AFOREMENTIONED SFC
   LOW/COLD FRONT AND AN AREA OF HIGH PRESSURE OFF THE MID-ATLANTIC
   COAST WILL RESULT IN INCREASED SWLY SFC WINDS ACROSS THE REGION.
   TEMPERATURES ARE EXPECTED TO CLIMB INTO THE 80S BUT DEWPOINTS VALUES
   ARE ANTICIPATED TO BE IN THE MID TO UPPER 50S WITH RESULTANT MIN RH
   VALUES ABOVE 35 PERCENT. A PERSISTENT DRY REGIME HAS RESULTED IN DRY
   FUELS ACROSS THE AREA. THESE DRY FUELS COMBINED WITH THE MARGINAL
   FIRE WEATHER CONDITIONS WILL RESULT IN AN ELEVATED FIRE WEATHER
   THREAT.
   
   ..MOSIER.. 04/15/2012
   
   ...PLEASE SEE WWW.SPC.NOAA.GOV/FIRE FOR GRAPHIC PRODUCT...