Storm Prediction Center Day 1 Fire Weather Outlook

Created: Sun Jul 22 08:44:03 UTC 2012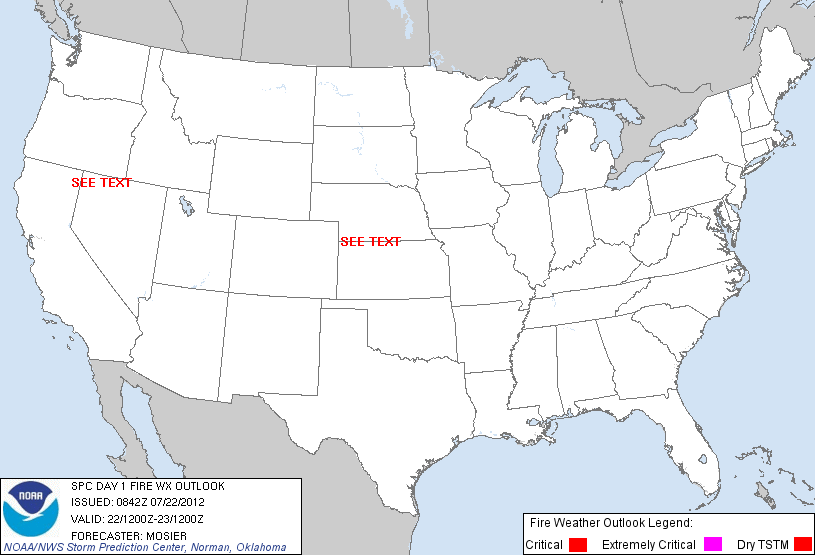 Click for Day 1 FireWX Areal Outline Product

   ZCZC SPCFWDDY1 ALL
   FNUS21 KWNS 220842
   
   DAY 1 FIRE WEATHER OUTLOOK  
   NWS STORM PREDICTION CENTER NORMAN OK
   0342 AM CDT SUN JUL 22 2012
   
   VALID 221200Z - 231200Z
   
   ...SYNOPSIS...
   LARGE UPPER HIGH OVER THE CNTRL CONUS WILL LIKELY SHIFT SLOWLY EWD
   AND FLATTEN SLIGHTLY IN RESPONSE TO A COMPACT UPPER LOW MOVING
   ACROSS THE PACIFIC NW. EVEN WITH THIS GRADUAL EWD SHIFT...THE HIGH
   WILL CONTINUE TO DOMINATE THE WEATHER ACROSS MUCH OF THE SRN/CNTRL
   PLAINS AND MID MS VALLEY. AFOREMENTIONED UPPER LOW WILL MOVE EWD
   ACROSS WA AND AID IN THE INCREASE OF MID-LEVEL SWLY FLOW ACROSS MUCH
   OF PACIFIC NW...CA...AND WRN PORTIONS OF THE GREAT BASIN. DOWNSTREAM
   OF THIS UPPER LOW...A SHORTWAVE TROUGH WILL QUICKLY PROGRESS EWD
   ACROSS CNTRL SASKATCHEWAN THROUGH CNTRL MANITOBA AND INTO ONTARIO.
   COLD FRONT ASSOCIATED WITH THE SFC LOW INDUCED BY THIS SHORTWAVE
   TROUGH WILL MOVE ACROSS ND AND INTO NRN MN. FARTHER S...AN
   ADDITIONAL UPPER LOW WILL MOVE FROM THE GULF OF CA WWD OVER THE BAJA
   PENINSULA...RESULTING IN AN INCREASE IN MOISTURE ACROSS SWRN AZ AND
   SRN NV. PRIMARY FIRE WEATHER THREATS ARE ENHANCED WIND SPEEDS
   JUXTAPOSED WITH A DRY AIR MASS AS WELL AS POSSIBLE DRY TSTMS OVER
   PORTIONS OF THE INTERMOUNTAIN WEST AND HOT AND WINDY CONDITIONS OVER
   THE CNTRL PLAINS AND SRN IA.
   
   ...FAR NERN CA...SERN ORE...NWRN NV...SERN ID...
   ENHANCED SWLY MID-LEVEL FLOW INDUCED BY THE EWD PROGRESSION OF THE
   AFOREMENTIONED UPPER LOW ACROSS WA WILL SUPPORT GUSTY WINDS IN AN
   ANTECEDENT DRY AIR MASS OVER THE REGION. SUSTAINED SWLY WINDS NEAR
   15 MPH WITH GUSTS TO 25 MPH ARE ANTICIPATED ACROSS MOST OF THE AREA.
   MIXED BOUNDARY LAYER WILL RESULT IN MIN RH VALUES AROUND 15 PERCENT.
   THE CORRELATION OF ELEVATED WIND SPEEDS AND DRY CONDITIONS WILL
   RESULT IN AT LEAST ELEVATED FIRE WEATHER CONDITIONS. SOME BRIEFLY
   CRITICAL CONDITIONS MAY OCCUR...ESPECIALLY ACROSS FAR NERN CA AND
   SERN ORE...BUT THE MARGINAL WIND SPEEDS COMBINED WITH ANTICIPATED
   SHORT DURATION OF THE ELEVATED WINDS PRECLUDE THE NEED FOR AN
   CRITICAL RISK.
   
   ...SIERRAS NEWD THROUGH NV INTO SRN ID...
   00Z SOUNDINGS ACROSS THE INTERMOUNTAIN WEST AND EARLY MORNING
   SATELLITE-DERIVED PWAT DATA DEPICT A MOISTURE GRADIENT ALONG THE WRN
   PERIPHERY OF THE CNTRL CONUS HIGH. PWAT VALUES DECREASE FROM NEAR 1
   INCH OVER CNTRL UT TO LESS THAN 0.5 INCH OVER WRN NV. INCREASED SWLY
   FLOW WILL ENHANCE OROGRAPHIC LIFT FROM THE SIERRAS NEWD INTO SRN ID.
   MID-LEVEL MOISTURE IS ALSO EXPECTED TO INCREASE GRADUALLY INCREASE
   AS AN UPPER LOW MOVES ACROSS SRN AZ. THIS OROGRAPHIC LIFT COMBINED
   WITH LOW INSTABILITY RESULTANT FROM THE MID-LEVEL MOISTURE AND
   DAYTIME HEATING /MLCAPE FROM 100 TO 500 J/KG/ WILL RESULT IN
   ISOLATED TSTM ACTIVITY. GIVEN THE DEEPLY MIXED BOUNDARY
   LAYER...STORM MOTION GREATER THAN 20 KTS...AND MODEST MOISTURE...A
   FEW DRY TSTMS APPEAR POSSIBLE...ESPECIALLY ALONG AND JUST E OF THE
   SIERRAS. HOWEVER...DRY TSTM COVERAGE IS EXPECTED TO REMAIN TOO
   ISOLATED TO NEED A CRITICAL DELINEATION. TSTM COVERAGE WILL LIKELY
   BE HIGHER ACROSS AREAS FARTHER S /SRN NV AND AZ/ AND E /WY AND UT/
   BUT AMPLE MOISTURE SHOULD EXIST FOR WET TSTMS.  
   
   ...ERN CO NEWD INTO SRN IA...
   EARLY MORNING SURFACE OBSERVATIONS SHOW A SFC LOW CENTERED NEAR
   E-CNTRL NEB/SD BORDER AS WELL AS A WEAK FRONTAL BOUNDARY FROM THE
   NEB PANHANDLE NEWD THROUGH THE SFC LOW INTO SRN MN. THIS FRONTAL
   BOUNDARY SHOULD REMAIN IN PLACE THROUGHOUT THE DAY...ENHANCING THE
   PRESSURE GRADIENT ACROSS THE CNTRL PLAINS AND ERN MIDDLE MS VALLEY.
   CURRENT GUIDANCE SUGGESTS SUSTAINED SWLY WIND SPEEDS AROUND 15 TO 20
   MPH WITH GUSTS TO 25 MPH. HIGH TEMPERATURES OVER 100 WILL SUPPORT
   VERY DRY CONDITIONS WITH MIN RH VALUES AROUND 15 PERCENT. AT THIS
   TIME...STRENGTH AND DURATION OF THE WIND SPEEDS ARE EXPECTED TO BE
   JUST BELOW CRITICAL THRESHOLDS AND A CRITICAL DELINEATION WILL NOT
   BE OUTLINED. HOWEVER...THIS AREA WILL NEED TO BE REEXAMINED FOR A
   POSSIBLE UPGRADE DURING DAY 1 UPDATE IF MODEL/OBSERVATION DATA
   SUGGESTS PRESSURE GRADIENT WILL BE STRONG ENOUGH TO INCREASE THE
   WIND STRENGTH AND DURATION ABOVE CRITICAL THRESHOLDS.
   
   ..MOSIER.. 07/22/2012
   
   ...PLEASE SEE WWW.SPC.NOAA.GOV/FIRE FOR GRAPHIC PRODUCT...