Storm Prediction Center Day 1 Fire Weather Outlook

Created: Sat Jun 14 16:50:04 UTC 2014 (
|
)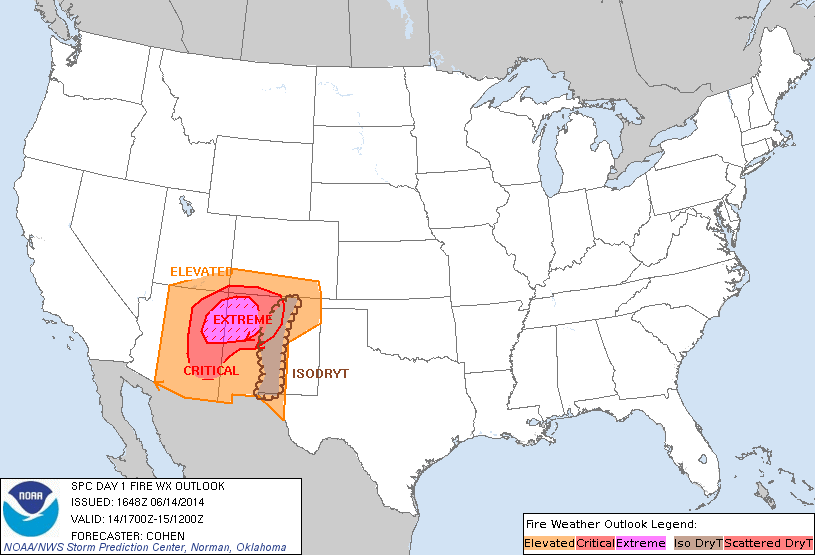 | | | | |
| --- | --- | --- | --- |
| Risk | Area (sq. mi.) | Area Pop. | Some Larger Population Centers in Risk Area |
| Extreme | 27,449 | 303,037 | Gallup, NM...Grants, NM...Bloomfield, NM...Aztec, NM...Farmington, NM... |
| Critical | 49,889 | 1,393,921 | Albuquerque, NM...Durango, CO...Los Lunas, NM...Los Alamos, NM...North Valley, NM... |
Click for Day 1 FireWX Areal Outline Product

   ZCZC SPCFWDDY1 ALL
   FNUS21 KWNS 141648

   DAY 1 FIRE WEATHER OUTLOOK  
   NWS STORM PREDICTION CENTER NORMAN OK
   1148 AM CDT SAT JUN 14 2014

   VALID 141700Z - 151200Z

   ...EXTREMELY CRITICAL FIRE WEATHER AREA FOR PORTIONS OF NERN
   AZ...NWRN NM...
   ...CRITICAL FIRE WEATHER AREA FOR PORTIONS OF ERN AZ...FAR SERN
   UT...FAR SRN CO...NRN/WRN NM...

   ...PRIMARY CHANGES TO THE DAY-1 FIRE WEATHER OUTLOOK...

   /1/ THE EXTREMELY CRITICAL AREA HAS BEEN EXPANDED SWWD/SWD TO
   INCLUDE ADDITIONAL PORTIONS OF NERN AZ AND NWRN NM. THE MORNING
   OBSERVED SOUNDING AT FLAGSTAFF SAMPLED A MID-LEVEL WIND SPEED
   MAXIMUM...WITH WSWLY/WLY WINDS EXCEEDING 40 MPH THROUGH A DEEP LAYER
   EXTENDING AS LOW AS AROUND 3 KFT ABOVE GROUND. UPPER-AIR ANALYSIS
   AND SHORT-RANGE MODEL GUIDANCE SUGGEST THAT THIS MAXIMUM IS
   ELONGATED WSW/ENE...AND WILL CONTINUE TRACKING GENERALLY EWD THROUGH
   THE DAY. ON THIS TRACK...ENHANCED FLOW ALOFT SUPPORTING VERY STRONG
   SFC WINDS WILL AFFECT LOCATIONS FARTHER SW/S. THIS IS WHERE
   SUSTAINED WSWLY/WLY SFC WINDS OF 30-35 MPH WITH GUSTS REACHING 40-50
   MPH ARE EXPECTED ACROSS AREAS ADDED TO EXTREMELY CRITICAL
   DESIGNATION. WITH THE AFOREMENTIONED SOUNDING SAMPLING A PW AROUND
   0.15 INCH...DEEPENING VERTICAL MIXING IS EXPECTED TO SUPPORT MINIMUM
   RH AROUND 4-9 PERCENT THIS AFTERNOON ACROSS THE EXTREMELY CRITICAL
   AREA WHERE VERY DRY FUELS EXIST.

   THE LATEST RAP AND SREF MODEL GUIDANCE...AMONGST OTHER SHORT-RANGE
   MODEL GUIDANCE...ALSO PROVIDE SUPPORT FOR THE EXPANSION OF THE
   EXTREMELY CRITICAL AREA...WHICH HAS BEEN COORDINATED WITH THE
   ALBUQUERQUE AND FLAGSTAFF WEATHER FORECAST OFFICES. AS OF 16Z...SFC
   OBSERVATIONS AROUND THE MOGOLLON RIM IN AZ FROM NEAR WINSLOW TO SHOW
   LOW INDICATE SUSTAINED WINDS OF 25-30 MPH WITH RH VALUES FROM 5 TO
   20 PERCENT. FURTHER DEEPENING OF THE MIXED LAYER WILL CONTRIBUTE TO
   REDUCTIONS IN SFC RH AND INCREASES IN WIND SPEEDS THROUGH THE DAY.
   THIS GENERAL AREA HAS BEEN USED AS A SWRN-ANCHOR REGION FOR THE
   UPDATED EXTREMELY CRITICAL AREA THAT EXTENDS FARTHER E IN TANDEM
   WITH THE TRACK OF THE AFOREMENTIONED JET CORE. ANY LIGHTNING-INDUCED
   FIRES FROM SCATTERED-NUMEROUS THUNDERSTORM ACTIVITY THAT OCCURRED
   YESTERDAY WILL HAVE THE POTENTIAL TO SPREAD VERY RAPIDLY OWING TO
   THE AFOREMENTIONED METEOROLOGICAL/FUEL CONDITIONS.

   /2/ THE CRITICAL AREA WAS EXTENDED SLIGHTLY SWD ACROSS PORTIONS OF
   NRN NM. SIMILAR TO ABOVE REASONING REGARDING SWD EXTENSION OF
   STRONGER FLOW...THE ANTICIPATION FOR SFC WINDS AROUND 20-25 MPH
   BEING COLLOCATED WITH RH OF 10-15 PERCENT EXTENDS SWD AS WELL ACROSS
   PORTIONS OF NRN NM. THE LATEST SHORT-RANGE MODEL GUIDANCE
   CORROBORATES THIS ANTICIPATION...WARRANTING THE SLIGHT ADJUSTMENT TO
   THE CRITICAL AREA. WHILE SOME OF THESE ADDED AREAS EXPERIENCED
   THUNDERSTORMS YESTERDAY...MANY AREAS RECEIVED LITTLE RAINFALL
   RESULTING IN THE MAINTENANCE OF DRY FUELS.

   ...OTHERWISE...

   NO ADDITIONAL CHANGES HAVE BEEN MADE TO THE ONGOING FORECAST. OF
   NOTE...THE OBSERVED MORNING SOUNDINGS AT TUCSON AND EL PASO SAMPLE
   THE SRN EXTENT OF ENHANCED MID-LEVEL FLOW. FORECAST SOUNDINGS
   SUGGEST THAT THIS WILL SUPPORT STRONG WSWLY/WLY SFC WINDS S OF THE
   CRITICAL AREA IN PORTIONS OF SRN NM AND SERN AZ. WHILE IT IS
   POSSIBLE THAT CRITICALLY LOW RH MAY AFFECT MANY OF THESE
   AREAS...MODIFICATIONS TO THE OBSERVED SOUNDINGS FOR ANTICIPATED
   AFTERNOON CONDITIONS SUGGEST THAT MINIMUM RH MAY ONLY BE 16-18
   PERCENT. MORE SUBSTANTIAL DIURNAL RH REDUCTIONS COULD BE LIMITED BY
   VERTICAL MIXING INTO ENHANCED MID-LEVEL MOISTURE SUPPORTING PW
   VALUES AROUND 0.8-1.0 INCH. AS SUCH...THE CRITICAL AREA HAS NOT BEEN
   EXPANDED EVEN FARTHER S.

   ..COHEN.. 06/14/2014

   .PREV DISCUSSION... /ISSUED 0346 AM CDT SAT JUN 14 2014/

   ...SYNOPSIS...
   LARGE-SCALE TROUGH /CURRENTLY OVER THE WEST COAST/ WILL CONTINUE TO
   MOVE EAST THROUGH THE FORECAST PERIOD. A STRONG SHORT-WAVE TROUGH
   /EMBEDDED WITHIN THIS LARGER-SCALE TROUGH/ WILL RAPIDLY EJECT
   EAST/NORTHEASTWARD FROM THE SOUTHWEST UNITED STATES INTO THE
   NORTHERN PLAINS. AS IT DOES...SURFACE CYCLOGENESIS WILL BE INDUCED
   ACROSS EASTERN COLORADO EARLY IN THE FORECAST PERIOD BEFORE EJECTING
   NORTHEAST AHEAD OF THE AFOREMENTIONED TROUGH.

   ...EASTERN ARIZONA...EXTREME SOUTHEASTERN UTAH...EXTREME SOUTHWEST
   COLORADO...AND NORTHWEST NEW MEXICO...
   AS CYCLOGENESIS OCCURS ACROSS EASTERN COLORADO...THE SURFACE
   PRESSURE GRADIENT WILL STRENGTHEN AREA WIDE...RESULTING IN STRONG
   SURFACE WINDS. ADDITIONALLY...THE PRESENCE OF A DEEP BOUNDARY LAYER
   WILL MIX DOWN STRONGER FLOW ALOFT THAT WILL OVERSPREAD THE AREA AS
   THE SHORT-WAVE TROUGH RACES BY. THE COMBINATION OF THE STRONG/GUSTY
   SURFACE WINDS WITH RELATIVE-HUMIDITY VALUES BETWEEN 5 AND 15 PERCENT
   AND DRY FUELS WILL RESULT IN WIDESPREAD CRITICAL FIRE-WEATHER
   CONDITIONS.

   AT THIS TIME...IT APPEARS THE STRONGEST SURFACE WINDS AND LOWEST
   RELATIVE HUMIDITY WILL BE JUXTAPOSED OVER PORTIONS OF NORTHEAST
   ARIZONA AND NORTHWEST NEW MEXICO. HERE...SUSTAINED SURFACE WINDS
   GREATER THAN 30 MPH /WITH GUSTS NEARING 50 MPH/ AND
   RELATIVE-HUMIDITY VALUES AROUND 7 PERCENT WILL SUPPORT
   EXTREMELY-CRITICAL FIRE-WEATHER CONDITIONS.

   SURROUNDING THIS AREA...SUSTAINED SURFACE WINDS ARE EXPECTED TO BE
   SOMEWHAT LIGHTER /BETWEEN 20-30 MPH/ AND/OR RELATIVE-HUMIDITY VALUES
   SOMEWHAT HIGHER /10-20 PERCENT/. THIS WILL RESULT IN CRITICAL
   FIRE-WEATHER CONDITIONS.

   SURROUNDING THE CRITICAL FIRE-WEATHER AREA...QUESTIONS ABOUT THE
   DURATION OF CRITICALLY LOW RELATIVE-HUMIDITY AND CRITICALLY HIGH
   WIND SPEEDS...AND/OR FUEL DRYNESS WILL RESULT IN AN ELEVATED TO
   LOCALLY CRITICAL FIRE-WEATHER THREAT.

   ...CENTRAL NEW MEXICO MOUNTAINS...
   BY EARLY AFTERNOON...OROGRAPHIC CIRCULATIONS COUPLED WITH WELL ABOVE
   SEASONAL PRECIPITABLE-WATER VALUES /AROUND 0.6 INCHES/ WILL SUPPORT
   ISOLATED THUNDERSTORM DEVELOPMENT. DESPITE THE HIGH
   PRECIPITABLE-WATER VALUES...A DEEP...WELL-MIXED BOUNDARY LAYER /AND
   THE RESULTING VERY DRY SUB-CLOUD LAYER/ AND FAST STORM MOTIONS
   SHOULD ACT TO LIMIT THE AMOUNT OF PRECIPITATION ANY ONE LOCATION
   RECEIVES...RESULTING IN THE POTENTIAL FOR DRY THUNDERSTORMS.

   FARTHER EAST /ACROSS THE HIGH PLAINS OF EASTERN NEW MEXICO/...A
   WELL-MIXED BOUNDARY LAYER BUT HIGHER PRECIPITABLE-WATER VALUES WILL
   ACT TO SUPPORT A MIXED-MODE OF WET/DRY THUNDERSTORMS. RECENT RAINS
   AND ASSOCIATED GREENUP SHOULD ACT TO LIMIT THE POTENTIAL FOR
   LIGHTNING STARTED FIRES.

   ...PLEASE SEE WWW.SPC.NOAA.GOV/FIRE FOR GRAPHIC PRODUCT...