Storm Prediction Center Day 1 Fire Weather Outlook

Created: Mon Jun 16 16:59:04 UTC 2014 (
|
)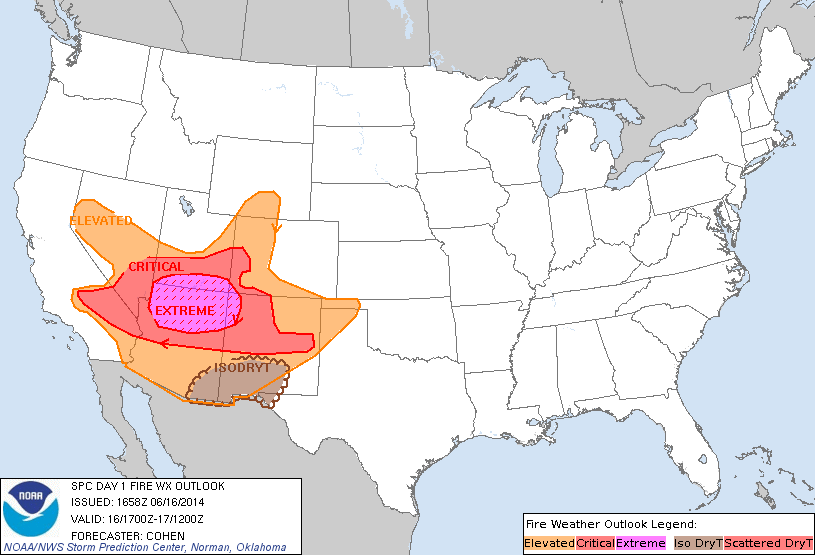 | | | | |
| --- | --- | --- | --- |
| Risk | Area (sq. mi.) | Area Pop. | Some Larger Population Centers in Risk Area |
| Extreme | 58,258 | 534,393 | St. George, UT...Flagstaff, AZ...Gallup, NM...Washington, UT...Sedona, AZ... |
| Critical | 127,200 | 4,106,198 | Las Vegas, NV...Albuquerque, NM...Henderson, NV...Paradise, NV...Sunrise Manor, NV... |
Click for Day 1 FireWX Areal Outline Product

   ZCZC SPCFWDDY1 ALL
   FNUS21 KWNS 161658

   DAY 1 FIRE WEATHER OUTLOOK  
   NWS STORM PREDICTION CENTER NORMAN OK
   1158 AM CDT MON JUN 16 2014

   VALID 161700Z - 171200Z

   ...EXTREMELY CRITICAL FIRE WEATHER AREA FOR PORTIONS OF NRN AZ...SRN
   UT...NWRN NM...SWRN CO...
   ...CRITICAL FIRE WEATHER AREA FOR PORTIONS OF INTERIOR/ERN CA...SRN
   NV...SRN UT...SWRN CO...NRN HALF OF NM...NRN HALF OF AZ SURROUNDING
   THE EXTREMELY CRITICAL AREA...

   ...PRIMARY CHANGES TO THE DAY-1 FIRE WEATHER OUTLOOK...

   /1/ AN EXTREMELY CRITICAL AREA HAS BEEN ADDED ACROSS PORTIONS OF NRN
   AZ...SRN UT...NWRN NM...AND SWRN CO...UPON COLLABORATION WITH THE
   FLAGSTAFF...ALBUQUERQUE...LAS VEGAS...SALT LAKE CITY...AND GRAND
   JUNCTION WEATHER FORECAST OFFICES. THE MORNING OBSERVED SOUNDING AT
   FLAGSTAFF INDICATES 45-55 MPH OF FLOW EXTENDING AS LOW AS 3 KFT
   ABOVE GROUND...AND FLAGSTAFF VWP INDICATES OVER-40-MPH SWLYS BETWEEN
   1.5 AND 3 KFT AGL. THIS IS IN ASSOCIATION WITH A BAND OF STRONG
   MID-LEVEL FLOW THAT WILL BE MAINTAINED THROUGH THE DAY AS A TROUGH
   DIGS OVER THE WRN STATES. FURTHERMORE...A VERY DRY TROPOSPHERE IS IN
   PLACE...AS HIGHLIGHTED BY THE FLAGSTAFF SOUNDING INDICATING 0.1-INCH
   PW...AND GPS DATA INDICATING PW OF 0.1-0.3 INCH ACROSS MUCH OF THE
   REGION.

   AS DIURNAL MIXING IS ENHANCED...THE AFOREMENTIONED FACTORS WILL
   SUPPORT SWLY SFC WINDS OF 30-35 MPH WITH GUSTS LOCALLY REACHING
   AROUND 50 MPH ALONG WITH MINIMUM RH OF 3-9 PERCENT ACROSS THE
   EXTREMELY CRITICAL AREA. THESE ANTICIPATED PARAMETERS ARE ALSO
   SUBSTANTIATED BY THE LATEST CONSENSUS AMONGST SHORT-RANGE
   DETERMINISTIC/ENSEMBLE MODEL GUIDANCE...INCLUDING THE LATEST
   RAP...SREF...EXPERIMENTAL SSEO...AND EXPERIMENTAL 4-KM AFWA ENSEMBLE
   OUTPUT...WHICH ALL HIGHLIGHT VERY STRONG WINDS AND VERY LOW RH.
   FURTHERMORE...SFC OBSERVATIONS ALREADY INDICATE WINDS HAVING BECOME
   STRONG THIS MORNING ACROSS THE REGION WITH RH VALUES OF 8-15
   PERCENT...AND FURTHER REDUCTIONS IN RH AND INCREASES IN WIND SPEEDS
   ARE EXPECTED WITH STRENGTHENING MIXING AND A TIGHTENING SFC PRESSURE
   GRADIENT.

   WITH ALL OF THESE FACTORS COMBINED AMIDST VERY DRY FUELS...THE
   UPGRADE TO EXTREMELY CRITICAL DESIGNATION IS NECESSARY. ONGOING
   FIRES WILL HAVE THE POTENTIAL TO SPREAD VERY RAPIDLY OWING TO THE
   AFOREMENTIONED CONDITIONS.

   /2/ THE CRITICAL AREA HAS BEEN EXTENDED EWD ACROSS PORTIONS OF THE
   NRN HALF OF NM WHERE 20-25 MPH WINDS ARE FORECAST TO COMBINE WITH RH
   OF 10-15 PERCENT PER THE LATEST OBSERVATIONAL TRENDS/MODEL OUTPUT.
   COORDINATION WITH THE ALBUQUERQUE WEATHER FORECAST OFFICE SUGGESTS
   FUELS ARE DRY ACROSS AREAS ADDED TO CRITICAL DESIGNATION. GREEN-UP
   OF FUELS IN NERN NM PRECLUDES CRITICAL DESIGNATION THERE...DESPITE
   METEOROLOGICALLY CRITICAL FIRE WEATHER CONDITIONS.

   /3/ THE CRITICAL AREA HAS BEEN EXTENDED WWD INTO ADDITIONAL PORTIONS
   OF SRN NV AND ACROSS INTERIOR/ERN CA TO THE SRN SIERRA WHERE VERY
   DRY FUELS EXIST AMIDST EXPECTED 20-25 MPH WINDS AND MINIMUM RH OF
   10-15 PERCENT PER THE LATEST MODEL GUIDANCE. OBSERVATIONS INDICATE
   STRONG WINDS/LOW RH ALREADY IN PLACE...AND THESE CONDITIONS WILL BE
   REINFORCED WITH STRONG 700-MB FLOW OVERLYING THE AREA DURING PEAK
   HEATING.

   /4/ THE ELEVATED FIRE WEATHER AREA HAS BEEN EXTENDED SWD TO THE
   UNITED-STATES/MEXICO BORDER...WITH AREAS ADDED TO ELEVATED
   DESIGNATION EXPECTED TO EXPERIENCE 15-20 MPH WINDS AMIDST RH AROUND
   10-15 PERCENT. THESE LOCATIONS WILL REMAIN DISPLACED TO THE S OF
   STRONGER FLOW ALOFT...PRECLUDING CRITICAL DESIGNATION AT THIS TIME.

   /5/ AN ISOLATED DRY-THUNDERSTORM AREA HAS BEEN ADDED ACROSS PORTIONS
   OF SERN AZ...SRN NM...AND THE TRANS-PECOS REGION OF TX. WITH GPS PW
   AROUND 0.50-0.75 INCH ACROSS THIS AREA OWING TO AN INFLUX OF MODEST
   MID-LEVEL MOISTURE...MARGINAL BUOYANCY WILL MATERIALIZE THIS
   AFTERNOON. WHEN COMBINED WITH OROGRAPHIC CIRCULATIONS...ISOLATED
   THUNDERSTORM DEVELOPMENT IS EXPECTED. A DRY THUNDERSTORM MODE WILL
   BE FAVORED BY DEEP INVERTED-VEE THERMODYNAMIC PROFILES PER FORECAST
   SOUNDINGS...ALONG WITH MODERATE STORM MOTIONS OWING TO 20-35 MPH OF
   FLOW THROUGH THE CLOUD LAYER. THE LACK OF STRONGER DEEP ASCENT
   SHOULD PREVENT GREATER DRY THUNDERSTORM COVERAGE FROM ENSUING.

   ..COHEN.. 06/16/2014

   .PREV DISCUSSION... /ISSUED 0400 AM CDT MON JUN 16 2014/

   ...SYNOPSIS...
   PACIFIC NORTHWEST MID-/UPPER-LEVEL TROUGH SHOULD CONTINUE TO SLOWLY
   DIG SOUTHWARD TOWARD THE NORTHERN GREAT BASIN. AS THIS
   OCCURS...STRONG MID-/UPPER-LEVEL FLOW WILL OVERSPREAD MUCH OF THE
   GREAT BASIN AND SOUTHWEST UNITED STATES. DOWNSTREAM...A DEPARTING
   SHORT-WAVE TROUGH WILL CONTINUE TO LIFT NORTHWARD INTO WESTERN
   ONTARIO LEAVING SOUTHWEST FLOW IN ITS WAKE ACROSS MUCH OF THE UNITED
   STATES. THE EXCEPTION BEING THE SOUTHEAST WHICH WILL BE UNDER THE
   INFLUENCE OF A SUBTROPICAL RIDGE AND THE NORTHEAST WHERE THE FLOW
   WILL BE MORE WESTERLY.

   AT THE SURFACE...MUCH OF THE EAST WILL BE UNDER THE INFLUENCE OF A
   LARGE HIGH PRESSURE AREA CENTERED OFF THE COAST OF NORTH CAROLINA.
   ACROSS THE WEST...AN EXPANSIVE AREA OF LOWER PRESSURE WILL
   PERSIST...WITH SEVERAL EMBEDDED MINIMA. IN BETWEEN...A LEE TROUGH
   WILL PERSIST ACROSS THE HIGH PLAINS...WITH AN EMBEDDED SURFACE LOW
   DEVELOPING SOUTHWARD FROM EASTERN MONTANA INTO NORTHEAST COLORADO.

   ...SOUTHEASTERN CALIFORNIA...FAR SOUTHERN NEVADA...NORTHERN
   ARIZONA...SOUTHERN UTAH...FAR WEST/SOUTHWESTERN
   COLORADO...NORTHWESTERN NEW MEXICO...
   STRONG INSOLATION WILL ONCE AGAIN PROMOTE THE DEVELOPMENT OF A
   DEEP...WELL-MIXED BOUNDARY LAYER...WHICH WILL YIELD MINIMUM SURFACE
   RELATIVE-HUMIDITY VALUES BETWEEN 5 AND 15 PERCENT. COUPLED WITH
   THIS...AN INCREASING SURFACE PRESSURE GRADIENT WILL ALLOW FOR AN
   INCREASE IN SUSTAINED SURFACE WIND SPEEDS...WITH EVEN STRONGER GUSTS
   RESULTING FROM INCREASING FLOW ALOFT BEING MIXED DOWN TO THE
   SURFACE.

   AT THIS TIME...THE CORRIDOR FROM EASTERN CALIFORNIA EASTWARD ACROSS
   SOUTHERN NEVADA/NORTHERN ARIZONA/SOUTHERN UTAH INTO SOUTHWESTERN
   COLORADO AND NORTHWEST NEW MEXICO IS EXPECTED TO HAVE
   RELATIVE-HUMIDITY VALUES FALL INTO THE SINGLE DIGITS WITH SUSTAINED
   SURFACE WINDS SPEEDS GREATER THAN 20 MPH /WITH GUSTS LOCALLY
   REACHING 40+ MPH/. THIS WILL RESULT IN WIDESPREAD CRITICAL
   FIRE-WEATHER CONDITIONS.

   THE POTENTIAL EXISTS FOR A SUBSET OF THIS CORRIDOR TO ACHIEVE
   EXTREMELY CRITICAL CONDITIONS. NUMERICAL GUIDANCE SUPPORTS THE
   DEVELOPMENT OF AN AREA OF SUSTAINED SURFACE WIND SPEEDS APPROACHING
   /OR EVEN EXCEEDING/ 30 MPH /WITH GUSTS NEARING 50 MPH/. AT THIS TIME
   THE MOST LIKELY AREA WHERE THIS WOULD OCCUR IS NORTH-CENTRAL
   ARIZONA. HOWEVER...ENOUGH UNCERTAINTY REMAINS IN THE EXACT LOCATION
   AND DURATION OF THIS HIGHER-END THREAT TO PRECLUDE EXTREMELY
   CRITICAL DELINEATION AT THIS TIME.

   ...AREAS SURROUNDING THE CRITICAL RISK...
   AFTERNOON RELATIVE-HUMIDITY VALUES ARE EXPECTED TO FALL BELOW 25
   PERCENT ACROSS MUCH OF THE AREA. ADDITIONALLY...SUSTAINED SURFACE
   WINDS AROUND 15-25 MPH ARE EXPECTED. HOWEVER...UNLIKE THE
   CRITICAL-RISK AREA...THE PHASING OF STRONGEST SURFACE WINDS...LOWEST
   RELATIVE-HUMIDITY VALUES...AND/OR DRY FUELS WILL NOT SUFFICIENTLY
   OCCUR TO SUPPORT LARGE-SCALE FIRE-WEATHER CONDITIONS.
   HOWEVER...ELEVATED TO LOCALLY CRITICAL FIRE-WEATHER CONCERNS WILL
   REMAIN.

   ...HIGHER TERRAIN OF SOUTHEAST ARIZONA AND SOUTHWEST/WEST-CENTRAL
   NEW MEXICO...
   FORECAST SOUNDINGS ACROSS THIS AREA INDICATE THE DEVELOPMENT OF
   MODEST INSTABILITY /MUCAPE VALUES AROUND 500 J/KG/ DEVELOPING ATOP A
   VERY DEEP BOUNDARY LAYER BY EARLY AFTERNOON. OROGRAPHIC
   CIRCULATIONS...COUPLED WITH AN INCREASE IN PRECIPITABLE-WATER VALUES
   TO AROUND 0.8 INCHES...MAY SUPPORT THE DEVELOPMENT OF ISOLATED
   THUNDERSTORMS. THIS AREA IS ON THE SOUTHERN FRINGES OF THE STRONGER
   MID-/UPPER-LEVEL FLOW AND THUS STORM MOTIONS MAY BE FAST ENOUGH TO
   OFFSET THE INCREASE IN PRECIPITABLE WATER TO KEEP AT LEAST SOME
   POTENTIAL FOR DRY THUNDERSTORMS. HOWEVER...CONCERNS REGARDING
   THUNDERSTORM COVERAGE AND THE HIGHER PRECIPITABLE-WATER VALUES WILL
   PRECLUDE DRY THUNDERSTORM HIGHLIGHTS AT THIS TIME. IF COVERAGE OF
   THUNDERSTORMS IS GREATER THAN...OR PRECIPITABLE-WATER VALUES LOWER
   THAN FORECAST...INTRODUCTION OF AN ISOLATED DRY-THUNDERSTORM AREA
   MAY BE REQUIRED WITH THE DAY-1 UPDATE.

   ...PLEASE SEE WWW.SPC.NOAA.GOV/FIRE FOR GRAPHIC PRODUCT...