Storm Prediction Center Day 1 Fire Weather Outlook

Created: Thu Nov 12 08:38:03 UTC 2015 (
|
)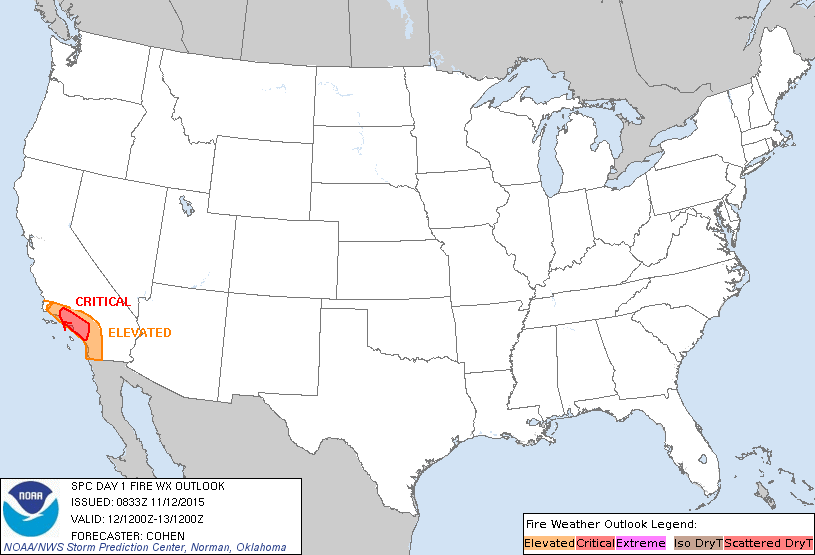 | | | | |
| --- | --- | --- | --- |
| Risk | Area (sq. mi.) | Area Pop. | Some Larger Population Centers in Risk Area |
| Critical | 5,978 | 13,987,878 | Los Angeles, CA...Long Beach, CA...Santa Ana, CA...Anaheim, CA...Glendale, CA... |
Click for Day 1 FireWX Areal Outline Product

   ZCZC SPCFWDDY1 ALL
   FNUS21 KWNS 120833

   DAY 1 FIRE WEATHER OUTLOOK  
   NWS STORM PREDICTION CENTER NORMAN OK
   0233 AM CST THU NOV 12 2015

   VALID 121200Z - 131200Z

   ...CRITICAL FIRE WEATHER AREA FOR PORTIONS OF THE SRN CA COASTAL
   RANGES AND ADJACENT FOOTHILLS...

   ...SYNOPSIS...
   A DEEP CYCLONE WILL TRACK ACROSS PARTS OF THE GREAT LAKES REGION TO
   NEW ENGLAND...WITH BROADLY CYCLONIC MID-LEVEL FLOW BEING MAINTAINED
   UPSTREAM BY AN IMPULSE AMPLIFYING ACROSS PARTS OF THE NRN GREAT
   PLAINS AND THE UPPER MIDWEST. A FRONTAL SYSTEM ATTENDANT TO THE
   AFOREMENTIONED DEEP CYCLONE WILL BE ASSOCIATED WITH PRECIPITATION
   ACROSS PARTS OF THE ERN CONUS. FARTHER W...A RELATIVELY FLAT
   MID-LEVEL RIDGE OVER PARTS OF THE ERN PACIFIC WILL ADVANCE INTO
   PORTIONS OF THE WRN CONUS...WITH DOWNSTREAM SUBSIDENCE PROMOTING A
   SFC ANTICYCLONE ACROSS PARTS OF THE CNTRL GREAT BASIN.

   ...PORTIONS OF THE SRN CA COASTAL RANGES AND ADJACENT FOOTHILLS...
   ACROSS THE CRITICAL AREA...AN ENHANCED SFC PRESSURE GRADIENT ON THE
   SWRN FLANK OF THE AFOREMENTIONED ANTICYCLONE IS EXPECTED TO FOSTER
   NELY TO ELY WINDS AROUND 20-25 MPH -- LOCALLY STRONGER AND WITH
   HIGHER GUSTS IN TERRAIN-FAVORED AREAS INCLUDING LOCATIONS THROUGH
   CANYONS AND PASSES. DOWNSLOPE-FLOW-ENHANCED WARMING/DRYING AMIDST
   DEEP DRY AIR IS FORECAST TO YIELD MINIMUM RH OF AROUND 7-15 PERCENT
   THIS AFTERNOON. THESE FACTORS...COMBINED WITH AREAS OF DRY
   FUELS...ARE EXPECTED TO SUPPORT THE CRITICAL FIRE-WEATHER RISK.
   CRITICAL FIRE-WEATHER CONDITIONS ARE EXPECTED TO CONTINUE INTO THE
   OVERNIGHT HOURS TONIGHT ACROSS PORTIONS OF THE CRITICAL AREA...WITH
   POOR RH RECOVERY ANTICIPATED OWING TO THE AFOREMENTIONED DOWNSLOPE
   FLOW ENCOURAGING DRY CONDITIONS.

   FOR THE ELEVATED FIRE-WEATHER AREA THAT SURROUNDS THE CRITICAL
   AREA...A RELATIVELY TIGHT SFC PRESSURE GRADIENT IS STILL EXPECTED TO
   SUPPORT ENHANCED WINDS -- THOUGH NOT AS STRONG AS THOSE ACROSS THE
   CRITICAL AREA. NELY TO ELY SFC WINDS AROUND 15-20 MPH ARE EXPECTED
   TO COMBINE WITH MINIMUM RH AROUND 7-15 PERCENT TO SUPPORT ELEVATED
   FIRE-WEATHER CONDITIONS. THESE CONDITIONS ARE EXPECTED TO CONTINUE
   INTO THE OVERNIGHT HOURS TONIGHT...WITH POOR RH RECOVERY EXPECTED.
   LOCALLY/BRIEFLY CRITICAL CONDITIONS WILL BE POSSIBLE THROUGH THE
   PERIOD. HOWEVER...CONFIDENCE IN CRITICALLY STRONG WINDS OCCURRING ON
   MORE THAN A SPOTTY/BRIEF BASIS IS NOT HIGH ENOUGH FOR CRITICAL
   DESIGNATION ACROSS THE ELEVATED AREA AT THIS TIME. ALSO...SOME AREAS
   OF LESS-RECEPTIVE FUELS FOR FIRE SPREAD S OF THE CRITICAL AREA COULD
   MITIGATE THE OVERALL FIRE-WEATHER POTENTIAL.

   ..COHEN.. 11/12/2015

   ...PLEASE SEE WWW.SPC.NOAA.GOV/FIRE FOR GRAPHIC PRODUCT...