Storm Prediction Center Day 1 Fire Weather Outlook

Created: Wed Mar 23 08:48:03 UTC 2016 (
|
)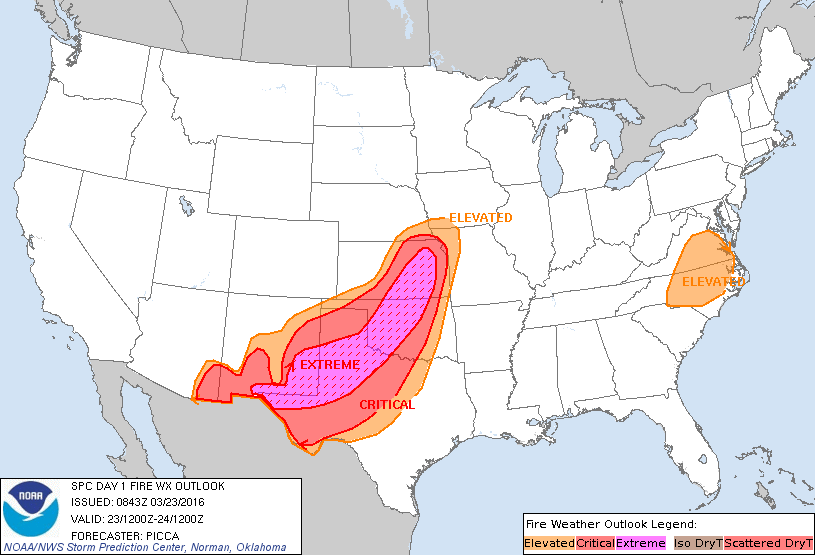 | | | | |
| --- | --- | --- | --- |
| Risk | Area (sq. mi.) | Area Pop. | Some Larger Population Centers in Risk Area |
| Extreme | 120,637 | 4,498,839 | Oklahoma City, OK...Wichita, KS...Lubbock, TX...Topeka, KS...Norman, OK... |
| Critical | 156,721 | 4,420,622 | El Paso, TX...Tulsa, OK...Amarillo, TX...Abilene, TX...Olathe, KS... |
Click for Day 1 FireWX Areal Outline Product

   ZCZC SPCFWDDY1 ALL
   FNUS21 KWNS 230843

   DAY 1 FIRE WEATHER OUTLOOK  
   NWS STORM PREDICTION CENTER NORMAN OK
   0343 AM CDT WED MAR 23 2016

   VALID 231200Z - 241200Z

   ...EXTREMELY CRITICAL FIRE WEATHER AREA FOR PORTIONS OF THE
   SOUTHERN/CENTRAL PLAINS AND FAR WEST TX/SOUTHERN NM...
   ...CRITICAL FIRE WEATHER AREA FOR AREAS SURROUNDING THE EXTREMELY
   CRITICAL...FROM SOUTHEASTERN AZ TO THE MID MO VALLEY...

   ...SYNOPSIS...
   A MID/UPPER-LEVEL TROUGH AND EMBEDDED CLOSED LOW WILL ADVANCE E/NE
   FROM THE CENTRAL HIGH PLAINS TO THE MID MO VALLEY THROUGH THE
   PERIOD. IN CONJUNCTION WITH THIS TROUGH...A POWERFUL SWLY JET CORE
   WILL SHIFT ACROSS THE SOUTHERN/CENTRAL PLAINS. UPSTREAM OF THE
   TROUGH...BROAD RIDGING NEAR THE WEST COAST WILL PROGRESS EAST ACROSS
   THE INTER-MOUNTAIN WEST...DE-AMPLIFYING IN THE PROCESS. THE SFC
   RESPONSE WILL FEATURE A CYCLONE OVER KS TRANSLATING EASTWARD TOWARDS
   THE MID MS VALLEY...WITH A TRAILING DRYLINE TO ITS SOUTH ALSO
   PUSHING EAST. SOUTHWEST OF THE LOW...A TRAILING COLD FRONT WILL MOVE
   SOUTHEAST ACROSS THE SOUTHERN PLAINS. ACROSS THE EAST...RIDGING WILL
   EXTEND FROM AN OFFSHORE HIGH WESTWARD TO THE SOUTHEAST CONUS.

   ...DANGEROUS FIRE-WX CONDITIONS ARE FORECAST TODAY ACROSS PARTS OF
   THE SOUTHERN AND CENTRAL PLAINS...

   WITH THE MID/UPPER TROUGH SLOWLY EJECTING EAST ACROSS THE CENTRAL
   PLAINS...POWERFUL LOW/MID-LEVEL W/SWLY FLOW WILL EXTEND FROM
   SOUTHERN NM TO EASTERN KS TODAY. ADDITIONALLY...THE PREVIOUSLY
   MENTIONED SFC CYCLONE WILL BE RESPONSIBLE FOR A TIGHT PRESSURE
   GRADIENT OVER MUCH OF THE REGION. AS DIURNAL MIXING RAPIDLY ENSUES
   THIS MORNING...W/SW WINDS SHOULD INCREASE DRAMATICALLY...WITH
   SUSTAINED VALUES AROUND 30-40 MPH /WITH HIGHER GUSTS/ COMMON IN MANY
   SPOTS. ADDITIONALLY...THE UPSTREAM AIR MASS OVER THE DESERT
   SOUTHWEST IS CHARACTERIZED BY MEAGER LOW/MID-LEVEL MOISTURE...SUCH
   THAT A WELL-MIXED/DEEP BOUNDARY LAYER /AIDED BY DOWNSLOPE
   TRAJECTORIES/ RESULTS IN RH VALUES BELOW 10-15 PERCENT FOR MANY
   LOCATIONS WEST OF THE DRYLINE. 

   ANTECEDENT CONDITIONS HAVE ONLY DRIED FUELS FURTHER ACROSS PARTS OF
   THE REGION...SUCH THAT THE ABOVE METEOROLOGICAL CONDITIONS WILL LEAD
   TO RAPID DEVELOPMENT OF CRITICAL/EXTREMELY CRITICAL FIRE-WX CONCERNS
   TODAY. RECENT GUIDANCE HAS FURTHER INCREASED CONFIDENCE IN SUCH A
   SCENARIO...AND THE ONGOING EXTREME AREA IS EXPANDED WEST TOWARDS EL
   PASO...NORTHWEST TOWARDS THE SOUTHERN TX PANHANDLE/E-CENTRAL
   NM...AND NORTHEAST ACROSS KS. FIRES THAT DEVELOP WITHIN THE
   HIGHLIGHTED CORRIDOR WILL BE ABLE TO SPREAD QUITE
   RAPIDLY/EFFICIENTLY TODAY.

   ALTHOUGH PASSAGE OF THE COLD FRONT ACROSS THE OK/TX PANHANDLES AND
   SOUTHERN KS/WESTERN OK WILL INCREASE RH VALUES...WINDS WILL REMAIN
   STRONG. ADDITIONALLY...THE WIND SHIFT TO THE W/NW WILL COMPLICATE
   FIREFIGHTING EFFORTS. AS SUCH...A CONSIDERABLE THREAT WILL LIKELY
   REMAIN EVEN WHEN THE FRONT PASSES.

   ...PORTIONS OF NC AND VA...
   00Z RAOBS ACROSS THE SOUTHEAST INDICATE THAT A DRY AIR MASS REMAINS
   ALONG THE WESTERN EDGE OF HIGH PRESSURE CENTERED OFFSHORE. AS A
   RESULT...SUFFICIENT DIURNAL MIXING OF THE BOUNDARY LAYER WILL FAVOR
   RH VALUES FALLING TO 20-30 PERCENT DURING THE DAY. ENHANCED SWLY
   FLOW AT LOW/MID LEVELS AND A MODESTLY TIGHTENED SFC GRADIENT WILL
   RESULT IN SUSTAINED WINDS AROUND 15 MPH AMIDST THIS AIR MASS. FINE
   FUELS ACROSS MUCH OF THE REGION REMAIN DRY...SUCH THAT THESE
   METEOROLOGICAL CONDITIONS WILL LIKELY SUPPORT ELEVATED CONCERNS
   ACROSS PARTS OF CENTRAL/EASTERN NC AND VA.

   ...PORTIONS OF SOUTHERN CA...
   A MODEST OFFSHORE GRADIENT WILL FAVOR LOCALIZED ELEVATED CONCERNS IN
   TERRAIN-FAVORED LOCATIONS...PRIMARILY IN LOS ANGELES AND VENTURA
   COUNTIES. HOWEVER...THE THREAT APPEARS TOO MARGINAL TO INTRODUCE AN
   ELEVATED AREA AT THIS TIME.

   ..PICCA.. 03/23/2016

   ...PLEASE SEE WWW.SPC.NOAA.GOV/FIRE FOR GRAPHIC PRODUCT...