Storm Prediction Center Day 1 Fire Weather Outlook

Created: Thu Nov 17 16:34:02 UTC 2016 (
|
)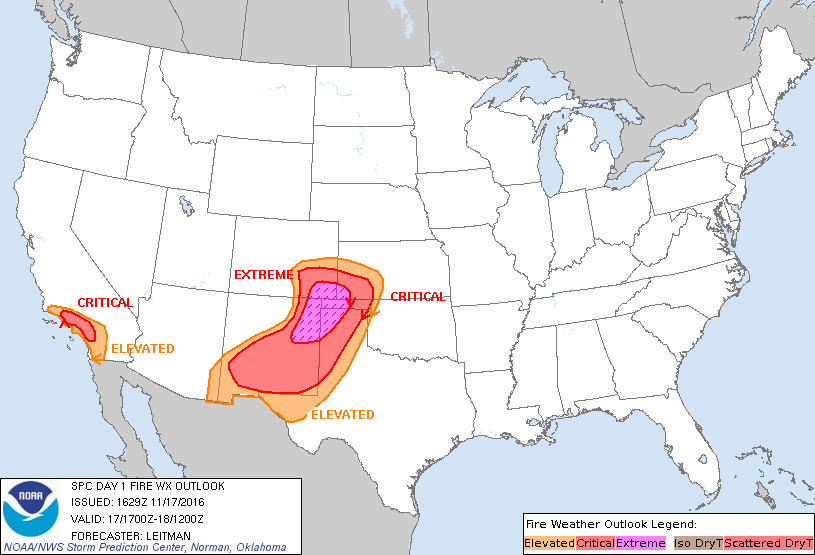 | | | | |
| --- | --- | --- | --- |
| Risk | Area (sq. mi.) | Area Pop. | Some Larger Population Centers in Risk Area |
| Extreme | 29,874 | 99,370 | Dumas, TX...Guymon, OK...Tucumcari, NM... |
| Critical | 100,494 | 9,650,555 | Los Angeles, CA...Riverside, CA...Glendale, CA...San Bernardino, CA...Amarillo, TX... |
Click for Day 1 FireWX Areal Outline Product

   ZCZC SPCFWDDY1 ALL
   FNUS21 KWNS 171629

   DAY 1 FIRE WEATHER OUTLOOK  
   NWS STORM PREDICTION CENTER NORMAN OK
   1029 AM CST THU NOV 17 2016

   VALID 171700Z - 181200Z

   ...EXTREMELY CRITICAL FIRE WEATHER AREA FOR FAR SOUTHEAST CO...FAR
   SOUTHWEST KS...WESTERN PORTIONS OF THE OK/TX PANHANDLES AND
   NORTHEAST NM...
   ...CRITICAL FIRE WEATHER AREA FOR SOUTHEAST CO...SOUTHWEST KS...THE
   OK/TX PANHANDLES AND MUCH OF SOUTHERN AND EASTERN NM...
   ...CRITICAL FIRE WEATHER AREA FOR PORTIONS OF THE SOUTHERN CA
   COASTAL RANGES AND FOOTHILLS...

   ...SOUTHEAST CO...SOUTHWEST KS...THE OK/TX PANHANDLES AND MUCH OF
   SOUTHERN AND EASTERN NM...

   THE EXTREMELY CRITICAL AND CRITICAL AREAS HAVE BEEN TRIMMED ACROSS
   SOUTHEAST CO/SOUTHWEST KS TO BETTER REFLECT CURRENT GUIDANCE AND
   ALSO TO ACCOUNT FOR THE FASTER THAN EXPECTED SOUTHWARD PUSH OF THE
   SURFACE COLD FRONT...WHICH WAS LOCATED FROM EAST-CENTRAL CO INTO
   WEST-CENTRAL KS AS OF 16Z. THE EXTREMELY CRITICAL AREA WAS EXPANDED
   ON THE SOUTHWEST SIDE TO INCLUDE MORE OF THE WESTERN TX PANHANDLE
   AND NORTHEAST NM. RH VALUES ACROSS THESE LOCATIONS WILL FALL TO
   AROUND 10 PERCENT WITH SUSTAINED SOUTHWESTERLY SURFACE WINDS AROUND
   25-30 MPH WITH GUSTS TO 50 MPH POSSIBLE. WIND GUSTS COULD
   OCCASIONALLY REACH AS HIGH AS 65 MPH ACROSS PARTS OF NORTHEAST NM
   AND THE WESTERN OK/TX PANHANDLES. 

   ELSEWHERE...NO CHANGES HAVE BEEN MADE. SEE PREVIOUS DISCUSSION BELOW
   FOR MORE DETAILS.

   ..LEITMAN.. 11/17/2016

   .PREV DISCUSSION... /ISSUED 0304 AM CST THU NOV 17 2016/

   ...SYNOPSIS...
   A VIGOROUS MID-LEVEL TROUGH WILL MOVE THROUGH THE CENTRAL PART OF
   THE COUNTRY TODAY...ALONG WITH A 90-100 KT MID-LEVEL JET MAX THAT
   WILL REACH SOUTHWESTERN KANSAS AROUND MID-AFTERNOON.  AT THE
   SURFACE...SIGNIFICANT CYCLOGENESIS WILL OCCUR IN RESPONSE TO THE
   EJECTING MID-LEVEL SPEED MAX OVER CENTRAL/EASTERN COLORADO.  A 996
   MB LOW WILL THEN MOVE INTO WESTERN KANSAS DURING THE AFTERNOON...AND
   REACH SOUTHWESTERN IOWA BY THE END OF THE FORECAST PERIOD.  UPSTREAM
   OF THIS LOW...HIGH PRESSURE WILL BUILD INTO THE INTERMOUNTAIN WEST
   AND GREAT BASIN.  HIGH PRESSURE WILL ALSO DOMINATE IN THE SOUTHEAST.

   ...PORTIONS OF THE CENTRAL AND SOUTHERN PLAINS...
   THE COMBINATION OF THE AFOREMENTIONED INTENSE MID-LEVEL SPEED MAX
   AND RAPID SURFACE CYCLOGENESIS WILL FOSTER WIDESPREAD WINDY
   CONDITIONS IN PORTIONS OF THE ROCKIES AND PLAINS TODAY. 20-40 MPH
   WESTERLY/SOUTHWESTERLY FLOW WITH GUSTS EXCEEDING 50 MPH CAN BE
   EXPECTED IN MANY AREAS OF NEW MEXICO...SOUTHEASTERN COLORADO...WEST
   TEXAS...THE OKLAHOMA PANHANDLE...AND FAR SOUTHWESTERN KANSAS TODAY
   WEST OF A TROUGH/DRYLINE THAT WILL BE LOCATED ALONG THE WESTERN
   OKLAHOMA/TEXAS BORDER REGION SOUTHWARD TO THE BIG BEND AREA OF
   TEXAS.  AS TEMPERATURES WARM THIS AFTERNOON...RH VALUES SHOULD FALL
   TO AROUND 15 PERCENT OR LESS IN MUCH OF THE REGION...PERHAPS AS LOW
   AS 10 PERCENT IN A FEW AREAS FROM NORTHEASTERN NEW MEXICO INTO
   SOUTHWESTERN KANSAS.

   GIVEN THE INTENSE WIND FIELDS...WARM/DRY LOW-LEVEL AIRMASS...AND
   EXTREMELY DRY FUELS IN PARTS OF THE REGION...BOTH CRITICAL AND
   EXTREMELY CRITICAL AREAS HAVE BEEN MAINTAINED FOR THIS FORECAST. 
   THIS IS A HIGHER-END FIRE WEATHER EVENT...AND ANY FIRE IGNITIONS
   HAVE THE POTENTIAL TO SPREAD RAPIDLY.  ANY OUTDOOR BURNING IS
   STRONGLY DISCOURAGED.

   ...PORTIONS OF SOUTHERN CALIFORNIA...
   A STRONG OFFSHORE SURFACE PRESSURE GRADIENT WILL SET UP ACROSS THE
   REGION TODAY IN RESPONSE TO STRENGTHENING HIGH PRESSURE IN THE GREAT
   BASIN. EASTERLY/NORTHEASTERLY WINDS OF 15-25 MPH...WITH HIGHER GUSTS
   ESPECIALLY IN TERRAIN-FAVORED AREAS...CAN BE EXPECTED MUCH OF TODAY.
   6-15 PERCENT MINIMUM RH VALUES AND DRY FUELS IN THE REGION ALSO
   SUPPORT A HEIGHTENED FIRE WEATHER THREAT.  AT LEAST BRIEFLY CRITICAL
   FIRE WEATHER CONDITIONS ARE EXPECTED IN MOST AREAS THIS
   AFTERNOON/EVENING...WITH CRITICAL CONDITIONS MOST LIKELY IN PORTIONS
   OF VENTURA...LOS ANGELES...SAN BERNARDINO...AND RIVERSIDE COUNTIES.

   ...PARTS OF THE SOUTHEAST...
   LOW-LEVEL WIND FIELDS WILL BE MINIMAL ACROSS THE REGION AS HIGH
   PRESSURE REMAINS IN PLACE ACROSS TENNESSEE...ALABAMA...AND GEORGIA. 
   HOWEVER...THE MOST PRONOUNCED LOW-LEVEL MOIST ADVECTION WILL DEVELOP
   WELL WEST OF THIS AREA...AND 20-30 PERCENT RH VALUES WILL BECOME
   COMMON THIS AFTERNOON.  SOME FIRE WEATHER THREAT WILL EXIST GIVEN
   THE LACK OF PRECIPITATION IN RECENT WEEKS AND EXTREMELY DRY FUELS. 
   A LACK OF LOW-LEVEL FLOW PRECLUDES ANY FIRE WEATHER HIGHLIGHTS AT
   THIS TIME.

   ...PLEASE SEE WWW.SPC.NOAA.GOV/FIRE FOR GRAPHIC PRODUCT...