Storm Prediction Center Day 1 Fire Weather Outlook

Created: Fri Nov 10 06:48:02 UTC 2017 (
|
)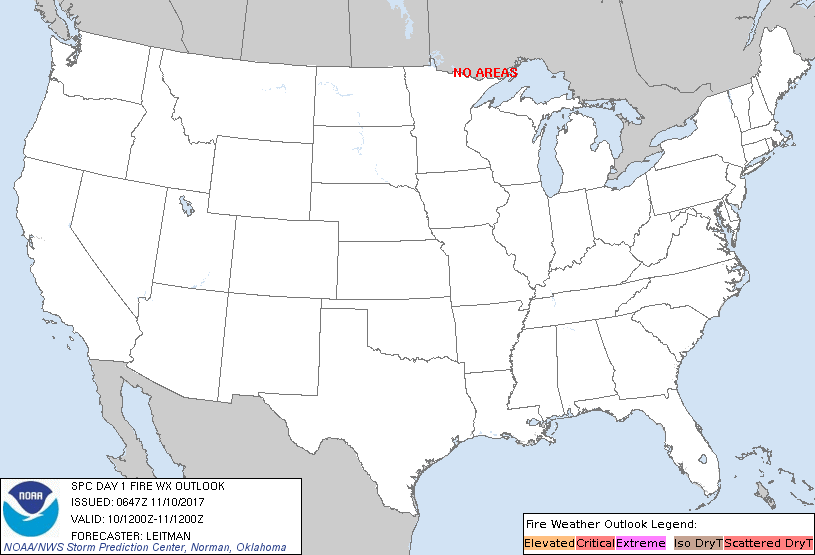 Risk

Area (sq. mi.)

Area Pop.

Some Larger Population Centers in Risk Area

No Risk Areas Forecast
Click for Day 1 FireWX Areal Outline Product

   ZCZC SPCFWDDY1 ALL
   FNUS21 KWNS 100647

   Day 1 Fire Weather Outlook  
   NWS Storm Prediction Center Norman OK
   1247 AM CST Fri Nov 10 2017

   Valid 101200Z - 111200Z

   ...NO CRITICAL AREAS...

   ...Synopsis...
   Fire weather conditions are not expected to be a concern across the
   country today. Strong surface high pressure will dominate much of
   the eastern U.S. where seasonally cool and dry conditions can be
   expected. A low-amplitude upper shortwave trough over the Pacific
   Northwest will migrate east/southeast toward the Rockies and weak
   lee surface troughing will develop across the High Plains. This will
   result in some breezy conditions across the southern High Plains,
   but cool temperatures and unfavorable RH conditions will negate fire
   weather concerns here.

   ..Leitman.. 11/10/2017

   ...Please see www.spc.noaa.gov/fire for graphic product...