Storm Prediction Center Day 1 Fire Weather Outlook

Created: Mon Dec 4 07:51:02 UTC 2017 (
|
)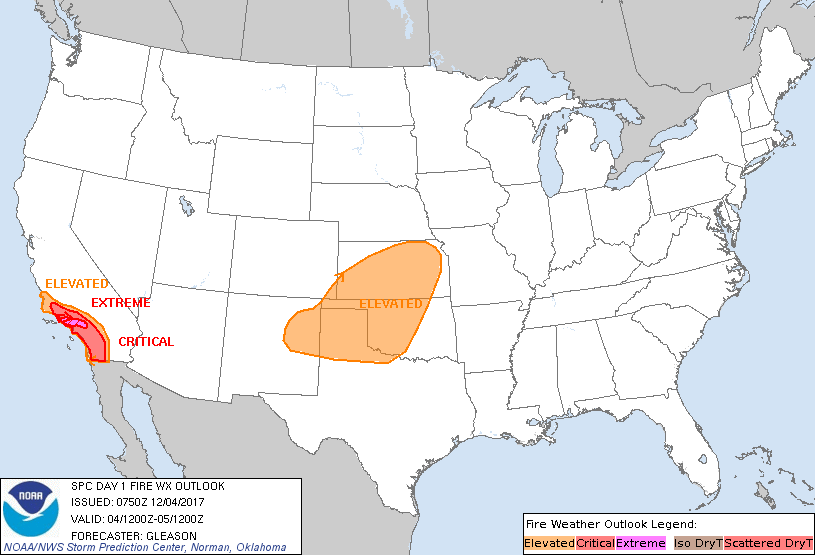 | | | | |
| --- | --- | --- | --- |
| Risk | Area (sq. mi.) | Area Pop. | Some Larger Population Centers in Risk Area |
| Extreme | 2,124 | 3,881,416 | Glendale, CA...Oxnard, CA...Santa Clarita, CA...Pomona, CA...Pasadena, CA... |
| Critical | 12,214 | 14,344,444 | Los Angeles, CA...Long Beach, CA...Santa Ana, CA...Anaheim, CA...Riverside, CA... |
Click for Day 1 FireWX Areal Outline Product

   ZCZC SPCFWDDY1 ALL
   FNUS21 KWNS 040750

   Day 1 Fire Weather Outlook  
   NWS Storm Prediction Center Norman OK
   0150 AM CST Mon Dec 04 2017

   Valid 041200Z - 051200Z

   ...EXTREMELY CRITICAL FIRE WEATHER AREA FOR PARTS OF VENTURA AND LOS
   ANGELES COUNTIES IN SOUTHERN CALIFORNIA...
   ...CRITICAL FIRE WEATHER AREA FOR PORTIONS OF SOUTHERN CALIFORNIA...

   ...Synopsis...
   The primary upper trough over the northern Rockies/High Plains early
   this morning will move east-northeastward across the northern Plains
   into the Upper Midwest/Great Lakes region today. A positively tilted
   trailing portion of this upper trough will remain over portions of
   the Great Basin and Southwest through the period. At the surface, a
   cold front will sweep southeastward across much of the
   central/southern Plains as a low develops northeastward across the
   Upper Midwest. Large-scale subsidence in the wake of the upper
   trough will support a broad and strong surface high across the
   northern Rockies and Great Basin. The surface pressure gradient
   across southern CA will strengthen this evening into early Tuesday
   morning, and high-end critical to extremely critical fire weather
   conditions are expected across parts of this region.

   ...Portions of Southern CA...
   Extremely critical area: A very strong surface pressure gradient
   (evidenced by a LAX-DAG difference of -8 to -10 mb and LAX-TPH
   difference of -15 to -20 mb) coupled with strong low-level
   northeasterly flow will easily support sustained offshore winds of
   30-40 mph across parts of Ventura into Los Angeles counties
   beginning later this evening and continuing through early Tuesday
   morning. Wind gusts of 60-80 mph will be possible across the
   mountains/foothills of these counties where channeling and terrain
   effects can locally enhance the already strong flow, with gusts of
   45-60 mph likely at lower elevations. RH values will quickly plummet
   below 10% later today, and will likely remain below 10% through the
   end of the period owing to no overnight RH recovery given the
   strength of the winds. Coupled with very dry and receptive fuels,
   these expected meteorological conditions support the continuation
   and eastward expansion of the extremely critical fire weather
   delineation.

   Critical area: Surrounding the extremely critical area, critical
   fire weather conditions will occur across a broader part of coastal
   southern CA today into tonight. RH values will rapidly fall to 5-15%
   later this morning as diurnal heating and downslope warming/drying
   act on an already dry airmass. Sustained winds of 20-30 mph will be
   common across the critical delineation, with higher gusts of 40-60
   mph likely, especially in higher terrain. Similar to the extremely
   critical area, the pressure gradient across this region will be
   strongest from late this evening through the end of the Day 1/Monday
   period, and overnight RH recovery will be very poor.

   Elevated area: Lower confidence in sustained winds in excess of 20
   mph and/or sub-15% RH values exist across the elevated delineation
   surrounding the critical area. However, winds will rapidly
   strengthen across the mountains/foothills of southern CA, resulting
   in a relatively tight gradient between elevated and critical fire
   weather conditions.

   ...Portions of the Central/Southern Plains...
   In the wake of the cold front mentioned above, strong/gusty
   northwesterly winds of 20-30 mph will occur across much of KS into
   OK, the TX/OK Panhandles, and eastern NM this afternoon and early
   evening. Higher gusts up to 40 mph will be possible given the
   strength of the mid-level flow that will likely be diurnally mixed
   to the surface. With a dry airmass already in place across the
   central/southern High Plains, RH values will likely become lowered
   into the 15-25% range for at least a few hours behind the cold front
   passage.

   Some locally critical conditions may briefly occur across portions
   of southern/central KS into western OK and the TX/OK Panhandles
   immediately behind the front, where RH values may become critically
   reduced. Still, latest guidance continues to suggest that these
   conditions should occur for just an hour or two. Have therefore not
   included a critical area at this time. Regardless, widespread
   elevated conditions are anticipated across parts of the
   central/southern Plains where generally dry/dormant fuels should
   support large fire spread given the expected meteorological
   conditions.

   ..Gleason.. 12/04/2017

   ...Please see www.spc.noaa.gov/fire for graphic product...