Storm Prediction Center Day 2 Fire Weather Outlook

Created: Tue Jan 2 17:23:02 UTC 2018 (
|
)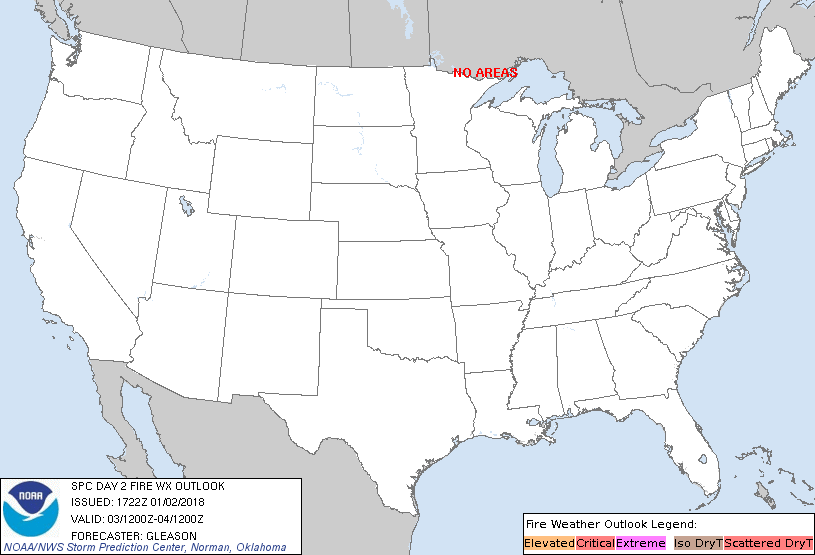 Risk

Area (sq. mi.)

Area Pop.

Some Larger Population Centers in Risk Area

No Risk Areas Forecast
Click for Day 2 FireWX Areal Outline Product (KWNSPFWFD2)

   ZCZC SPCFWDDY2 ALL
   FNUS22 KWNS 021722

   Day 2 Fire Weather Outlook  
   NWS Storm Prediction Center Norman OK
   1122 AM CST Tue Jan 02 2018

   Valid 031200Z - 041200Z

   ...NO CRITICAL AREAS...

   No changes have been made to the ongoing forecast. See the previous
   discussion below for more information.

   ..Gleason.. 01/02/2018

   .PREV DISCUSSION... /ISSUED 0119 AM CST Tue Jan 02 2018/

   ...Synopsis...
   The preexisting anticyclone across much of the CONUS will finally
   begin to weak throughout D2/Wed, resulting in a gradually modifying
   continental airmass across much of the country.  Substantial
   cyclogenesis will occur near/east of the Gulf Stream throughout the
   forecast period.  Meanwhile, the weak offshore pressure gradient in
   dry areas of the Southwest will weaken further - and a few areas of
   much-needed precipitation may approach this region during the
   evening.  Large-scale fire weather conditions are expected to be
   negligible throughout the forecast period.

   ...Please see www.spc.noaa.gov/fire for graphic product...