Storm Prediction Center Day 1 Fire Weather Outlook

Created: Wed Jan 3 06:33:02 UTC 2018 (
|
)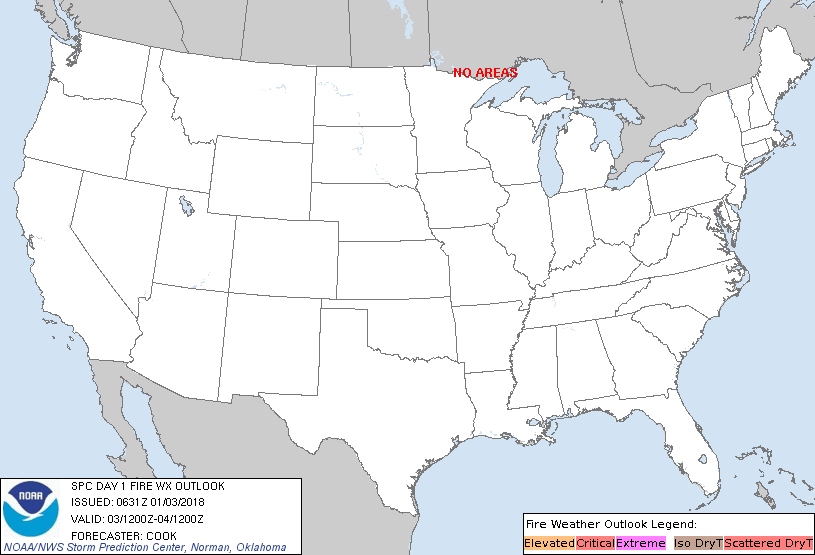 Risk

Area (sq. mi.)

Area Pop.

Some Larger Population Centers in Risk Area

No Risk Areas Forecast
Click for Day 1 FireWX Areal Outline Product

   ZCZC SPCFWDDY1 ALL
   FNUS21 KWNS 030631

   Day 1 Fire Weather Outlook  
   NWS Storm Prediction Center Norman OK
   1231 AM CST Wed Jan 03 2018

   Valid 031200Z - 041200Z

   ...NO CRITICAL AREAS...

   ...Synopsis...
   High pressure will continue to dominate across central portions of
   the country on Wednesday.  Meanwhile, strong surface cyclogenesis
   will occur across the Gulf Stream and a weak surface pressure
   gradient will persist across dry areas of the Southwest.  Late in
   the period, a storm system in the eastern Pacific will result in
   areas of rain especially in portions of central California. 
   Although locally elevated fire weather conditions may develop
   through mid-day in inland areas of southern California, the overall
   synoptic pattern favors quiescent fire weather conditions.  No areas
   will be highlighted for this outlook.

   ..Cook.. 01/03/2018

   ...Please see www.spc.noaa.gov/fire for graphic product...