Storm Prediction Center Day 2 Fire Weather Outlook

Created: Wed Mar 7 18:27:02 UTC 2018 (
|
)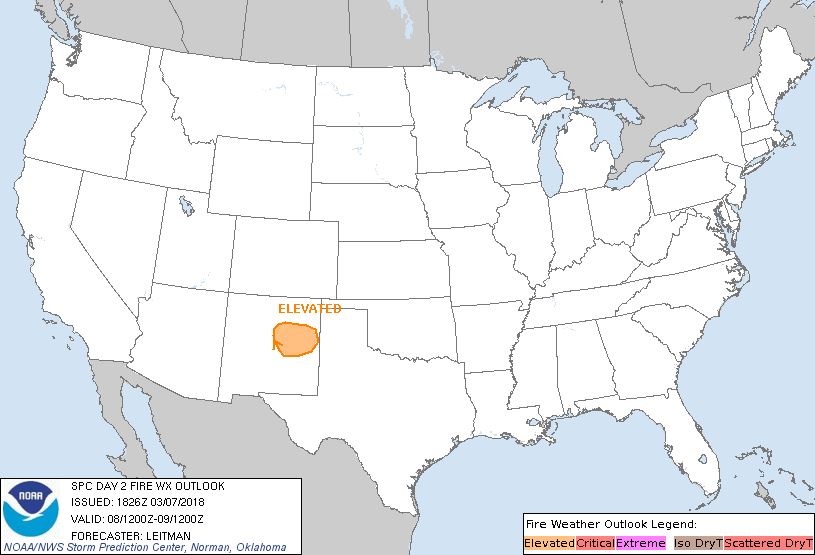 Risk

Area (sq. mi.)

Area Pop.

Some Larger Population Centers in Risk Area

No Risk Areas Forecast
Click for Day 2 FireWX Areal Outline Product (KWNSPFWFD2)

   ZCZC SPCFWDDY2 ALL
   FNUS22 KWNS 071826

   Day 2 Fire Weather Outlook  
   NWS Storm Prediction Center Norman OK
   1226 PM CST Wed Mar 07 2018

   Valid 081200Z - 091200Z

   The previous forecast remains on track and no changes are needed.
   See discussion below for more details.

   ..Leitman.. 03/07/2018

   .PREV DISCUSSION... /ISSUED 0136 AM CST Wed Mar 07 2018/

   ...Synopsis...
   The highly amplified deep-layer trough located over the eastern U.S.
   will begin to shift eastward, leaving enhanced mid-level flow of
   50-60 kt over portions of central/southeast U.S. Meanwhile the
   upper-level ridge to the west will deamplify, leading to zonal flow
   across much of the Intermountain West. At the surface, high pressure
   will continue to settle into the central/southeastern U.S.

   ...Portions of New Mexico...
   A dry airmass will remain in place across the region, where once
   again fuels support large-fire spread in conjunction with
   severe/extreme drought conditions. Afternoon temperatures should
   warm into the 70s, a bit warmer than the previous day, thus leading
   to RH values falling below 15% in many areas. However, sustained
   surface winds should generally remain near or just below 15 mph,
   with gusts to 20 mph, leading to elevated fire-weather conditions.
   In addition, brief periods of elevated fire-weather conditions can
   be expected in proximity to the elevated area, but too
   transient/localized to warrant increasing the elevated coverage at
   this time.

   ...Please see www.spc.noaa.gov/fire for graphic product...