Storm Prediction Center Day 1 Fire Weather Outlook

Created: Thu Mar 25 05:50:03 UTC 2021 (
|
)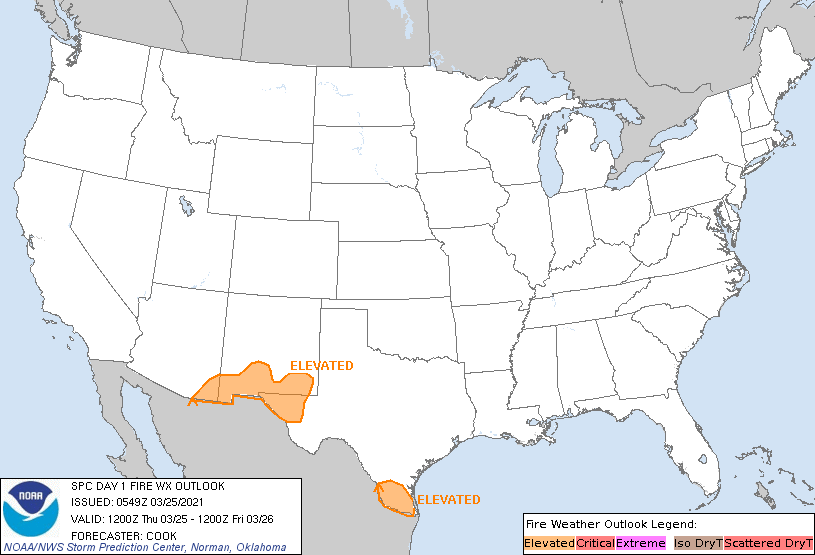 Risk

Area (sq. mi.)

Area Pop.

Some Larger Population Centers in Risk Area

No Risk Areas Forecast
Click for Day 1 FireWX Areal Outline Product

   ZCZC SPCFWDDY1 ALL
   FNUS21 KWNS 250549

   Day 1 Fire Weather Outlook  
   NWS Storm Prediction Center Norman OK
   1249 AM CDT Thu Mar 25 2021

   Valid 251200Z - 261200Z

   ...Synopsis...
   A vigorous, negative-tilt shortwave will traverse the southern
   Plains early in the forecast period before reaching the
   mid-Mississippi Valley and eventually Michigan late.  Meanwhile,
   another longer-wave trough will become established across the
   Southwest.  The overall pattern will maintain a belt of enhanced
   flow aloft from the southern Rockies across Texas and on to the Ohio
   Valley.  At the surface, cyclogenesis will occur from Arkansas into
   Indiana, spreading a relatively dry airmass across portions of deep
   south Texas while maintaining dry air across portions of the
   southern Rockies.  Another lee trough will organize in the New
   Mexico Plains as well during the day.

   ...Deep South Texas...
   Models are less pronounced with lowering surface RH values during
   the period of peak wind gusts (15Z-21Z).  Nevertheless, areas of
   15-30% RH are likely to develop over the course of the afternoon as
   surface temperatures rise into the 80s F.  15-25 mph northwesterly
   surface flow will persist through early afternoon before tapering
   off, as the deepening low over the middle of the country departs the
   region.  Fuels are quite dry, however, and ERCs are relatively high
   for this time of year, supporting an elevated fire-weather threat.

   ...Southeastern Arizona through far west Texas...
   Vertical mixing processes beneath strong flow aloft and lee
   troughing along the New Mexico Plains will encourage areas of 20-30
   mph surface winds in the area through much of the forecast period. 
   This flow will occur within an airmass characterized by 15-25% RH
   values and among areas of dry fuels in part due to drought.  RH
   values will be a bit too high to justify critical highlights,
   however.

   ..Cook.. 03/25/2021

   ...Please see www.spc.noaa.gov/fire for graphic product...