Storm Prediction Center Day 2 Fire Weather Outlook

Created: Thu Feb 21 19:24:03 UTC 2019 (
|
)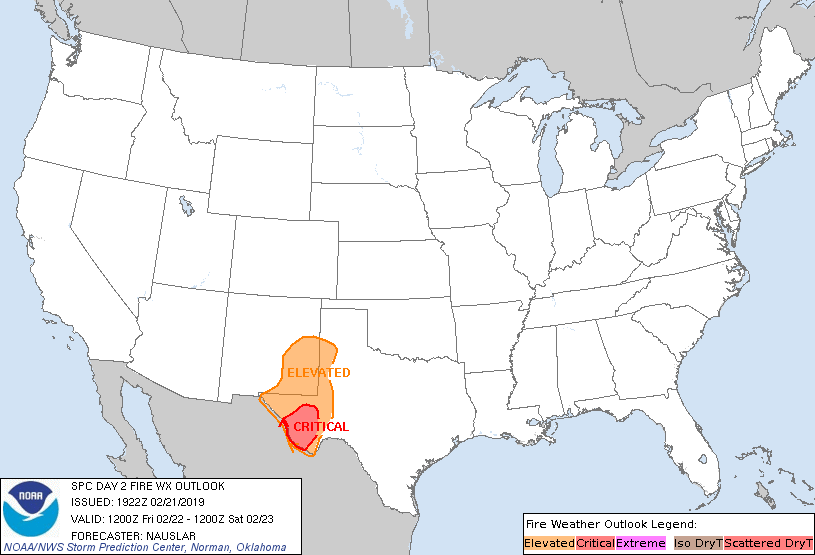 | | | | |
| --- | --- | --- | --- |
| Risk | Area (sq. mi.) | Area Pop. | Some Larger Population Centers in Risk Area |
| Critical | 13,683 | 35,405 | Pecos, TX... |
Click for Day 2 FireWX Areal Outline Product (KWNSPFWFD2)

   ZCZC SPCFWDDY2 ALL
   FNUS22 KWNS 211922

   Day 2 Fire Weather Outlook  
   NWS Storm Prediction Center Norman OK
   0122 PM CST Thu Feb 21 2019

   Valid 221200Z - 231200Z

   ...CRITICAL FIRE WEATHER AREA FOR PORTIONS OF THE TEXAS BIG BEND
   REGION...

   Northern portions of the elevated area were trimmed, and the
   critical was expanded slightly northeast in West Texas. There is
   some uncertainty regarding the northern/eastern extent of the
   elevated area with varied model solutions for how far east the
   dryline will mix during the day, which will continued to be
   monitored moving forward.

   ..Nauslar.. 02/21/2019

   .PREV DISCUSSION... /ISSUED 1101 PM CST Wed Feb 20 2019/

   ...Synopsis...
   A strong shortwave trough and an associated strengthening surface
   cyclone will move from the four corners region into the southern
   High Plains on Friday. The combination of deep mixing and lee
   troughing will lead to strengthening surface winds by mid-afternoon.
   Winds are expected to be 20 to 25 mph across a broad area of the
   southern High Plains, however, the drier low-level airmass will be
   focused farther south. The RAP suggests relative humidities may be
   drier in eastern New Mexico which would result in critical
   conditions north of the current critical delineation. Other forecast
   guidance still suggests more moist low-levels farther north,
   therefore, the critical area remains in Texas for now, but this
   trend will need to be monitored.

   ...Please see www.spc.noaa.gov/fire for graphic product...