Storm Prediction Center Day 2 Fire Weather Outlook

Created: Fri Jul 10 19:39:02 UTC 2020 (
|
)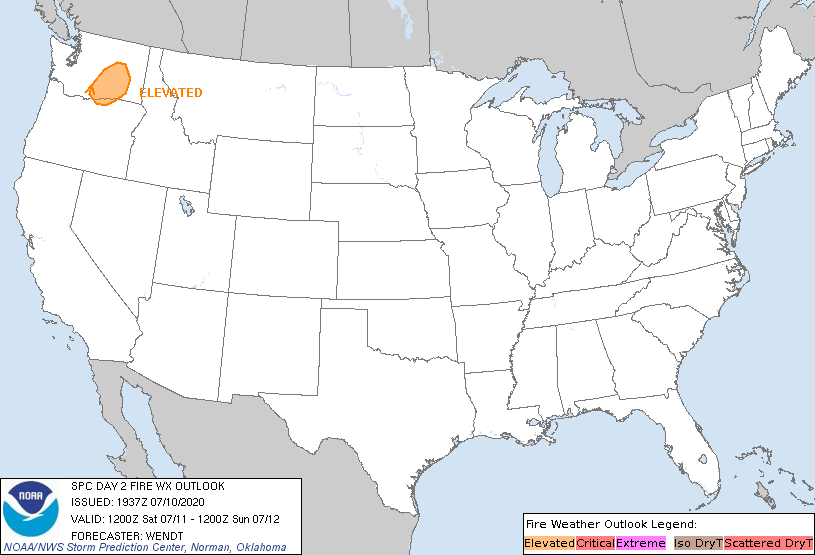 Risk

Area (sq. mi.)

Area Pop.

Some Larger Population Centers in Risk Area

No Risk Areas Forecast
Click for Day 2 FireWX Areal Outline Product (KWNSPFWFD2)

   ZCZC SPCFWDDY2 ALL
   FNUS22 KWNS 101937

   Day 2 Fire Weather Outlook  
   NWS Storm Prediction Center Norman OK
   0237 PM CDT Fri Jul 10 2020

   Valid 111200Z - 121200Z

   ...NO CRITICAL AREAS...

   No changes to the ongoing forecast. Slightly more favorable timing
   of the mid-level jet across Washington is apparent in the most
   recent guidance. This would suggest some locally critical conditions
   may occur within the Columbia Basin/Gorge. Eastern areas of the
   Basin may see elevated conditions beyond sunset before RH begins to
   recover. Along the lee of the southern Cascades, locally elevated
   conditions are possible. Weaker mid-level winds and a surface
   pressure gradient increasing late in the day decrease confidence in
   the duration of fire risk tomorrow afternoon/evening. Dry
   thunderstorms over very dry fuels remain possible along the Mogollon
   Rim into southern Utah. Models forecast subtle/slight cooling of the
   mid-levels compared to Friday. Even so, coverage is still expected
   to be quite low and no highlights will be added.

   ..Wendt.. 07/10/2020

   .PREV DISCUSSION... /ISSUED 0135 AM CDT Fri Jul 10 2020/

   ...Synopsis...
   Strong ridging will continue over much of the southwestern US while
   a shortwave trough will approach the western US Coast late in the
   Day 2/Saturday forecast period. Very warm temperatures are expected
   across much of the Southwest with seasonally low RH, but relatively
   weak winds. Across the eastern US, an upper low over Canada should
   remain in place with abundant low-level moisture and modest flow
   aloft limiting fire weather potential. 

   ...Lee of the Cascades...
   The approaching upper-level trough is expected to remain offshore
   through much of the day Saturday, before moving onshore later in the
   period. Relatively dry surface conditions are expected, with RH
   approaching 30% given westerly downslope flow and warm surface
   temperatures. While flow aloft should increase some through the day,
   the lack of overlap between peak heating, the deepest boundary-layer
   mixing, and minimum surface RH suggests that momentum transfer will
   be modest. This should serve to limit fire weather potential to
   mainly elevated conditions. This is also in agreement with the
   current state of fuels, which are expected to remain mostly confined
   to lower elevations and densities, supporting only modest potential
   for large fire growth.

   ...Southern Great Basin...
   Very warm and dry surface conditions are expected underneath the
   ridge across the Southwest. Stronger mid-level flow associated with
   a weak mid-level shortwave trough on the periphery of the ridge may
   support locally elevated fire weather conditions across southern/
   central Nevada into far western Utah. A dry thunderstorm or two may
   also develop if sufficient forcing for ascent can be realized from
   the passing shortwave. However, considerable uncertainty in timing
   of the breakdown of the upper-level ridge exists. Should the ridge
   breakdown sooner than current guidance suggests, an elevated area
   and possibly a dry thunder area could be needed.

   ...Please see www.spc.noaa.gov/fire for graphic product...