Storm Prediction Center Day 2 Fire Weather Outlook

Created: Fri Jul 20 19:25:03 UTC 2018 (
|
)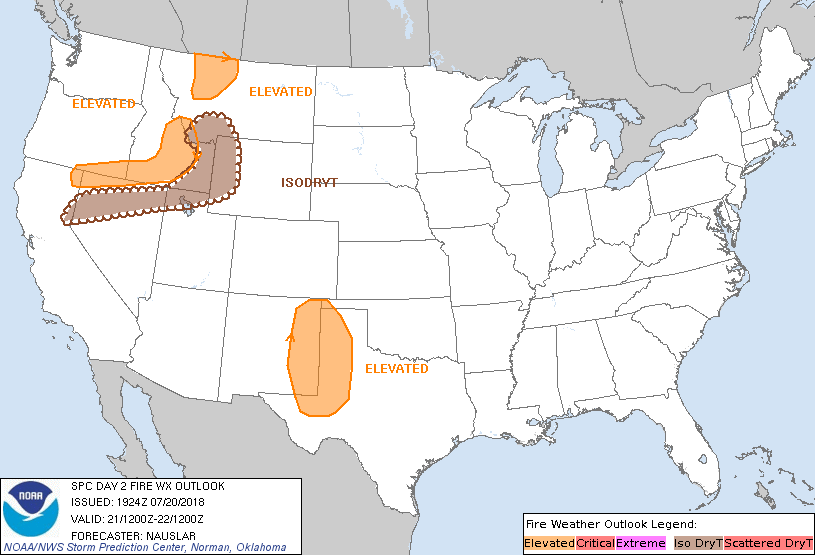 Risk

Area (sq. mi.)

Area Pop.

Some Larger Population Centers in Risk Area

No Risk Areas Forecast
Click for Day 2 FireWX Areal Outline Product (KWNSPFWFD2)

   ZCZC SPCFWDDY2 ALL
   FNUS22 KWNS 201924

   Day 2 Fire Weather Outlook  
   NWS Storm Prediction Center Norman OK
   0224 PM CDT Fri Jul 20 2018

   Valid 211200Z - 221200Z

   The elevated area across Idaho was expanded farther to the southwest
   into Oregon/Nevada/California as winds should increase (sustained
   westerly winds of 15-20 mph) along a frontal boundary associated
   with the passage of an upper-level trough over the Northern Rockies.
   RH values should remain below 20% across this area as deeper
   subtropical moisture will remain to the south across Nevada. A
   relatively narrow corridor of isolated dry thunderstorm potential
   remains across the northern Great Basin and into the Northern
   Rockies on the periphery of this deeper subtropical moisture and
   along/ahead of the upper-level trough moving over the Northern
   Rockies.

   An elevated area was added to portions of the Southern High Plains
   as very hot/dry/unstable conditions continue. Winds should increase
   (southerly sustained winds around 15 mph with gusts to 20-25 mph)
   along a surface pressure trough resulting in elevated fire weather
   conditions across this area.

   ..Nauslar.. 07/20/2018

   .PREV DISCUSSION... /ISSUED 0622 AM CDT Fri Jul 20 2018/

   ...Synopsis...
   A belt of moderate mid-level flow ahead of an upper level trough in
   the Pacific Northwest may lead to elevated fire weather concerns
   across portions of southern Idaho and northern Montana on Saturday.
   In addition, dry thunderstorms are possible on the northern and
   western periphery of the monsoonal moisture across the Great Basin
   and into portions of the northern Rockies.

   ...Southern Idaho and far southwestern Montana...
   Deep mixing is expected to transport 15 to 20 mph winds to the
   surface during the afternoon across much of the Snake River Valley
   and into the Bitterroot Mountains. In addition, RH values are
   expected to drop to near critical levels. Models suggest higher
   winds (20 to 25 mph) are possible, but uncertainties as to the
   placement of these higher wind speeds and the co-location of
   critical RH values precludes the inclusion of a critical area at
   this time.

   ...Northern Montana...
   Downslope flow in the lee of the Lewis Range may lead to locally
   critical fire weather conditions on Saturday. RH values are expected
   to be critical, but wind speeds are borderline. There is variance
   between 15 to 25 mph sustained winds among the latest forecast
   guidance. Therefore, a critical area may be needed during later
   outlooks, but confidence is not high enough to go higher than
   elevated at this time.

   ...Great Basin into portions of the Northern Rockies...
   Isolated dry thunderstorms are possible along the western and
   northern periphery of the southwest monsoon. PWAT values will be in
   the 0.7 to 0.8 inch range across much of this area with at least
   isolated storm coverage expected.

   ...Please see www.spc.noaa.gov/fire for graphic product...