Storm Prediction Center Day 2 Fire Weather Outlook

Created: Thu Sep 20 16:00:03 UTC 2018 (
|
)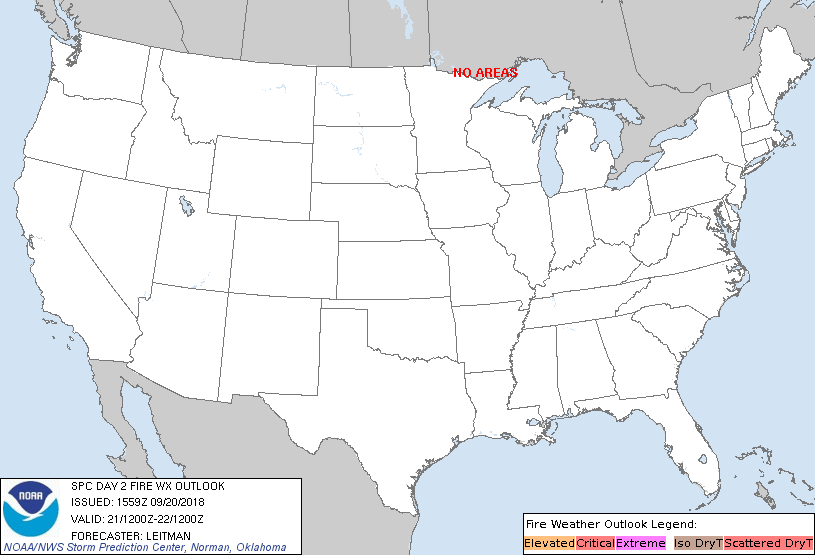 Risk

Area (sq. mi.)

Area Pop.

Some Larger Population Centers in Risk Area

No Risk Areas Forecast
Click for Day 2 FireWX Areal Outline Product (KWNSPFWFD2)

   ZCZC SPCFWDDY2 ALL
   FNUS22 KWNS 201559

   Day 2 Fire Weather Outlook  
   NWS Storm Prediction Center Norman OK
   1059 AM CDT Thu Sep 20 2018

   Valid 211200Z - 221200Z

   ...NO CRITICAL AREAS...

   Fire weather concerns are expected to be minimal on Friday. See
   discussion below for details.

   ..Leitman.. 09/20/2018

   .PREV DISCUSSION... /ISSUED 0142 AM CDT Thu Sep 20 2018/

   ...Synopsis...
   Longwave ridging aloft will dominate much of the western CONUS on
   D2/Friday. The strongest mid-level flow will be shunted north of
   areas with critically dry fuels. At the surface, some troughing is
   expected in the northern Rockies as the next shortwave trough moves
   towards the Pacific Northwest. A preponderance of guidance shows
   only weak troughing which will limit surface wind speeds to below
   critical thresholds.

   ...Please see www.spc.noaa.gov/fire for graphic product...