May 5, 2007 1630 UTC Day 1 Convective Outlook
Updated: Sat May 5 16:50:21 UTC 2007
Probabilistic to Categorical Outlook Conversion Table (Effective Feb 14, 2006).
Public Severe Weather Outlook
The SPC is forecasting ...a significant severe weather outbreak...including the possibility of long-track and violent tornadoes...are expected over parts of the central plains this afternoon and tonight.... Please read the latest public statement about this event.
Categorical Graphic
Probabilistic Tornado Graphic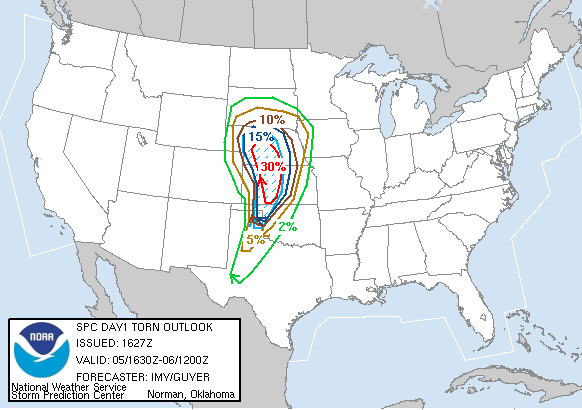 Probabilistic Damaging Wind Graphic

Probabilistic Large Hail Graphic


   SPC AC 051627
   
   DAY 1 CONVECTIVE OUTLOOK  
   NWS STORM PREDICTION CENTER NORMAN OK
   1127 AM CDT SAT MAY 05 2007
   
   VALID 051630Z - 061200Z
   
   ...THERE IS A HIGH RISK OF SVR TSTMS ACROSS PORTIONS OF CENTRAL
   KS/NEB...
   
   ...THERE IS A MDT RISK OF SVR TSTMS ACROSS PORTIONS OF SRN
   SD...CENTRAL AND WRN NEB/KS...NWRN OK AND EXTREME NERN TX
   PANHANDLE...
   
   ...THERE IS A SLGT RISK OF SVR TSTMS ACROSS THE PLAINS STATES FROM
   ND SWD INTO TX...
   
   ...A REGIONAL OUTBREAK OF SEVERE THUNDERSTORMS AND TORNADOES IS
   FORECAST THIS AFTERNOON AND EVENING...ESPECIALLY ACROSS CENTRAL KS
   AND NEB...
   
   ...SYNOPSIS...
   A LARGE UPPER TROUGH WAS LOCATED OVER THE ROCKIES THIS MORNING...
   WITH THE CENTER OF CIRCULATION LOCATED IN ERN UT/WRN CO. ROTATING
   AROUND THIS TROUGH WAS A 70-90KT MID LEVEL JET MAX...THAT STRETCHED
   FROM NM NEWD THROUGH THE TX PANHANDLE AND INTO NEB/KS. A SURFACE LOW
   WAS LOCATED IN NWRN KS AND IS FORECAST TO LIFT SLOWLY NWD ACROSS WRN
   NEB THIS AFTERNOON. A DRYLINE EXTENDED SWD FROM THE LOW INTO THE
   TX/OK PANHANDLES...AND WILL MOVE ONLY SLOWLY EWD THIS AFTERNOON...AS
   THE MAIN UPPER TROUGH/SURFACE LOW REMAIN ALONG AND WEST OF THE HIGH
   PLAINS. A WARM FRONT CURRENTLY EXTENDS FROM THE OHIO VALLEY EWD INTO
   EXTREME SRN NEB. AS THE SURFACE LOW LIFTS NWD...THE WARM FRONT
   SHOULD ALSO LIFT NWD AND EXTEND FROM SERN NEB NWWD INTO SOUTH
   CENTRAL SD BY LATE TODAY.
   
   ...CENTRAL PLAINS...
   ALTHOUGH MOSTLY CLOUDY SKIES COVER MUCH OF THE REGION THIS MORNING
   ...DDC 12Z SOUNDING SHOWED AN EXTREMELY MOIST/UNSTABLE AND WEAKLY
   CAPPED ENVIRONMENT. THE COMBINATION OF LARGE SCALE LIFTING...DUE TO
   STRONG DIFFLUENCE ALOFT...AND WEAK HEATING SHOULD RESULT IN STORMS
   TO CONTINUE TO DEVELOP ACROSS NEB INTO THE AFTERNOON...WITH STORMS
   GRADUALLY DEVELOPING SWD INTO KS BY EARLY AFTERNOON. THOUGH SURFACE
   BASED INSTABILITY IS CURRENTLY WEAK ACROSS NEB...MUCAPE VALUES
   BETWEEN 1500-2000 J/KG AND 50 KT DEEP LAYER SHEAR IS SUFFICIENT FOR
   SEVERE STORMS. AS SURFACE BASED STORMS DEVELOP IN SOUTH CENTRAL NEB/
   CENTRAL KS THIS AFTERNOON...THESE STORMS WILL BE ABLE TO TAP INTO
   MLCAPES BETWEEN 2500-3500 J/KG. THIS INSTABILITY AND 50-60 KT DEEP
   LAYER SHEAR SUGGESTS THAT ONCE THESE STORMS DEVELOP...THEY WOULD
   QUICKLY EVOLVE INTO SUPERCELLS WITH A THREAT FOR EXTREME HAIL AND
   WINDS. THE DEGREE OF INSTABILITY... FORCING...MOIST BOUNDARY LAYER
   AND 1KM SRH BETWEEN 150-250 M2/S2 ALSO FAVOR THE POTENTIAL FOR
   LONG-LIVED...STRONG TORNADOES. REFERENCE WW 232.
   
   THIS ACTIVITY IS EXPECTED TO MOVE NORTH-NORTHEASTWARD INTO CENTRAL
   KS/NEB OVERNIGHT WITH A CONTINUED RISK OF TORNADOES...LARGE HAIL
   ...AND DAMAGING WINDS. HOWEVER...STRENGTHING HEIGHTS ALOFT ACROSS
   FAR ERN KS/ERN NEB/WRN IA WILL LIMIT MORE WIDESPREAD/EXTREME STORMS
   ADVANCING THAT FAR EWD.
   
   ...WRN OK/TX...
   THE AREA IS EXPECTED TO STAY CAPPED THROUGH MUCH OF THE DAY.
   HOWEVER...STRONG HEATING AND SOME EWD MIXING OF DRYLINE MAY AID IN
   THE DEVELOPMENT OF STORMS IN THE EXTREME NERN TX PANHANDLE/NWRN OK
   BY LATE AFTERNOON. THESE STORMS WOULD ALSO BE IN A FAVORABLE
   ENVIRONMENT FOR EXTREME HAIL/WINDS AND STRONG TORNADOES. HOWEVER
   ...MODELS IN GENERAL AGREEMENT THAT STRONGER LARGE SCALE FORCING
   WILL OVERSPREAD THE DRYLINE AFTER DARK...WITH STORMS FORMING AT THAT
   TIME. THE HIGH INSTABILITY AND SUFFICIENT VERTICAL SHEAR WILL BE
   FAVORABLE FOR SUPERCELL STORMS...THOUGH THE FORCING INDICATES THE
   STORM MODE MAY BE LINEAR. THE STRONG INSTABILITY WOULD FAVOR LARGE
   HAIL. HOWEVER...IF THE STORMS EVOLVE INTO A LINE AND A COLD POOL
   DEVELOPS...DAMAGING WINDS MAY BECOME THE MAIN THREAT OVERNIGHT.
   
   ...NEB/SD/EXTREME NWRN IA...
   FARTHER NORTH...SIGNIFICANT UPPER FORCING WILL OVERSPREAD NRN NEB
   AND SRN SD LATE THIS AFTERNOON AND EVENING. WARM SECTOR AIR MASS
   WILL BE SLOW TO DEVELOP NWD DUE TO ONGOING CONVECTION AND CLOUDS.
   HOWEVER...FORECAST SOUNDINGS INDICATE SUBSTANTIAL INSTABILITY
   SPREADING INTO THE AREA ALONG WITH STRONGLY SHEARED PROFILES.
   SUPERCELL STORMS WITH LARGE HAIL WILL BE THE MAIN THREAT INTO EARLY
   AFTERNOON...WITH THE TORNADO THREAT INCREASING THROUGH THE AFTERNOON
   AS STRONGER INSTABILITY SPREADS INTO THE AREA. REF 233.
   
   ..IMY/GUYER.. 05/05/2007
   
   CLICK TO GET WUUS01 PTSDY1 PRODUCT

   NOTE: THE NEXT DAY 1 OUTLOOK IS SCHEDULED BY 2000Z