Feb 5, 2008 0600 UTC Day 1 Convective Outlook
Updated: Tue Feb 5 07:40:22 UTC 2008
Probabilistic to Categorical Outlook Conversion Table (Effective Feb 14, 2006).
Public Severe Weather Outlook
The SPC is forecasting ...an outbreak of severe thunderstorms including widespread damaging winds and a few strong tornadoes is expected over parts of the mid south across the lower ohio river valley and central gulf coast states today and tonight.... Please read the latest public statement about this event.
Categorical Graphic
Probabilistic Tornado Graphic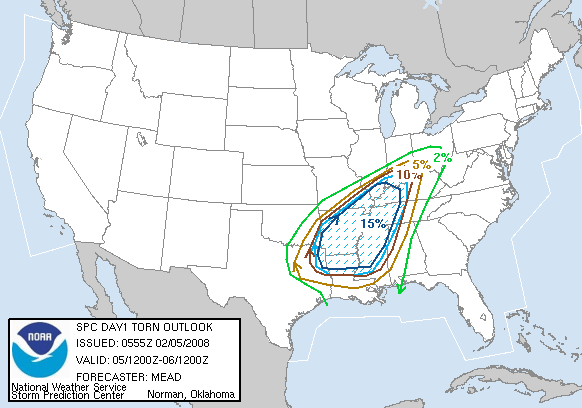 Probabilistic Damaging Wind Graphic

Probabilistic Large Hail Graphic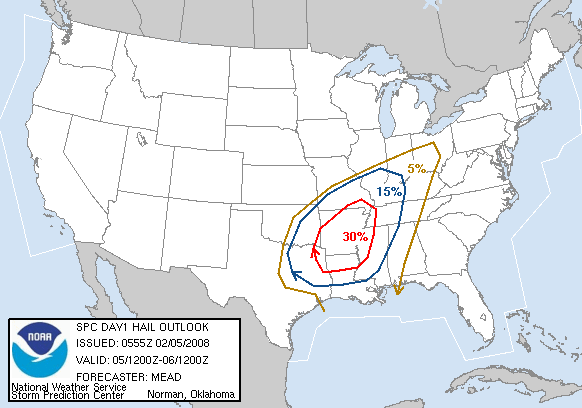 SPC AC 050555
   
   DAY 1 CONVECTIVE OUTLOOK  
   NWS STORM PREDICTION CENTER NORMAN OK
   1155 PM CST MON FEB 04 2008
   
   VALID 051200Z - 061200Z
   
   ...THERE IS A MDT RISK OF SVR TSTMS OVER MUCH OF AR...FAR NERN
   TX...NRN LA...CNTRL AND NRN MS...WRN TN...SERN MO...SRN IL AND FAR
   SWRN IND...
   
   ...THERE IS A SLGT RISK OF SVR TSTMS FROM THE SRN LOW PLAINS AND
   LOWER MS VALLEY NEWD INTO THE OH VALLEY...
   
   ...SYNOPSIS...
   
   STRONG...UPPER TROUGH CURRENTLY EVOLVING OVER THE FOUR CORNERS
   REGION WILL LIFT NEWD TODAY ACROSS THE SRN PLAINS INTO MID MS VALLEY
   AS MID AND UPPER-LEVEL JET STREAKS INTENSIFY IN THE DOWNSTREAM
   POSITION FROM THE ARKLATEX INTO LOWER OH VALLEY.  IN THE LOW
   LEVELS...SURFACE LOW ALONG THE RED RIVER OVER S-CNTRL OK/N-CNTRL TX
   IS FORECAST TO DEEPEN SLIGHTLY WHILE DEVELOPING NEWD TO N-CNTRL AR
   BY 06/00Z AND INTO SRN OH BY THE END OF THE PERIOD.  ATTENDANT DRY
   LINE INITIALLY FROM THE LOW SWD INTO CNTRL TX IS EXPECTED TO EVOLVE
   INTO A PACIFIC COLD FRONT WHILE PROGRESSING EWD THROUGH THE
   ARKLATEX.  MEANWHILE...A STRONGER COLD FRONT WILL SURGE SEWD FROM
   CNTRL OK AND WRN TX...EVENTUALLY OVERTAKING PACIFIC COLD FRONT NEAR
   THE MS RIVER TONIGHT.
   
   ...SRN LOW PLAINS AND LOWER MS VALLEY NEWD INTO THE OH VALLEY...
   
   05/00Z OBSERVED SOUNDINGS FROM THE TX COAST INTO LOWER MS VALLEY
   INDICATED THE PRESENCE OF A RELATIVELY STRONG CAP ATOP MODEST
   BOUNDARY LAYER MOISTURE WITH MEAN MIXING RATIOS OF 10-13 G/KG.
   A BROAD...SWLY LLJ ESTABLISHED FROM THE NWRN GULF OF MEXICO INTO THE
   LOWER GREAT LAKES WILL UNDERGO CONSIDERABLE STRENGTHENING
   TODAY...SUPPORTING A FURTHER INCREASE IN BOUNDARY LAYER MOISTURE
   CONTENT.  SURFACE DEWPOINTS IN THE LOW TO MID 60S WILL BE COMMON
   ACROSS THE MID SOUTH WITH UPPER 60S TO AROUND 70 F ALONG THE GULF
   COAST.  THIS MOISTURE COUPLED WITH MIDLEVEL LAPSE RATES OF 7-7.5 
   C/KM SHOULD SUPPORT A MODERATELY UNSTABLE AIR MASS /MLCAPES OF
   AROUND 1000 J PER KG/ BY AFTERNOON FROM SERN OK AND ERN TX EWD/NEWD
   ACROSS AR...LA AND MS.  INSTABILITY WILL TEND TO DECREASE WITH NEWD
   EXTENT ACROSS THE OH VALLEY.
   
   TSTMS ARE EXPECTED TO BE ONGOING AT THE ONSET OF THE PERIOD ALONG
   FRONT FROM OH/IND/IL SWWD INTO SRN MO...WITH ONGOING OR DEVELOPING
   STORMS OVER PARTS OF CNTRL/ERN OK INTO N-CNTRL/CNTRL TX.  LATEST
   SHORT TERM MODEL GUIDANCE SUGGESTS THAT THE MOST INTENSE STORMS WILL
   LIKELY OCCUR FROM VICINITY OF SURFACE LOW SWD ALONG PACIFIC COLD
   FRONT AS STRONG...DEEP LAYER FORCING FOR ASCENT OVERSPREADS
   DESTABILIZING WARM SECTOR.  
   
   SOME UNCERTAINTIES IN THIS CONVECTIVE EVOLUTION REVOLVE AROUND: 1)
   WHETHER STORMS WILL REMAIN CONFINED TO ALONG THE FRONT AND 2)
   PRIMARY CONVECTIVE MODE.  ETAKF SOUNDINGS WHICH APPEAR TO BETTER
   RESOLVE THE OBSERVED CAP TEND TO LIMIT STORMS TO ALONG THE FRONT. 
   ONE POTENTIAL CAVEAT IS A RATHER WELL-DEFINED SHORT WAVE TROUGH
   EMBEDDED IN SUB-TROPICAL MOISTURE PLUME NEAR THE LOWER RIO GRANDE
   VALLEY AS OF 05/0530Z.  THIS SYSTEM WILL PRECEED THE PRIMARY UPPER
   TROUGH...AND IT IS POSSIBLE THAT FORCING FOR ASCENT ASSOCIATED WITH
   THIS FEATURE COULD INITIATE MORE DISCRETE STORMS DOWNSTREAM FROM THE
   MAIN CONVECTIVE DEVELOPMENT ANTICIPATED ALONG THE FRONT.  
   
   FORECAST SOUNDINGS INDICATE THAT THE MODERATE RISK AREA WARM SECTOR
   WILL BE STRONGLY SHEARED WITH EFFECTIVE SRH VALUES OF 250-350 M2/S2
   AND EFFECTIVE BULK SHEARS OF 50-60 KT.  ANY MORE DISCRETE STORMS
   THAT CAN DEVELOP WILL BE CAPABLE OF POTENTIALLY STRONG AND
   LONG-TRACK TORNADOES.  LARGE HAIL WILL ALSO BE POSSIBLE...AS WILL
   CORRIDORS OF DAMAGING WINDS.  THE WIND THREAT MAY TEND TO INCREASE
   TONIGHT OVER THE LOWER OH AND LOWER MS VALLEYS AND POINTS E AS
   STORMS GROW UPSCALE INTO A QUASI-LINEAR MCS.  HIGH RESOLUTION MODEL
   DATA SETS SUGGEST THAT THE CHARACTER OF THIS MCS COULD BE
   SHORT...BROKEN LINES OF SUPERCELLS AND/OR BOWS WITH A CONTINUED
   THREAT OF STRONG TORNADOES.
   
   UNCERTAINTIES IN THE CONVECTIVE EVOLUTION GIVEN THE
   ABOVEMENTIONED...LEAD SHORT WAVE TROUGH AND PRIMARY CONVECTIVE MODE
   ARE GREAT ENOUGH SUCH THAT A CATEGORICAL MODERATE RISK WILL BE
   MAINTAINED.  AN UPGRADE TO HIGH RISK MAY BECOME NECESSARY ONCE 
   THESE DETAILS BECOME MORE CLEAR.
   
   ..MEAD.. 02/05/2008
   
   CLICK TO GET WUUS01 PTSDY1 PRODUCT

   NOTE: THE NEXT DAY 1 OUTLOOK IS SCHEDULED BY 1300Z