Apr 10, 2008 0600 UTC Day 1 Convective Outlook
Updated: Thu Apr 10 10:26:13 UTC 2008
Probabilistic to Categorical Outlook Conversion Table (Effective Feb 14, 2006).
Public Severe Weather Outlook
The SPC is forecasting ...severe thunderstorms expected over parts of the ozarks and lower mississippi valley into the lower tennessee and lower ohio valleys today through tonight.... Please read the latest public statement about this event.
Categorical Graphic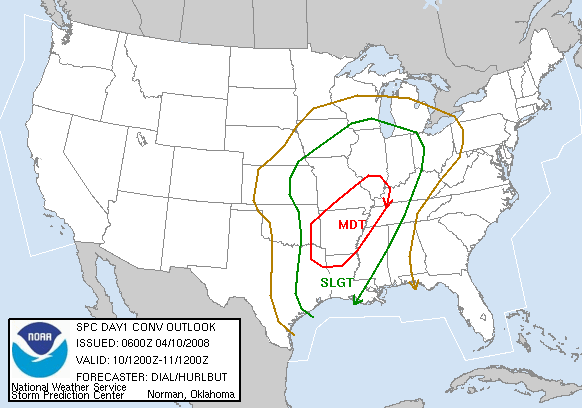 Probabilistic Tornado Graphic
Probabilistic Damaging Wind Graphic

Probabilistic Large Hail Graphic


   SPC AC 100600
   
   DAY 1 CONVECTIVE OUTLOOK  
   NWS STORM PREDICTION CENTER NORMAN OK
   0100 AM CDT THU APR 10 2008
   
   VALID 101200Z - 111200Z
   
   ...THERE IS A MDT RISK OF SVR TSTMS FROM SERN OK INTO NERN TX...NRN
   LA...AR...SERN MO WRN TN AND KY THROUGH SRN IL...
   
   ...THERE IS A SLGT RISK OF SVR TSTMS FROM ERN PARTS OF THE SRN AND
   CNTRL PLAINS THROUGH THE LOWER AND MID MS VALLEYS INTO THE TN  AND
   OH VALLEYS...
   
   ...SYNOPSIS...
   
   STRONG VORTICITY MAXIMUM NOW ROTATING THROUGH UPPER TROUGH BASE OVER
   THE SRN HIGH PLAINS WILL EJECT NEWD INTO KS EARLY THURSDAY.
   ATTENDANT SURFACE LOW WILL OCCLUDE AS IT LIFTS NWD INTO ERN KS AND
   THE MS VALLEY. COLD FRONT SHOULD EXTEND FROM THE SURFACE LOW SWD
   THROUGH ERN OK...ERN AND SRN TX THURSDAY MORNING. A CONVECTIVELY
   REINFORCED WARM FRONT WILL LIKELY EXTEND FROM NRN OK EWD THROUGH SRN
   MO THEN INTO SRN PARTS OF THE OH VALLEY AT START OF THE PERIOD. WARM
   FRONT WILL LIFT NWD DURING THE DAY WHILE THE COLD FRONT ADVANCES
   EAST...REACHING THE OH VALLEY AND EXTENDING SWWD THROUGH THE LOWER
   MS VALLEY TOWARD THE END OF THIS PERIOD.
   
   
   ...LOWER-MID MS VALLEY THROUGH THE TN AND OH VALLEY...
   
   THUNDERSTORMS WILL CONTINUE EARLY THURSDAY ALONG AND NORTH OF WARM
   FRONT OVER PARTS OF NRN AR...SRN MO WWD INTO NRN OK AND SRN KS...AND
   THIS WILL LIKELY SLOW THE NWD PROGRESSION OF THE BOUNDARY. NWD
   ADVECTION OF MID-UPPER 60S DEWPOINTS WILL CONTRIBUTE TO MODERATE
   WARM SECTOR INSTABILITY FROM ERN TX...ERN OK...THE LOWER MS VALLEY
   AND POSSIBLY PARTS OF SRN MO. A VERY STRONG LOW LEVEL JET WILL SHIFT
   EAST THROUGH THE MID MS VALLEY REGION DURING THE DAY...WHILE A
   STRONG SWLY MID LEVEL JET LIFTS NEWD ALONG SERN PERIPHERY OF UPPER
   TROUGH. THIS WILL RESULT IN STRONG BULK SHEAR AND LARGE 0-1 KM
   HODOGRAPHS IN DESTABILIZING WARM SECTOR. HOWEVER...AS THE SURFACE
   LOW OCCLUDES AND SHIFTS NEWD INTO THE MID MS VALLEY...TENDENCY WILL
   BE FOR THE LOW LEVEL JET TO SHIFT NNEWD AWAY FROM THE STRONGER
   SURFACE BASED INSTABILITY THAT WILL RESIDE OVER THE LOWER MS VALLEY
   AND ERN TX. 
   
   GIVEN TRAJECTORY OF EJECTING SHORTWAVE TROUGH...MID LEVEL THERMAL
   TROUGH WILL LIKELY REMAIN WEST OF THE WARM SECTOR. THE CURRENT 00Z
   THURSDAY OBSERVED RAOBS SHOW EVIDENCE OF AT LEAST A MODEST EML OVER
   THE LOWER MS VALLEY REGION. THESE FACTORS COULD POTENTIALLY LIMIT
   THE AMOUNT DISCRETE DEVELOPMENT IN WARM SECTOR AWAY FROM EWD
   ADVANCING COLD FRONT. HOWEVER...A FEW DISCRETE CELLS CANNOT BE RULED
   OUT WHERE THE BOUNDARY LAYER WARMS AND CAP WEAKENS DURING THE DAY.
   TORNADO POTENTIAL WOULD BE HIGHEST IF CELLS MANAGE TO DEVELOP IN
   WARM SECTOR. OTHERWISE...LINE OF STORMS CURRENTLY MOVING INTO CNTRL
   TX WILL LIKELY CONTINUE EAST INTO ERN OK AND NERN TX EARLY
   THURSDAY...THEN INTO THE MS VALLEY LATER IN THE MORNING AND
   AFTERNOON. ORGANIZED STORMS INCLUDING SUPERCELLS AND LEWP STRUCTURES
   CAPABLE OF PRODUCING SWATHS OF DAMAGING WIND AND ISOLATED TORNADOES
   WILL REMAIN POSSIBLE WITH THIS LINE. SEVERE THREAT WILL SPREAD EAST
   INTO THE OH AND TN VALLEYS FROM LATE AFTERNOON INTO THE OVERNIGHT
   WITH A CONTINUED THREAT FOR DAMAGING WIND AND TORNADOES. 
   
   ...ERN KS THROUGH NRN MO...SRN IA...
   
   MID-UPPER LEVEL DRY SLOT AND THERMAL TROUGH WILL SHIFT NEWD THROUGH
   ERN KS AND THE MID MS VALLEY DURING THE DAY. THIS WILL CONTRIBUTE TO
   POTENTIAL FOR DESTABILIZATION EAST OF SURFACE LOW AND COLD FRONT AS
   LOW CLOUDS MIX OUT. A FEW STORMS WILL BE POSSIBLE NEAR TRIPLE POINT
   OVER ERN KS BY EARLY AFTERNOON AS THE BOUNDARY LAYER DESTABILIZES
   AND AS EXIT REGION OF UPPER JET LIFTS NWD THROUGH THIS REGION.
   VERTICAL WIND PROFILES WILL BE FAVORABLE FOR LOW TOPPED SUPERCELLS
   WITH LARGE HAIL AND ISOLATED TORNADOES THE PRIMARY THREATS. ACTIVITY
   WILL SHIFT EAST INTO THE MID MS VALLEY DURING THE AFTERNOON BEFORE
   WEAKENING OVERNIGHT.
   
   ..DIAL/HURLBUT.. 04/10/2008
   
   CLICK TO GET WUUS01 PTSDY1 PRODUCT

   NOTE: THE NEXT DAY 1 OUTLOOK IS SCHEDULED BY 1300Z