Initial List of Counties in SPC Severe Thunderstorm Watch 398 (WOU)
Back to Watch 398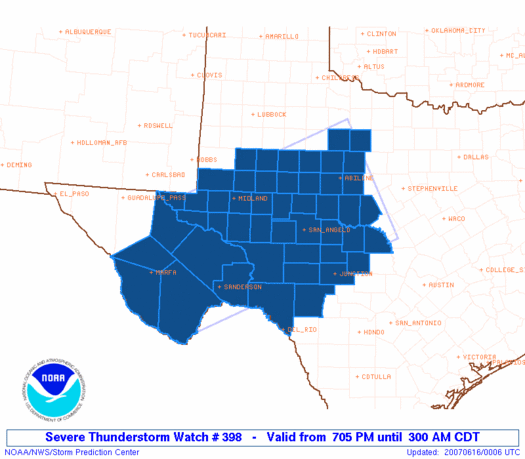 WOUS64 KWNS 152359
   WOU8
   
   BULLETIN - IMMEDIATE BROADCAST REQUESTED
   SEVERE THUNDERSTORM WATCH OUTLINE UPDATE FOR WS 398
   NWS STORM PREDICTION CENTER NORMAN OK
   705 PM CDT FRI JUN 15 2007
   
   SEVERE THUNDERSTORM WATCH 398 IS IN EFFECT UNTIL 300 AM CDT
   FOR THE FOLLOWING LOCATIONS
   
   TXC003-033-043-049-059-081-083-095-103-105-115-135-137-151-173-
   207-227-235-243-253-267-301-307-317-319-327-329-335-353-371-377-
   383-389-399-411-413-415-417-431-435-441-443-447-451-461-465-475-
   495-160800-
   /O.NEW.KWNS.SV.A.0398.070616T0005Z-070616T0800Z/
   
   TX 
   .    TEXAS COUNTIES INCLUDED ARE
   
   ANDREWS              BORDEN              BREWSTER            
   BROWN                CALLAHAN            COKE                
   COLEMAN              CONCHO              CRANE               
   CROCKETT             DAWSON              ECTOR               
   EDWARDS              FISHER              GLASSCOCK           
   HASKELL              HOWARD              IRION               
   JEFF DAVIS           JONES               KIMBLE              
   LOVING               MARTIN              MASON               
   MCCULLOCH            MENARD              MIDLAND             
   MITCHELL             NOLAN               PECOS               
   PRESIDIO             REAGAN              REEVES              
   RUNNELS              SAN SABA            SCHLEICHER          
   SCURRY               SHACKELFORD         STERLING            
   SUTTON               TAYLOR              TERRELL             
   THROCKMORTON         TOM GREEN           UPTON               
   VAL VERDE            WARD                WINKLER             
   
   
   ATTN...WFO...MAF...EWX...SJT...
   
   
   

Aviation Watch (SAW) for WW398
Note:

The Aviation Watch (SAW) product is an approximation to the watch area. The actual watch is depicted by the shaded areas.

   SAW8 
   WW 398 SEVERE TSTM TX 160005Z - 160800Z
   AXIS..90 STATUTE MILES EITHER SIDE OF LINE..
   45SW FST/FORT STOCKTON TX/ - 45E ABI/ABILENE TX/
   ..AVIATION COORDS.. 80NM EITHER SIDE /27ENE MRF - 48E ABI/
   HAIL SURFACE AND ALOFT..2 INCHES. WIND GUSTS..60 KNOTS.
   MAX TOPS TO 500. MEAN STORM MOTION VECTOR 33020.
   
   LAT...LON 31630408 33599955 31229827 29270283
   
   THIS IS AN APPROXIMATION TO THE WATCH AREA.  FOR A
   COMPLETE DEPICTION OF THE WATCH SEE WOUS64 KWNS
   FOR WOU8.