Initial List of Counties in SPC Severe Thunderstorm Watch 330 (WOU)
Back to Watch 330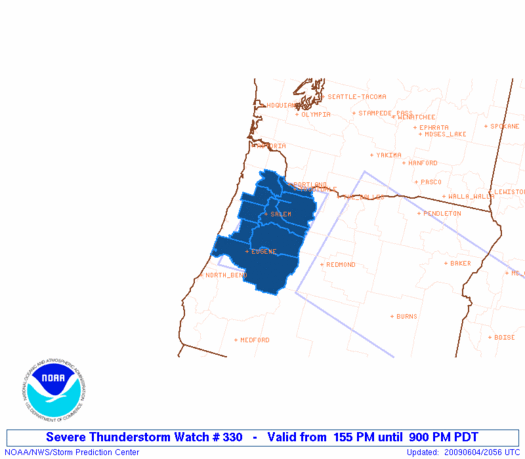 WOUS64 KWNS 042052
   WOU0
   
   BULLETIN - IMMEDIATE BROADCAST REQUESTED
   SEVERE THUNDERSTORM WATCH OUTLINE UPDATE FOR WS 330
   NWS STORM PREDICTION CENTER NORMAN OK
   155 PM PDT THU JUN 4 2009
   
   SEVERE THUNDERSTORM WATCH 330 IS IN EFFECT UNTIL 900 PM PDT
   FOR THE FOLLOWING LOCATIONS
   
   ORC003-005-039-043-047-051-053-067-071-050400-
   /O.NEW.KWNS.SV.A.0330.090604T2055Z-090605T0400Z/
   
   OR 
   .    OREGON COUNTIES INCLUDED ARE
   
   BENTON               CLACKAMAS           LANE                
   LINN                 MARION              MULTNOMAH           
   POLK                 WASHINGTON          YAMHILL             
   
   
   ATTN...WFO...PQR...
   
   
   

Aviation Watch (SAW) for WW330
Note:

The Aviation Watch (SAW) product is an approximation to the watch area. The actual watch is depicted by the shaded areas.

   SAW0 
   WW 330 SEVERE TSTM OR 042055Z - 050400Z
   AXIS..45 STATUTE MILES EAST AND WEST OF LINE..
   10ENE PDX/PORTLAND OR/ - 30SSE EUG/EUGENE OR/
   ..AVIATION COORDS.. 40NM E/W /9ENE PDX - 26SSE EUG/
   HAIL SURFACE AND ALOFT..2 INCHES. WIND GUSTS..60 KNOTS.
   MAX TOPS TO 450. MEAN STORM MOTION VECTOR 12020.
   
   LAT...LON 45632148 43722208 43722388 45632333
   
   THIS IS AN APPROXIMATION TO THE WATCH AREA.  FOR A
   COMPLETE DEPICTION OF THE WATCH SEE WOUS64 KWNS
   FOR WOU0.