Initial List of Counties in SPC Severe Thunderstorm Watch 777 (WOU)
Back to Watch 777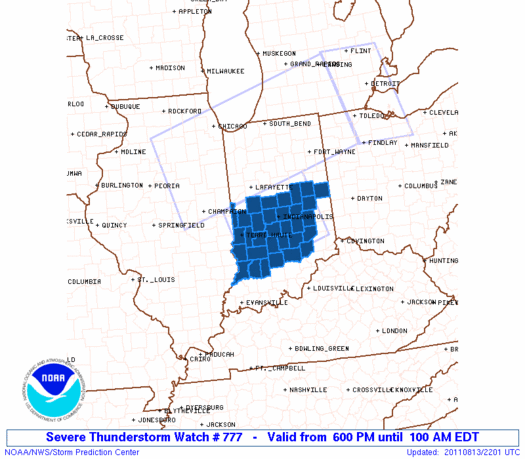 WOUS64 KWNS 132155
   WOU7
   
   BULLETIN - IMMEDIATE BROADCAST REQUESTED
   SEVERE THUNDERSTORM WATCH OUTLINE UPDATE FOR WS 777
   NWS STORM PREDICTION CENTER NORMAN OK
   600 PM EDT SAT AUG 13 2011
   
   SEVERE THUNDERSTORM WATCH 777 IS IN EFFECT UNTIL 100 AM EDT
   FOR THE FOLLOWING LOCATIONS
   
   INC005-011-013-021-027-031-035-055-057-059-063-065-071-079-081-
   083-093-095-097-101-105-107-109-119-121-133-135-139-145-153-165-
   167-140500-
   /O.NEW.KWNS.SV.A.0777.110813T2200Z-110814T0500Z/
   
   IN 
   .    INDIANA COUNTIES INCLUDED ARE
   
   BARTHOLOMEW          BOONE               BROWN               
   CLAY                 DAVIESS             DECATUR             
   DELAWARE             GREENE              HAMILTON            
   HANCOCK              HENDRICKS           HENRY               
   JACKSON              JENNINGS            JOHNSON             
   KNOX                 LAWRENCE            MADISON             
   MARION               MARTIN              MONROE              
   MONTGOMERY           MORGAN              OWEN                
   PARKE                PUTNAM              RANDOLPH            
   RUSH                 SHELBY              SULLIVAN            
   VERMILLION           VIGO                
   
   
   ATTN...WFO...IND...
   
   
   

Aviation Watch (SAW) for WW777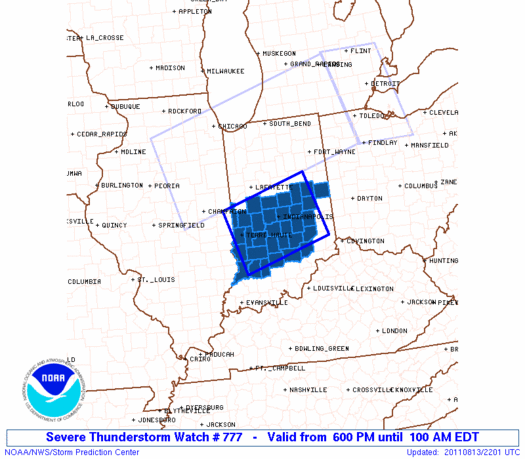 Note:

The Aviation Watch (SAW) product is an approximation to the watch area. The actual watch is depicted by the shaded areas.

   SAW7 
   WW 777 SEVERE TSTM IN 132200Z - 140500Z
   AXIS..50 STATUTE MILES EITHER SIDE OF LINE..
   15SW HUF/TERRE HAUTE IN/ - 25SSE MIE/MUNCIE IN/
   ..AVIATION COORDS.. 45NM EITHER SIDE /17SW TTH - 53E IND/
   HAIL SURFACE AND ALOFT..1 INCH. WIND GUSTS..60 KNOTS.
   MAX TOPS TO 450. MEAN STORM MOTION VECTOR 29025.
   
   LAT...LON 39998776 40618547 39228498 38598727
   
   THIS IS AN APPROXIMATION TO THE WATCH AREA.  FOR A
   COMPLETE DEPICTION OF THE WATCH SEE WOUS64 KWNS
   FOR WOU7.