Initial List of Counties in SPC Severe Thunderstorm Watch 283 (WOU)
Back to Watch 283

   WOUS64 KWNS 191620
   WOU3

   BULLETIN - IMMEDIATE BROADCAST REQUESTED
   SEVERE THUNDERSTORM WATCH OUTLINE UPDATE FOR WS 283
   NWS STORM PREDICTION CENTER NORMAN OK
   1120 AM CDT THU JUL 19 2018

   SEVERE THUNDERSTORM WATCH 283 IS IN EFFECT UNTIL 900 PM CDT
   FOR THE FOLLOWING LOCATIONS

   MOC009-011-013-015-025-027-029-037-039-043-047-049-051-055-057-
   059-065-067-073-077-083-085-091-095-097-101-105-107-109-119-125-
   131-135-141-145-149-151-153-159-161-167-169-177-185-203-209-213-
   215-217-225-229-200200-
   /O.NEW.KWNS.SV.A.0283.180719T1620Z-180720T0200Z/

   MO 
   .    MISSOURI COUNTIES INCLUDED ARE

   BARRY                BARTON              BATES               
   BENTON               CALDWELL            CALLAWAY            
   CAMDEN               CASS                CEDAR               
   CHRISTIAN            CLAY                CLINTON             
   COLE                 CRAWFORD            DADE                
   DALLAS               DENT                DOUGLAS             
   GASCONADE            GREENE              HENRY               
   HICKORY              HOWELL              JACKSON             
   JASPER               JOHNSON             LACLEDE             
   LAFAYETTE            LAWRENCE            MARIES              
   MCDONALD             MILLER              MONITEAU            
   MORGAN               NEWTON              OREGON              
   OSAGE                OZARK               PETTIS              
   PHELPS               POLK                PULASKI             
   RAY                  SHANNON             ST. CLAIR           
   STONE                TANEY               TEXAS               
   VERNON               WEBSTER             WRIGHT              


   ATTN...WFO...SGF...EAX...LSX...




Aviation Watch (SAW) for WW283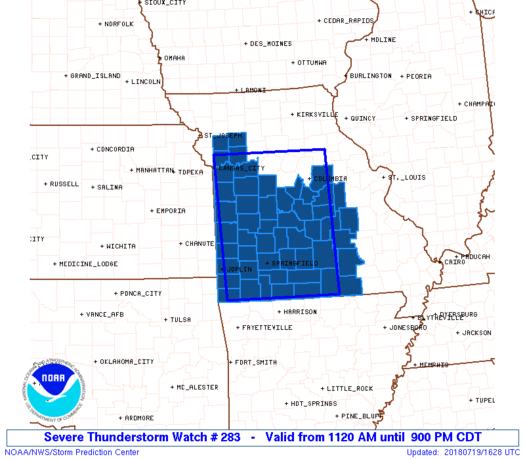 Note:

The Aviation Watch (SAW) product is an approximation to the watch area. The actual watch is depicted by the shaded areas.

   SAW3 
   WW 283 SEVERE TSTM MO 191620Z - 200200Z
   AXIS..75 STATUTE MILES EAST AND WEST OF LINE..
   50NNE SZL/KNOB NOSTER MO/ - 50SSE SGF/SPRINGFIELD MO/
   ..AVIATION COORDS.. 65NM E/W /53SSW IRK - 51SSE SGF/
   HAIL SURFACE AND ALOFT..2.5 INCHES. WIND GUSTS..65 KNOTS.
   MAX TOPS TO 600. MEAN STORM MOTION VECTOR 31030.

   LAT...LON 39389179 36549168 36549438 39389459

   THIS IS AN APPROXIMATION TO THE WATCH AREA.  FOR A
   COMPLETE DEPICTION OF THE WATCH SEE WOUS64 KWNS
   FOR WOU3.