Initial List of Counties in SPC Severe Thunderstorm Watch 4 (WOU)
Back to Watch 4

   WOUS64 KWNS 102126
   WOU4

   BULLETIN - IMMEDIATE BROADCAST REQUESTED
   SEVERE THUNDERSTORM WATCH OUTLINE UPDATE FOR WS 4
   NWS STORM PREDICTION CENTER NORMAN OK
   330 PM CST FRI JAN 10 2020

   SEVERE THUNDERSTORM WATCH 4 IS IN EFFECT UNTIL 1000 PM CST
   FOR THE FOLLOWING LOCATIONS

   TXC013-019-021-025-029-031-053-055-091-123-149-163-171-175-177-
   187-209-255-259-265-283-285-287-297-299-311-325-453-491-493-
   110400-
   /O.NEW.KWNS.SV.A.0004.200110T2130Z-200111T0400Z/

   TX 
   .    TEXAS COUNTIES INCLUDED ARE

   ATASCOSA             BANDERA             BASTROP             
   BEE                  BEXAR               BLANCO              
   BURNET               CALDWELL            COMAL               
   DEWITT               FAYETTE             FRIO                
   GILLESPIE            GOLIAD              GONZALES            
   GUADALUPE            HAYS                KARNES              
   KENDALL              KERR                LAVACA              
   LA SALLE             LEE                 LIVE OAK            
   LLANO                MCMULLEN            MEDINA              
   TRAVIS               WILLIAMSON          WILSON              


   ATTN...WFO...EWX...CRP...




Aviation Watch (SAW) for WW4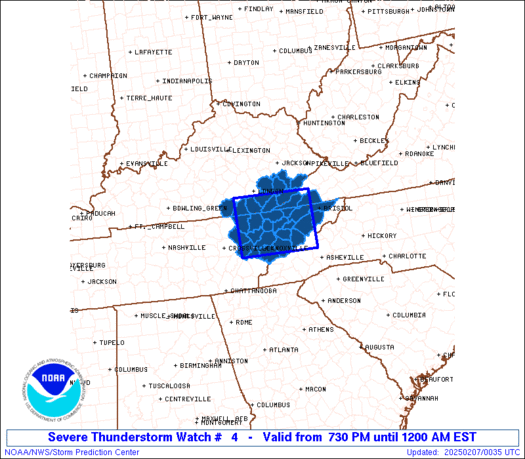 Note:

The Aviation Watch (SAW) product is an approximation to the watch area. The actual watch is depicted by the shaded areas.

   SAW4 
   WW 4 SEVERE TSTM TX 102130Z - 110400Z
   AXIS..65 STATUTE MILES EAST AND WEST OF LINE..
   45NNW AUS/AUSTIN TX/ - 50WSW NIR/BEEVILLE TX/
   ..AVIATION COORDS.. 55NM E/W /39NW CWK - 53WNW CRP/
   HAIL SURFACE AND ALOFT..3 INCHES. WIND GUSTS..60 KNOTS.
   MAX TOPS TO 500. MEAN STORM MOTION VECTOR 24035.

   LAT...LON 30899688 28099736 28099948 30899908

   THIS IS AN APPROXIMATION TO THE WATCH AREA.  FOR A
   COMPLETE DEPICTION OF THE WATCH SEE WOUS64 KWNS
   FOR WOU4.