Initial List of Counties in SPC Tornado Watch 15 (WOU)
Back to Watch 15

   WOUS64 KWNS 200106
   WOU5

   BULLETIN - IMMEDIATE BROADCAST REQUESTED
   TORNADO WATCH OUTLINE UPDATE FOR WT 15
   NWS STORM PREDICTION CENTER NORMAN OK
   905 PM EDT MON MAR 19 2018

   TORNADO WATCH 15 IS IN EFFECT UNTIL 400 AM EDT FOR THE
    FOLLOWING LOCATIONS

   GAC009-013-015-035-045-055-057-059-063-067-077-083-089-097-113-
   115-117-121-125-129-133-135-141-143-149-151-159-163-167-169-171-
   207-211-217-219-223-227-231-233-237-247-255-265-295-297-301-303-
   319-200800-
   /O.NEW.KWNS.TO.A.0015.180320T0105Z-180320T0800Z/

   GA 
   .    GEORGIA COUNTIES INCLUDED ARE

   BALDWIN              BARROW              BARTOW              
   BUTTS                CARROLL             CHATTOOGA           
   CHEROKEE             CLARKE              CLAYTON             
   COBB                 COWETA              DADE                
   DEKALB               DOUGLAS             FAYETTE             
   FLOYD                FORSYTH             FULTON              
   GLASCOCK             GORDON              GREENE              
   GWINNETT             HANCOCK             HARALSON            
   HEARD                HENRY               JASPER              
   JEFFERSON            JOHNSON             JONES               
   LAMAR                MONROE              MORGAN              
   NEWTON               OCONEE              PAULDING            
   PICKENS              PIKE                POLK                
   PUTNAM               ROCKDALE            SPALDING            
   TALIAFERRO           WALKER              WALTON              
   WARREN               WASHINGTON          WILKINSON           


   ATTN...WFO...FFC...




Aviation Watch (SAW) for WW15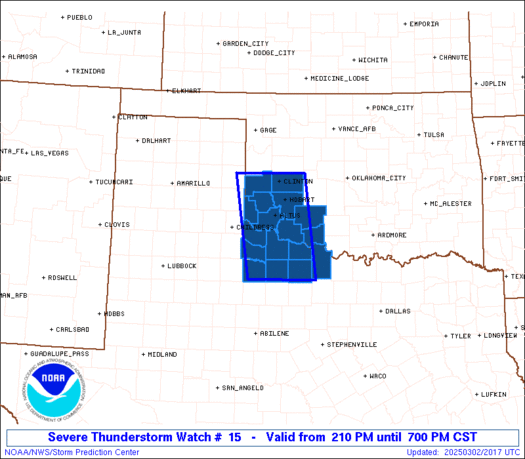 Note:

The Aviation Watch (SAW) product is an approximation to the watch area. The actual watch is depicted by the shaded areas.

   SAW5 
   WW 15 TORNADO GA 200105Z - 200800Z
   AXIS..50 STATUTE MILES NORTH AND SOUTH OF LINE..
   30SW RMG/ROME GA/ - 65SE AHN/ATHENS GA/
   ..AVIATION COORDS.. 45NM N/S /58SSW GQO - 32SW IRQ/
   HAIL SURFACE AND ALOFT..2 INCHES. WIND GUSTS..60 KNOTS.
   MAX TOPS TO 500. MEAN STORM MOTION VECTOR 29035.

   LAT...LON 34778554 34008252 32568252 33318554

   THIS IS AN APPROXIMATION TO THE WATCH AREA.  FOR A
   COMPLETE DEPICTION OF THE WATCH SEE WOUS64 KWNS
   FOR WOU5.