Storm Prediction Center Day 1 Fire Weather Outlook

Created: Sun Oct 27 06:18:02 UTC 2019 (
|
)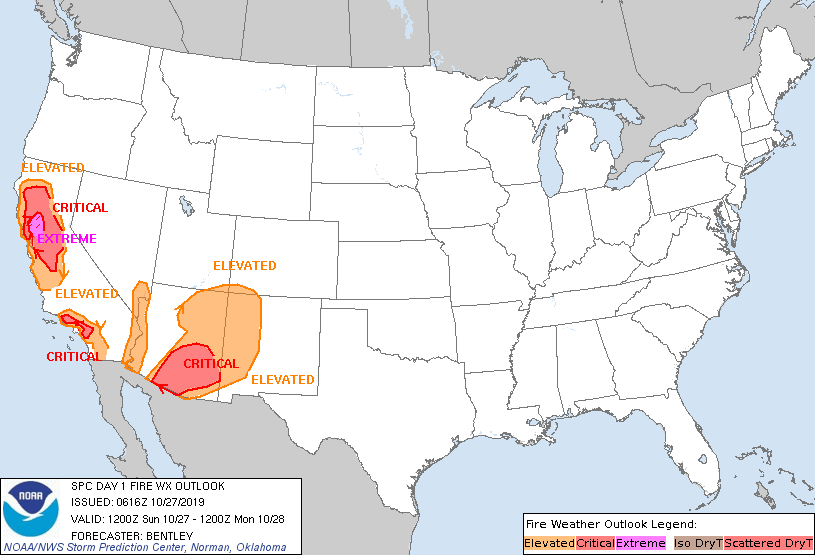 | | | | |
| --- | --- | --- | --- |
| Risk | Area (sq. mi.) | Area Pop. | Some Larger Population Centers in Risk Area |
| Extreme | 4,352 | 949,938 | Antioch, CA...Fairfield, CA...Vacaville, CA...Napa, CA...Davis, CA... |
| Critical | 55,074 | 14,974,640 | Phoenix, AZ...Tucson, AZ...Sacramento, CA...Mesa, AZ...Riverside, CA... |
Click for Day 1 FireWX Areal Outline Product

   ZCZC SPCFWDDY1 ALL
   FNUS21 KWNS 270616

   Day 1 Fire Weather Outlook  
   NWS Storm Prediction Center Norman OK
   0116 AM CDT Sun Oct 27 2019

   Valid 271200Z - 281200Z

   ...EXTREMELY CRITICAL FIRE WEATHER AREA FOR PORTIONS OF THE NORTHERN
   BAY AREA...
   ...CRITICAL FIRE WEATHER AREA FOR MUCH OF THE NORTHERN AND CENTRAL
   SACRAMENTO VALLEY...
   ...CRITICAL FIRE WEATHER AREA FOR PORTIONS OF SOUTHERN CALIFORNIA...
   ...CRITICAL FIRE WEATHER AREA FOR SOUTHEAST ARIZONA...

   ...Synopsis...
   Potentially historic fire weather conditions are expected in the
   northern Bay Area today.

   A sharp, positively tilted trough with an associated strong
   mid-level jet streak will move southward across California today. At
   the surface, strong area of high pressure has built into the
   northern Rockies with additional strengthening of the surface high
   expected as it moves southward toward the Great Basin. The strong
   pressure gradient between this high and the area of low pressure off
   the California coast will lead to fire weather concerns across
   portions of northern California, southern California, and the
   Colorado River Valley. In addition, elevated fire weather conditions
   will be present near the Four Corners Region.

   ...Most of the Sacramento Valley and the northern Bay Area...
   A strong northerly pressure gradient is already present early this
   morning with a MFR-RDD pressure gradient around 13 to 14 mb. This
   has resulted in numerous observation sites reporting critical fire
   weather conditions in the northern Sacramento Valley. These stronger
   winds and dry air will continue to move south across northern
   California through the early morning hours. Winds will start to
   strengthen across Napa, Lake, and Solano counties around 08Z to 09Z.
   Winds will continue to strengthen and relative humidity drop
   throughout the day as downslope flow intensifies. The peak winds are
   expected between 16Z and 22Z. During this period, upper-level
   support will assist low-level winds as mid-level flow is around 80
   knots out of the north northeast and 1km flow is around 50 knots.
   Therefore, widespread 35 to 50 mph winds with gusts to 65 mph are
   expected across Colusa, Napa, Lake, Yolo, and eastern Sonoma
   counties. Locally higher wind speeds around 40 to 55 mph with gusts
   to 75 mph are possible in the higher terrain.

   ERC values across the area are above the 85th percentile with some
   localized areas of near record high ERC. Therefore, fuels across the
   region will be plenty supportive of extreme fire spread given the
   conditions. Additionally, the presence of a large fire (Kincade
   fire) within the area that is expected to see extremely critical
   fire weather conditions today increases concern for extreme impacts
   from this fire weather event. 

   The most extreme winds should weaken by late afternoon and into the
   evening, but continued offshore flow should keep critical fire
   weather conditions across the area through the overnight and into
   the early morning hours Monday.

   ...Portions of Southern California...
   A moderate to locally strong Santa Ana event is expected in southern
   California starting Sunday evening and persisting through Monday.
   The LAX-DAG pressure gradient is expected to peak around 15 to 18Z
   Monday. Wind speeds early Monday morning are expected to be around
   25 to 35 mph with gusts to 55 mph in the mountains of Los Angeles
   and Ventura counties with dewpoints dropping into the single digits.
   Strongly considered a small extremely critical delineation for
   portions of the higher terrain in Los Angeles and Ventura counties.
   However, after collaboration with the local office in Oxnard,
   decided to keep the category at critical for Day 1 considering the
   threat for extremely critical conditions will be limited to the
   final few hours of the Day 1 period.

   ...The Colorado River Valley...
   Any fuels which are present in the Colorado River Valley are likely
   well irrigated, however, winds of 20 to 30 mph and relative humidity
   around 10 to 15 percent raise enough concern about fire weather
   conditions to warrant an elevated delineation.

   ...Southern Arizona into the Four Corners Region...
   Moderate to strong mid-level flow is expected to overspread the
   Southwest on Sunday. Dry surface conditions will be in place with
   relative humidity around 13 to 20 percent. Deep mixing during the
   afternoon hours will transport some of these stronger winds toward
   the surface. Sustained surface winds of 35 to 40 mph are expected
   across a large part of the Four Corners region. Despite the
   meteorological conditions supporting a critical delineation, sparse
   fuels across the region reduce the threat for large fires
   significantly, and thus, an elevated delineation should be
   sufficient to cover the threat.

   In addition, farther south, wind speeds of 20 to 30 mph are expected
   during the peak heating during the afternoon with relative humidity
   around 12 to 20 percent. Several smoke plumes could be seen this
   afternoon in the higher terrain in central and eastern Arizona.
   These fires could spread rapidly Sunday afternoon given the strength
   of the winds.

   ..Bentley.. 10/27/2019

   ...Please see www.spc.noaa.gov/fire for graphic product...