Storm Prediction Center Day 1 Fire Weather Outlook

Created: Fri Sep 21 06:39:02 UTC 2018 (
|
)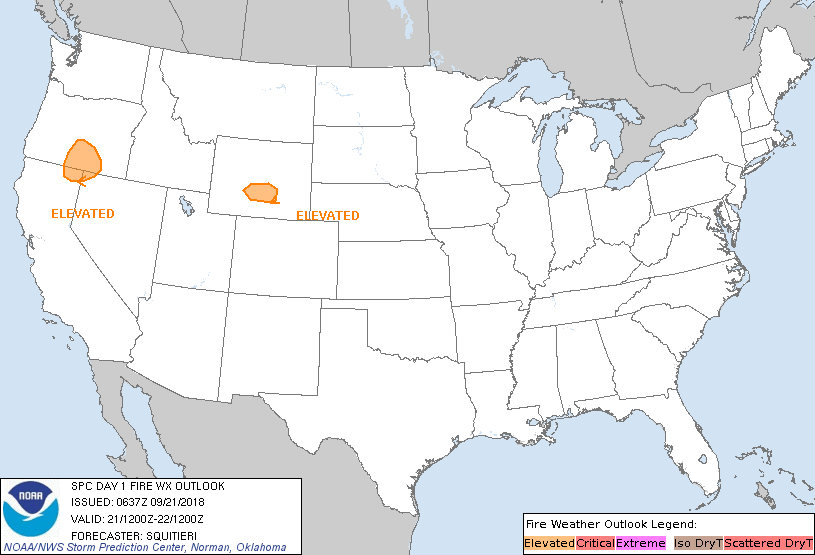 Risk

Area (sq. mi.)

Area Pop.

Some Larger Population Centers in Risk Area

No Risk Areas Forecast
Click for Day 1 FireWX Areal Outline Product

   ZCZC SPCFWDDY1 ALL
   FNUS21 KWNS 210637

   Day 1 Fire Weather Outlook  
   NWS Storm Prediction Center Norman OK
   0137 AM CDT Fri Sep 21 2018

   Valid 211200Z - 221200Z

   ...Synopsis...
   A mid-level ridge will dominate the weather pattern across the
   western CONUS throughout much of the day, with the ridge breaking
   down Friday night. At the surface, high pressure will be in place
   across Great Basin into the Rocky Mountains, with a pressure trough
   developing from Montana down into the Great Basin late Friday night
   as the mid-level ridge weakens and a mid-level shortwave trough
   begins to approach the Pacific Northwest. 

   ...Southern Portions of the Pacific Northwest...
   As the mid-level shortwave trough approaches the Pacific Northwest,
   35+ knot southwesterly mid-level flow will begin to overspread the
   region. Though the mid-level flow will likely be modest, a very
   well-mixed boundary layer, extending up to 400 mb, is expected to
   mix the stronger winds aloft down to the surface, with elevated
   surface conditions (i.e. critical RH and 15-20 mph winds) expected
   amidst fuels receptive to fire spread.  

   ...Portions of central Wyoming...
   Modest mid-level flow traversing the ridge will overspread the area
   during the diurnal heating cycle. With a deep boundary layer, at
   least some downward momentum transfer is expected, with surface
   winds potentially reaching the 15-20 mph range. As such, marginally
   elevated conditions are expected during the mid to late afternoon
   hours given critical RH and fuels that are at least marginally
   conducive for supporting wildfires.

   ..Squitieri.. 09/21/2018

   ...Please see www.spc.noaa.gov/fire for graphic product...